Calendering in compact size for maximum usability with minimum operational costs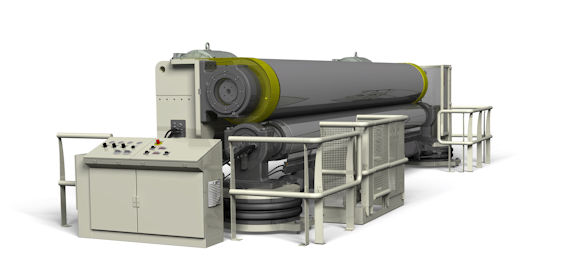 OptiCalender Compact – hard and soft nip calendering
OptiCalender Compact is designed for maximum usability with minimum operational costs. It provides quality calendering, but its structure is greatly simplified compared to your average calender. The simple, integrated structure enables extremely easy start-ups, everyday site operations as well as maintenances. Naturally, this also lowers the required initial investment and operational costs.

When you need a new calender, the whole calender delivery project is standardized from start to finish to ensure a fast, smooth delivery. All components have been designed to function together seamlessly, which limits the amount of modifications available for this calender model. However, with a more fixed calender module it is possible to integrate all parts of the design into one single unit. This way, no additional devices need to be placed in the basement or, for example, a separate automation module.
Everything is contained and integrated into the machine frame: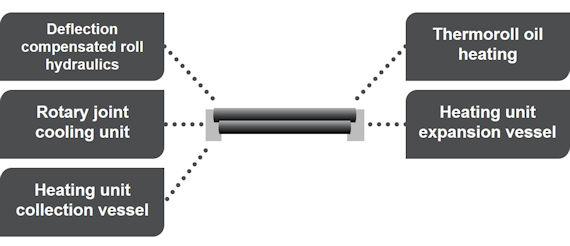 Below are all the connections that need to be made on site and after that the calender is fully operational. There are no separate hydraulic power units, drives or other equipment. No additional devices need to be placed in the basement or a separate automation module.
No separate modules nor devices in the basement: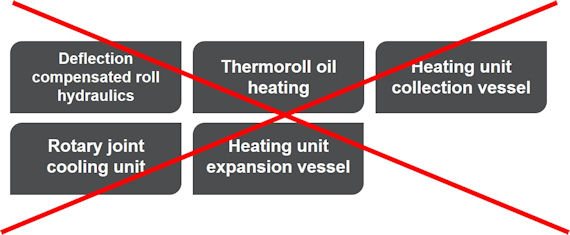 New way of thinking in calender design
There are several structural improvements including walkways and drive foundations. The integrated drives don't require any alignment or foundation building at customer site. All machine controls have been built into the calender control panel. All the pumps and valves required to controlthe machine's pneumatics and hydraulics are located inside the control box.
Also the roll is heated by steam to increase cost efficiency. Similar structure is used in dryer cylinders - numerous references available. The integrated heating system uses paper making line steam supply.
Easy commissioning and start-up - Calender connections at the site: