Thermal spraying of Yankee cylinder in tissue machines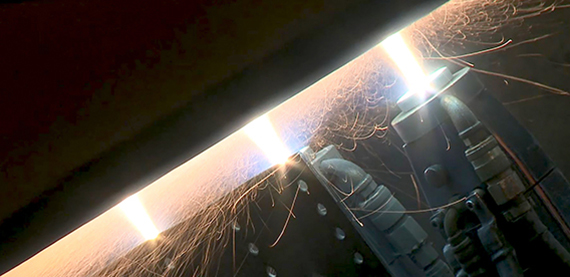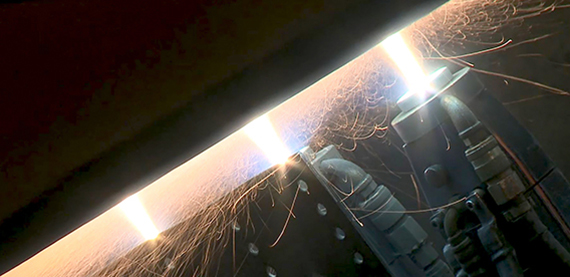 The Yankee cylinder is the heart of a tissue machine – its surface is critical to production output and creping quality. The Yankee is constantly exposed to chemicals, wet tissue, internal steam pressure and high surface temperatures which means a risk for wear and corrosion. High performance thermal spray coating increases Yankee cylinder efficiency and lifetime by providing a hard, homogenous protective coating.
Valmet Infinikote Yankee Metallizing is the most successful thermal sprayed coating for Yankee cylinders in existence with mote than 500 references globally on both cast iron and steel Yankee cylinders. Valmet Infinikote Yankee Metallizing is a unique patented material and application process resulting in a superior tissue creping surface that maintains the profile and prolongs the life of the Yankee cylinder surface.
Thermal spraying is the ultimate treatment to protect a new Steel Yankee dryer with a hard and durable surface. Also old cylinders are often metallized to improve performance, particularly if there is insufficient remaining cylinder shell thickness and/or if further grinding may affect production capabilities, for instance steam pressure or roll loadings.
A recognized risk of metallizing has been that during the process potentially harmful hexavalent chromium is created. Chromium is a fundamental component of almost every ferrous based hard-facing alloy.
Valmet Infinikote®-2 Yankee Metallizing – Chrome free Yankee thermal spray coating for safety and unparalleled reliability
Having recognized the potential risks associated with the thermal-spraying of ferrous based materials, Valmet embarked on a program of developing new alloyed materials to beat chrome in Yankee metallizing. The new Valmet Infinikote-2 Yankee Metallizing contains no chrome and generates no hexavalent chrome during application. It is the most environmentally safe and durable Yankee metallizing coating available.
The primary performance objectives of the development were to remove the environmental and safety concerns associated with thermally sprayed products containing chrome and to apply the thermal coating with a similar process to current whilst creating a suitable surface for tissue production. Valmet Infinikote-2 Yankee Metallizing achieves this as whilst being 100% chrome free it equals or surpasses all current measured criteria for thermal spray coating performance.

Benefits
100% chrome free
Tailormade for tissue making
Long service life expectation through improved wear resistance
Provides uniform surface for best sheet adhesion during tissue production
Better paper quality – ideal for running ceramic doctor blades

Improvements in comparison to previous Valmet Yankee thermal coatings:
100% Chrome free - safe and environmentally friendly application
Tougher and more wear resistant – improved material structure and strengths
Corrosion resistance - better than Valmet Infinikote-1 Yankee Metallizing chrome based thermal coating
Improved heat transfer properties
Customer success stories and technical articles