Do you want to raise the level of your staff's expertise with modern tools? Do you find it difficult to cope without staff released for qualitative and, in the long-term, necessary training aimed at securing your company's operations and profitability? Do you see a risk that experienced staff may leave and the new recruits that replace them will take too long getting up-to-speed to work both efficiently and safely?
Valmet has the solution for you. We offer a complete training system based on solid experience and knowledge of power and heating plants and pulp mills.
Our training concept
Valmet's training tools cover all aspects of the plant. As a process and equipment supplier we have a broad register of skills within processing, mechanics and control, and are acknowledged educators with good references.
Our spectrum ranges from web-based E-learning and in-class training to solutions which are tailor-made for our customers. There are also advanced process simulators for realistic operational training in real time and with dynamic sequences.
Advantages of E-learning
E-learning is a fast and easy way to provide a solid basis for learning. You study when and where it suits you, work your way through the course at your own pace, and have the possibility of turning back and repeating difficult section as needed.
Text and images are interspersed with educational animations and interactive exercises. A voiced narration is recorded for each course, which also helps facilitate understanding of complex material.
We deliver living E-learning
Through an intuitive and educational interface, we explain processes and equipment, and how these affect production. The idea behind our interactive learning-method is that it can be used not only for basic training, but also for revision, more in-depth study and as a support aid during day-to-day work.
Our courses in the fields of power and energy focus on many important areas, such as:
Fuel handling
Combustion technology
Fluidized-bed combustion
Flue-gas cleaning
Heat-transfer and vaporization
Water treatment
Operational efficiency
Simulators for operational training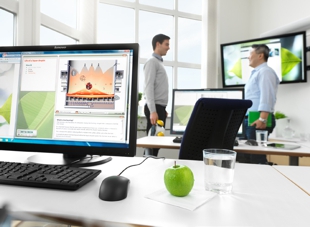 Valmet offers tailor-made training simulations based on our large and broad knowledge of boiler plants. The simulators are developed with advanced process models, graphics and operational disruption, to give the greatest-possible training effect.
The simulator makes it possible to practice realistic operational situations, such as:
Start-up
Operational disruption
Shut-down
The simulators can be delivered ready-integrated with your establishment's own control system. This means that any new interlocks and controls can be tested before being introduced to the actual system itself. Also available are stand-alone simulators, with copies of your control system.
Increased profitability
Over the years of course-development, we have seen that acquired knowledge contributes to greater security, because the operator is able to carry out their work in a competent manner. Increased skills also provide advantages in production:
Faster start-up
Safe operating
Higher capacity
Customized materials
Courses and training materials can, upon request, be customized to meet your needs, which will provide a deeper understanding of your establishment. We also offer a two-day teacher-led introduction to the system.
Target group
Our courses are aimed at operational and maintenance personnel and have the objective of creating the conditions for a well-trained and skilled workforce, which can better understand and manage the establishment with fewer mistakes, thereby also increasing safety.
For a more in-depth presentation of our training concept and demo login, please contact Emmeli Olén, Director Valmet Learning Services at emmeli.olen@valmet.com.