Transitioning from a reactive maintenance strategy to a predictive one calls for the 24/7 visibility of the condition of fiber processing equipment. Valmet's new reliability monitoring systems offer a cost-effective way of achieving this goal.
Equipment reliability and availability are a must for successful fiber production. Financial constraints make it essential to plan, accurately dimension and execute maintenance actions based on real needs.
To understand real needs, you must fully comprehend the actual equipment functionality and its operating conditions and base their maintenance plans on it. This is where modern monitoring tools and systems enter the picture. You can achieve a predictive maintenance mode with only advanced tools and thus ensure equipment reliability at an optimal cost.
The measuring and recording process and equipment parameters for maintenance planning purposes are nothing new. However, many mills have encountered several pitfalls when developing and establishing monitoring procedures. A typical challenge is the limited visibility of machine condition data due to inadequate hardware, sensors, signal processing and/or data transfer technology.
Even when measuring has been successfully implemented, information can be scattered across several systems, making it difficult to capture. This is often a result of poor connectivity with other systems and trends.
Last but not least, establishing proper equipment monitoring has often required costly investment funding and indisputable payback arguments – until now.
This step-by-step approach will extend the overall visibility of process equipment health."
New: a reliability monitoring platform
To overcome these challenges, Valmet has developed a new reliability monitoring platform for fiber processing equipment. These monitoring devices feature the latest sensor and data transfer technologies, with an Industrial Internet-based configuration built on Valmet's unique process and equipment knowledge of pulp and papermaking.
Valmet's monitoring devices provide customers with effective transitioning from reactive to predictive maintenance practices. Results from our commercial pilot systems have been found to be extremely effective and are very promising.
"It's been challenging yet very interesting to develop tailored systems that can provide fiber equipment process monitoring and enable predictive maintenance visibility. We've encountered a variety of external conditions and have had to design and build a robust system for demanding operating environments. However, we've succeeded in developing a system that is based on the latest sensor and electronics technology, providing signals that previously didn't exist," says Heikki Kettunen, Senior Manager R&D, Intelligent Rolls, Valmet. He continues: "To tackle the costs aspect, we developed a modular system configured to allow single or multiple equipment expandability and wide flexibility to accept a variety of signal inputs. Additionally, the data interface for external systems can be configured, removing the need to build several parallel systems with multiplied costs."
Fewer unplanned roll-related shutdowns
In pulp dewatering and washing, Valmet TwinRoll Presses enjoy a leading position among commercial technologies. Rolls are the key components in the press, and their health is a cornerstone of press reliability. Valmet's Vat Temperature and Bearing Oil Monitoring solutions for the TwinRoll Press help ensure press availability.
In temperature monitoring, the main principle is to measure and record the vat's temperature profile. When the press performs in accordance with its design principles, its temperature profile is even all over the press and remains that way every day. An uneven vat temperature distribution suggests that the pulp flow in the vat and through the press nip is unsteady. Such a situation can be detrimental to the press roll and is certainly sub-optimal for TwinRoll Press performance from the washing efficiency perspective.
Thanks to the Valmet Vat Temperature Monitoring solution, it is possible to detect disrupted flows and take further action to prevent them.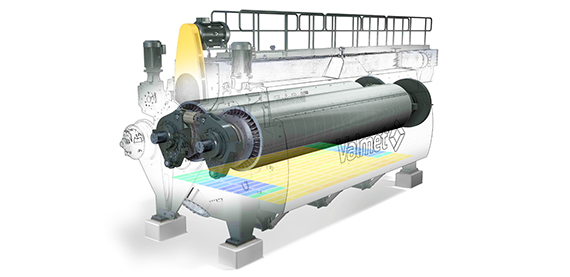 Sufficient lubrication, no bearing failure
Bearing failure, one of the most common causes of unplanned shutdowns with TwinRoll Presses, is often caused by poor lubrication. The Valmet Bearing Oil Monitoring solution helps ensure sufficient lubrication for oil-lubricated rolls.
Thanks to bearing oil monitoring, it is possible to detect contaminants in oil before they lead to bearing failure. The monitoring system picks up every sign of water and black liquor, which are typical foreign matters that destroy oil lubrication performance. When actual failure symptoms like a bearing temperature or a vibration increase are identified, it is usually too late to save the bearings. In such an event, you need more extensive, more costly and more time-consuming roll repairs.
Good visibility reduces the need for adjustment
Pocket chip feeders in continuous cooking lines with a low-pressure and high-pressure feeder, require frequent adjustments to maintain a perfect gap between the stationary housing and rotor. With its fundamental effect on feeder reliability and performance, this adjustment is subject to other process parameters like feeder drive motor load and magnitude.
The adjustment depends on human decision making. Feeders are expected to have an adjustment allowance from a minimum of one year to several, and a feeder repair interval obviously depends on how optimal the adjustment procedure is. The Valmet Feeder Position Monitoring solution provides crystal clear visibility of rotor adjustments throughout the feeder's lifecycle, enabling chip feeding process reliability and performance optimization.
Limitless scale-up and connections
Valmet's reliability monitoring systems feature a modular structure. The simplest version has only two main components: a measurement signal sensor and a Valmet monitoring unit. The sensor measures selected equipment parameters, whereas the monitoring unit collects, records and processes measurement signals.
The Valmet monitoring unit can be used as a simple stand-alone system. The customer can monitor equipment condition via a web-based user interface on a computer or mobile device. It is also possible to connect the monitoring system with the mill's DCS or Valmet Industrial Internet (VII) services.
VII services, like Valmet Performance Center or remote monitoring services, enable you and your staff to leave equipment monitoring to Valmet's experts and focus on other tasks that deliver the budgeted production volumes.
Step-by-step toward predictive maintenance
Modular system design stands for cost-effectiveness, and a basic monitoring reliability package included in Valmet's equipment repair and maintenance services adds a lot of value to the system with only minimal additional charges.
The threshold for basic equipment monitoring is low, and the system can be extended over time by adding more signals to the Valmet monitoring unit. This step-by-step approach gradually extends the overall visibility of process equipment health, taking mill maintenance toward a predictive maintenance mode.