Valmet introduces a full range of new, data-driven Industrial Internet solutions to pulp, board, paper, tissue and energy producers.
Valmet's Industrial Internet (VII) solutions combine advanced monitoring and prediction applications, Advanced Process Controls (APC), dynamic process simulators and remote services from Valmet Performance Centers in comprehensive solutions that provide tangible benefits to customers.
VII solutions for the needs of each customer industry
The new VII solutions have been created for the specific needs of pulp, board, paper, tissue and energy producers. The aim is to efficiently utilize data and Valmet's expertise to reduce energy consumption, improve chemical and environmental efficiency, optimize pulp and paper quality, increase process reliability, maximize production, and enable the efficient management of the customer's equipment fleet.
The aim is to empower our customers to move toward autonomous plants or mills.
"Our customers' needs have been the starting point for developing these data-driven Industrial Internet solutions. We've integrated our process, automation and services expertise and extensive Industrial Internet application portfolio in a value-added solution offering. The aim is ultimately to empower our customers to move toward autonomous plants or mills, which will result in significantly more efficient production processes and operations. We want to engage our customers in a dialogue with data to move their performance forward," says Jari Almi, Vice President, Industrial Internet at Valmet.
How to get started with turning data into value
Applying a VII solution for a customer typically starts with a VII Data Discovery process. The first step is for Valmet's experts to work with the customer to really understand the challenges and define the scope of data discovery. A batch of data is then taken from the systems of the mill or plant, after which Valmet's analytics team and process specialists make a big data analysis to identify the potential for improvement. The proposed solutions are then reviewed with the customer. This process lasts from six to eight weeks.
The result of the data discovery process is that the improvement potential is recognized, and the customer and Valmet have a shared understanding of the opportunities and next steps to be taken to convert data into value.
The implementation phase of the VII solution begins by establishing the VII applications, connectivity to Valmet's Cloud and the remote services from the Valmet Performance Center. As part of the continuous VII solution, the customer receives remote support and data analytics from Valmet's experts. Through the Valmet Customer Portal, the customer can see the VII applications and follow the selected KPIs.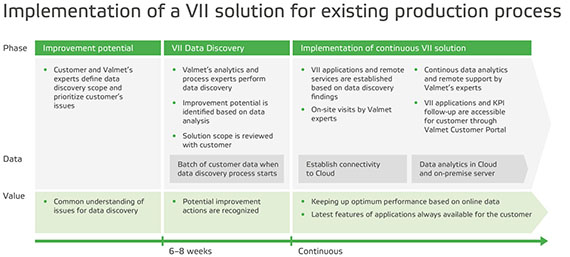 85 applications to choose from
Valmet's portfolio of 85 Industrial Internet applications can be used to instantly optimize processes but also to predict what's around the corner. Thanks to the more predictive nature of the available information, it is possible to gain better control of the daily work in a mill or plant by pre-planning activities and running the process with fewer resources.
"In addition to production planning and control, data-driven applications incorporating Artificial Intelligence (AI) can process a large amount of data to provide a more holistic view of the entire production chain – something we humans could never do by ourselves," says Jari Almi.
Valmet Performance Centers
Remote services from Valmet's eight Performance Centers are a key element of the VII solutions. Through remote connections and tools, Valmet's expert network is easily available for process, automation and maintenance support. And when required, on-site visits by Valmet's field service experts complement the remote services.
Valmet has a network of eight Performance Centers, serving customers around the world. Five of the centers are industry-focused: the Performance Centers for energy, pulp, board and paper, tissue and automation customers.
There are also three area-specific Performance Centers, operating in China, North America and South America. This ensures that the service can be offered in several languages and in every zone. The Performance Centers bring Valmet's data analyst and process expert network close to customers with a secure data connection to their mills or plants.'
Customer Portal
Customers can easily collaborate with Performance Center experts, access their VII applications and follow up their Key Performance Indicators (KPIs) in Valmet's Customer Portal.
The portal combines all Valmet's online services in a simple easy-to-use platform in which all users have a personalized interaction with Valmet. The content and functionalities have been designed with customers and Valmet's experts.
For example, if a reliability-related VII application indicates that there is a need for spare parts, the order for the required parts can easily be placed in the e-Store module of the Customer Portal.
We want to engage our customers in a dialogue with data to move their performance forward.
Toward autonomous mills and plants
In the near future, successful companies will increasingly base their decision making on insights from data analytics and predictive applications, allowing them to take the optimization of their production and business to a new level.
Based on predictive applications the user can for example understand potential risk for equipment failure and prepare for the next planned shutdown better. This allows a shift from scheduled maintenance to outcome-based equipment maintenance.
"In future, Artificial Intelligence will probably take wider responsibility for mill or plant operations by autonomously entering the best set points into the automation system and changing its own settings to adapt to a predicted problem. The steps towards such autonomous mills of the future are already on the horizon." says Almi.