The accurate online measurement of Kappa number, indicating residual lignin content, is essential for the optimization of cooking and bleaching in the production of eucalyptus kraft pulp.
Since the 1990s it has been known that the presence of hexenuronic acid (HexA) in unbleached hardwood pulp increases the consumption of bleaching chemicals leading to higher production costs and product quality variability as well as worsening environmental performance. Part of the product variability can be explained by the fact that HexA also consumes potassium permanganate in the Kappa number analysis which leads to an erroneous lignin content signal to automatic controls. Valmet has development new and unique online method for the measurement of HexA, now available as an additional module working alongside the Kappa, brightness and fiber& shive properties measurements in the Valmet Kappa QC analyzer.
Online hexenuronic acid measurement
Cooking conditions influence HexA formation and modern continuous cooking concepts, utilizing lower temperatures to improve efficiency and yield, increase the HexA content in the pulp. HexA and residual lignin react differently with commonly applied bleaching chemicals and highlight the complex chemistry of cooking and bleaching of hardwood kraft pulps. HexA can be removed from the pulp by a mild acid hydrolysis, leading to two basic approaches to the problem. One is to use a hot A (acidification) stage prior to bleaching or second approach combining the hot A-stage with the D0-stage in a single hot D0-(Dhot) stage. Both benefit from the simultaneous online measurement of Kappa and HexA by the Valmet Kappa QC analyzer. This new feature has installed already several Kappa QC analyzers in South-America and Finland.
Excellent laboratory correlation
Valmet Kappa QC analyzer can be calibrated against the mill HexA laboratory method with excellent correlation. Calibration and follow up samples can be obtained from the analyzer's automatic laboratory sampling collection, which enables fast and accurate calibration with laboratory analyzed pulp the same as analyzer measured pulp. (See figure 1).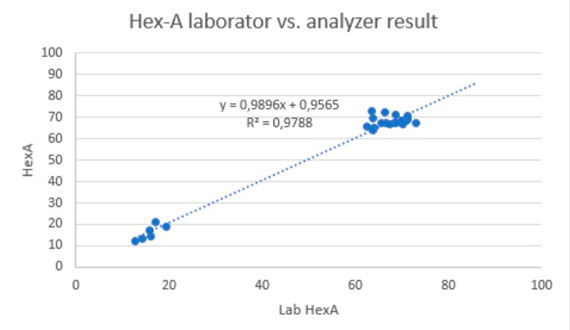 The Kappa and HexA results from the Valmet Kappa QC analyzer open a new window to follow up O2- and A stage process responses. It is possible to see the Kappa number and the HexA amount both before and after the O2 stage as well as after the subsequent A stage. (See figure 2).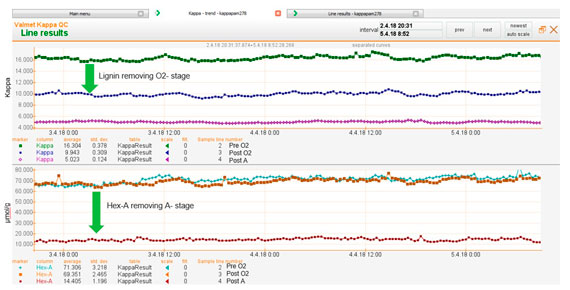 Optimized process
Balancing the bleachability and brightness stability of the pulp with yield and required papermaking properties is made much easier with the better understanding of the lignin and HexA reduction relationship in the process. Whether mills utilize a separate A-stage as above or the Dhot stage approach, the new measurement offers the opportunity to further optimize cooking conditions and chemical consumption.