Optimization smooths out bleach plant operation and demonstrates an 8.7% saving in bleaching chemicals with improved brightness stability in the Burgo Ardennes mill in Belgium.
In this article you will learn how a pulp mill has been able to add more stability to its bleaching process with Valmet's process study, new analyzers and measurements plus a Performance Service Agreement.
Burgo Ardennes mill wanted to update its measurements and controls to achieve better process stability, consistent quality and lower costs.
Valmet supplied a process audit and study, a Valmet Kappa Analyzer for online Kappa measurement s, new Valmet Cormec5 inline brightness measurements and new pH measurement points that include a Valmet Filtrate sampler. Valmet also implemented the Bleaching Optimization using advanced process control (APC) tools. Today, Valmet provides the mill with services under a Performance Service Agreement and a Preventive Maintenance Agreement.
Key benefits for the customer include more stable bleach plant operation, reduced brightness variability and reduced chlorine dioxide consumption.
"It was difficult to achieve higher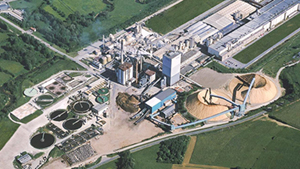 brightness targets for some customers. We were having problems with process stability and high chemical consumption. Now, we have a big advantage as we can achieve the right brightness even at the higher production rates," says Eric Bazzoni, Fiber Line Production Manager at Burgo Ardennes.
The improvements have been achieved by a measurement and control implementation using Valmet analyzers and Bleaching Optimization services that have demonstrated a substantial saving in bleaching chemicals with a much more stable process. The stability has been maintained by a continuing Performance Service Agreement. Remote diagnostic reporting has pointed out some process improvements that were implemented with positive results.
Chemical consumption is kept to a minimum since the chemical residual of chlorine dioxide after the bleaching towers is at a very low level. There are no problems with off-gassing that might cause health, safety and environmental problems. Pierre Carnevali, Mill Projects Manager, adds: "I am impressed that the Valmet engineers have adapted the controls to our own process. For us, it is a tailor made control for our own mill."
| | | |
| --- | --- | --- |
| | | François Zune, Project Engineer (left) and Pierre Carnevali, Mill Projects Manager |
Project scope defined by audit
The project scope was defined by a Valmet* measurement and controls audit. The process study defined the measurement and control requirements and the agreed control guarantees for final brightness stability and reduction in chlorine dioxide consumption. Many of the process measurements were obsolete and needed replacement with modern versions. Valmet recommended some changes in the measurement scheme that would improve process controllability.
The new measurements included a Valmet Kappa Analyzer for online Kappa measurement at five sampling locations, three new Valmet Cormec5 inline brightness measurements and three new pH measurement points that include a Valmet Filtrate sampler. Valmet implemented the Bleaching Optimization using advanced process control (APC) tools in order to optimize the stability and costs of the bleaching operation.
| | | |
| --- | --- | --- |
| | | The Kappa Analyzer takes online samples of pulp from five points in the process. |
The control strategy automatically manages delignification and brightness to achieve the final brightness target in the most cost-effective way. This is done by avoiding over consumption of bleaching chemical. In dioxide stages, adding more chemical past a certain optimum point no longer produces a corresponding brightness response.
In a manually controlled operation, the chemical dosage is typically kept above this optimum limit in order to ensure that the brightness target will be achieved. When the standard deviation of brightness is reduced due to more effective process control, this safety margin can be cut, resulting in significant chemical savings.
At Burgo Ardennes, brightness variability was reduced by 47.9% and chlorine dioxide consumption by 8.7%.
Optimization continues
The mill also planned to increase production from 1015 t/d to 1100 t/d. This would affect the residence time in the bleaching towers hence change the dynamics of the bleaching chemical reaction. With a shorter residence time, the consumption of chemical went up as expected.
Valmet retuned the controls for the shorter residence time and different control dynamics .The controls were retuned to give the original and expected process stability under the Performance Service Agreement. To keep the important measurements in good working order, the Preventive Maintenance Agreement for Kappa Analyzer and other fiber line measurement includes several visits per year.
The Performance Service Agreement includes remote system and process monitoring through a link to Valmet and 24/7 day telephone help services. The service monitors the bleaching process performance stage by stage and issues daily and monthly control performance reports.
The mill will continue to improve its operations with the installation of Valmet's Causticizing Optimization along with a Valmet Recovery Analyzer that will measure key chemical concentrations in the process.
*) Company and product name Metso until March 31, 2015.