Dec 21, 2021
When Crown Paper Mill decided to build a new tissue line in Abu Dhabi they had to face a critical issue: How to build an efficient and sustainable tissue production line in an area with limited natural resources like energy, water and raw materials?
Crown Paper Mill (CPM) in Abu Dhabi was established in 1996. Since 2016, it has been part of the Ittihad Group Company. Their long-term vision is to be the leading tissue mill in the Gulf countries and the Middle East, as well as maintaining sustainable growth worldwide. Back in 2016, their main markets saw tremendous growth due to increasing tourism and the need for high-quality products. At the same time, competition was tough. So to defend their position while continuing to grow, they decided to increase the current capacity of their existing two tissue machines from 35,000 tonnes/year to 100,000 tonnes/year by investing in a new line.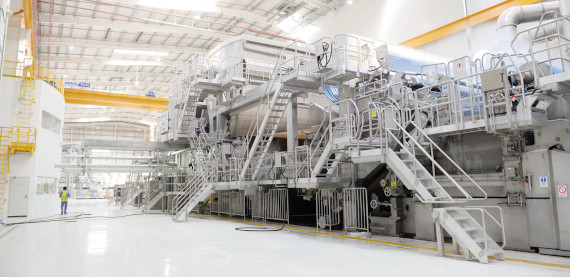 "We realized that we needed to build a line with the latest technology to meet the requirements of tissue quality, capacity and reliability. At the same time, it was a must to fulfill the goal to reduce energy and water consumption, and control emissions. So we started to look for the right partner to design and execute a complete mill to achieve the highest capacity and quality with the lowest cost and environmental impact. It was important for us to select a partner we could trust and who could help us develop over time. We decided to go with Valmet," says Abdullah Al Khateeb, Managing Director, Crown Paper Mill and Ittihad Paper Mill.
Designing for optimum performance
Both CPM and Valmet take a holistic approach and know that an efficient mill design is the basis for the optimum conditions and lowest possible consumption and emissions. The project was as close to a turnkey one as you can get, covering everything except civil works.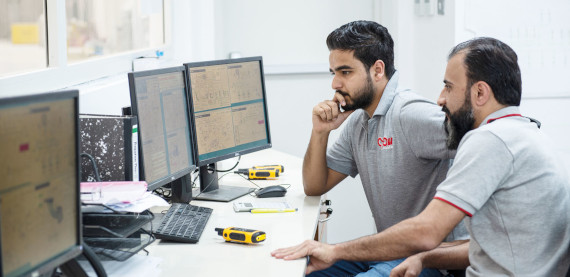 The mill is equipped with all available technologies to save energy and water. In addition to the Advantage DCT 200 tissue machine, it includes stock preparation, two Focus Rewinders and all auxiliary equipment. It was an easy decision to go with the Valmet DNA automation system, because it offers a safe and future-proof solution with full control of the process, quality and consumption. And last but not least, it gives easy access to remote monitoring and Valmet Industrial Internet services, which will also ensure continued process optimization in the future.
The Advantage DCT 200 machine proved the best choice for us, and we're very proud of our mill today.
"Working with Valmet has been interesting. We knew their technology was superior, but we also needed a partner that could advise us how to combine the best technology with our specific needs. Their way of working in partnership with us, listening and putting themselves in our position, resulted in a smooth and trustful collaboration. We learned early on that they weren't seeking to sell as much equipment as possible – it had to add value."
Highest capacity and tissue quality at lowest cost and environmental impact
"The Advantage DCT 200 machine proved the best choice for us, and we're very proud of our mill today. We achieved 2,000 m/min with the expected tissue quality in a very short time after the start-up. Of course, we faced some issues, as you'd expect in a large project, but we solved them quickly together."
It was important for us to select a partner we could trust and who could help us develop over time.
Today, Crown Paper Mill can produce products ranging from ultra-thin facial tissue of 12.5 gsm to heavy kitchen towel grades and can also provide sterilized tissue. However, the Advantage DCT line mainly produces low grammage facial tissue grade, which is the main product in the region. Their two rewinders provide the option of delivering jumbo rolls based on their customers' needs.
Continuous improvement with the Industrial Internet
Right from day one, CPM and Valmet had an Industrial Internet agreement to further improve overall productivity and tissue quality, and keep control of consumption as part of their daily operations.
"Our team at Crown Paper Mill has worked closely with a dedicated support team at the Valmet Performance Center. Every month, we receive detailed reports from the data analysis and have joint production follow-up meetings with systematic KPI evaluations. So far, we've seen a 10 percent average production increase and 3 percent capacity utilization improvement. The drying/pressing strategy contributed to a 4 percent reduction in specific energy consumption. And we have longer periods of stable production at high speed."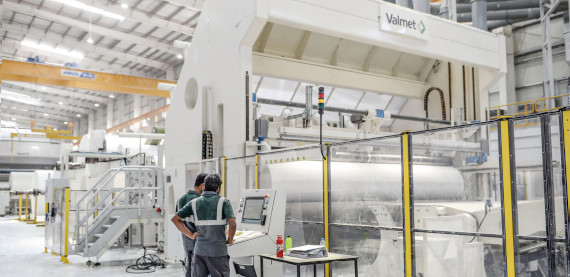 Abdullah Al Khateeb and Crown Paper Mill are very proud of their Valmet tissue production line. At the time of writing, they have just started to investigate the possibility of investing in a new tissue line project.
Text and photos Katarina Åhsberg