Apr 25, 2017
Freedom of speech and people's desire for information were the basis for founding Schoellershammer paper plant in 1784. Much has changed over the years, but it is the constant movement that lies behind success.
Schoellershammer GmbH & Co. KG, located in the city of Düren in Western Germany, has been producing paper for over 230 years. During its existence the company has secured success by being able to adapt to the changes in the industry.
The birth of the Internet meant a dramatical decrease in the demand of printing paper – information was suddenly available on-line. However, it was the same Internet that made the world one marketplace: everything was at reach.
"We have been going through a lot of changes during the past years, but I think it is the ability to change that makes us strong. It was a difficult decision to close the fine-paper segment in 2015, but at the same time we made the decision to build a brand new machine to reply to the growing demand for packaging paper," says Konrad Franken, Line Manager of PM 5 and PM 6 at Schoellershammer.
The investment was finalized in the end of 2016 and it will double the production capacity of the plant.
Quality with excellent customer service
Schoellershammer has summarized its vision as follows: We stand for maximum customer satisfaction with high product quality and optimal service, coupled with a high sense of responsibility for nature, people and the region. The same attributes are expected from the partners, and that is why Schoellershammer has chosen Valmet as one of their PM 5 paper machine clothing suppliers.
| | | |
| --- | --- | --- |
| | | "We have been buying PM 5 press felts from Valmet for many years, and I am impressed by their very good quality. The standards are very high; the press felts are of high-quality. The stability of the press felt during its life-cycle is very good and they have reliable lead times. I expect very much, but have always been satisfied with the runnability, dewatering and lifetime of Valmet's products," says Franken. |
Working together
In addition to offering high-quality paper machine clothing, Valmet's target is to walk along the customer all through their production process. This has been noticed at Schoellershammer PM 5 as well.
"Valmet has professional understanding in machines, develops our processes and has a customer-oriented way of working. They visit PM 5 regularly and are always available for discussion if problems arise. Improvements are done fast without excess delay," summarizes Franken.
Safety comes first
Due to the fact that there is no cantilever at PM 5, it was no longer possible to use endless felts and Valmet's ability to provide seamed felts for packaging paper machines is very important.
Seamed press felts were originally developed to ensure occupational safety at paper machines. A seamed felt is remarkably safer to install compared to an endless felt. Today also time and money count – for seamed felts less manpower is needed for the installation and stoppages are therefore relatively short.
"At Schoellershammer PM 5, we do appreciate the safety that seamed felts bring along. Not to disregard the importance of saving time and money during seam-felt installation. All in all, with Valmet's press felts we have been able to stabilize the run of our paper machine PM 5 and that is crucial for our process," says Franken.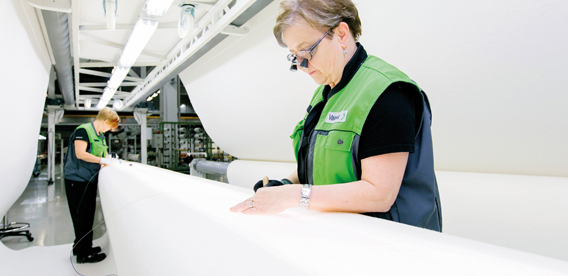 Valmet speeds up the production of seamed press felts
The Valmet's fabrics production site at Tampere has been re-modelled by updating some existing weaving looms and building a new fiber blending line in 2016. The investment was finalized with a new wide weaving loom during first quarter of 2017. This will widen Valmet's paper machine clothing offering by adding thicker seamed felts into the product range.
"We are in the midst of a transition in paper industry, where many paper machines are re-modelled to produce packaging paper instead of printing paper. As a result there is a demand for thicker seamed felts and I'm delighted that with our newly organized production lines we will now be able to reply to that demand. The investment will also allow us to take the quality level of our seamed felts even higher," says Simo Metsäranta, Product Group Manager, Press Felts, at Valmet.
Quality felts for press section performance
New, thicker felt types will add to Valmet's product range and hence make the offering even wider.
"We have a large felt portfolio both in seamed and endless felts to respond to our customers' needs. And, we have been able to -develop very advanced technologies for chemical treatments of felts. Especially these treatments, which are continuously developed further, differentiate us from other felt suppliers. The treatments increase the durability and nip-dewatering properties of the felt," explains Metsäranta.
In addition to broadening the product range of Valmet's press felts, the investment will increase the total production capacity.