Mar 27, 2018
Durable and reliable dryer fabrics make the paper-making process predictable and minimize the need for unplanned fabric changes. Valmet has developed new products to ensure that dryer fabrics remain durable and reliable, even under challenging conditions. Valmet offers optimized, economical solutions that match customers' exact needs.
"Our customers appreciate easy tail threading, good runnability, long life and low fabric cost – regardless of their machine or the paper grade. The high quality of our dryer fabrics comes from our expertise dating back over half a century, and the millions of square meters of fabrics produced," says Juha Paavolainen, Valmet's Product Technology Manager.
The largest product group in Valmet's portfolio of dryer fabrics is the double-warp polyester (PET) fabrics - after the product name renewal called Valmet Dryer Fabric OR, OP and EOS.
Optimized materials for different operating conditions
Factors limiting the running time of dryer fabrics include hydrolysis, contamination, wear and damage.
"Our PPS-reinforced dryer fabrics are excellent for hydrolysis-prone positions. However, contamination and mechanical wear are sometimes even more crucial for the dryer fabric's running time than hydrolysis, and for those challenges, we have developed a totally new material: MHR. It can withstand hydrolysis to a sufficient degree, but it measures notably higher in seam strength and loop elasticity than PPS. The double-warp structure of our dryer fabrics lets us optimize them for different operating conditions, and our professionals ensure that customers get the best product for their needs. Right now, we're studying even more hydrolysis-resistant yarns to replace expensive PPS material, and it looks very promising," says Paavolainen.
New products developed for recycled furnish
Using recycled furnish with a high sticky content and consequent use of latest high-pressure cleaners has changed the requirements for dryer fabrics. Going forward, Valmet is developing new materials and products aimed at matching these requirements.
"For example, our new Valmet Dryer Fabric DG has a relatively open sheet side surface to prevent dirt bridging in between the yarn knuckles, while the machine side is smooth for good sheet runnability. Its unique weave pattern has been designed to improve the high-pressure cleaning effect by arranging weft yarns so that the water jet against the fabrics' running direction is directed through the fabric. Valmet Dryer Fabric DG shares the double-warp structure and durable warp loop seam of other Valmet dryer fabrics to guarantee long life and low fabric cost," explains Paavolainen.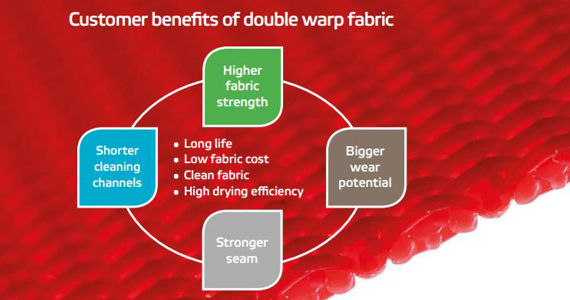 The new edge reinforcement solution gives durability under harsh conditions
For a maximum running time and a stable performance of its dryer fabrics, Valmet has developed a new edge reinforcement material: Valmet Edge Seal TR. It has excellent heat, chemical and wear resistance, and its flexibility ensures good performance when the length or tension of the fabric is changed during the run, as well as while the fabric is bending around the rolls.
"Valmet Edge Seal TR consists of specially developed polymers, utilizing extensive laboratory testing to find the optimal properties. The next step, applying the material at the edges, is carried out with our modern equipment, tailor-made tools, and professionals in Finland and in China. We are aiming for nothing less than uniform edge quality with complete adherence and the best performance," says Paavolainen.
To complement the wide range of dryer fabrics, Valmet offers fabric care and maintenance products and services. With a comprehensive range of on-site services, laboratory analysis for used fabrics, fabric guides, stretchers and HP cleaners, Valmet extends fabric lifetimes and makes its dryer fabrics a high-quality but also an economical choice.
Published in Forward 1/2018