Jun 17, 2016
Our interview with veteran Service Technician Olli Sjö reveals that there is no such thing as a typical day at the Global Service Center. Each day brings new, interesting challenges from all over the world.
36 years on the job brings about a kind of confidence that can only come from experience. Olli Sjö is not intimidated by anything that rolls in through the service center doors. In fact, he seems to prefer the more challenging cases. "I love a good challenge. I especially enjoy working on the larger heavy-duty valves. They are something I have specialized in over the years."
Service is a team effort
"Valves and valve controllers get sent here for repairs from all over the world. All these ones here are from Finland, but that one over there, for example, has been shipped in from Taiwan," Olli explains. Devices being brought in are treated in order of urgency. Some devices are brought in for scheduled maintenance, while in other critical cases a valve may be in and out of the shop within a matter of days or even hours.
It makes perfect sense that one of two Global Service Centers is located right here on the outskirts of the Finnish capital of Helsinki, adjacent to the factory, R&D department and sales office. Not only are parts readily available for the service team, but close cooperation and continuous open dialogue between all departments creates added value for the customers. "Just as we are in close and direct contact with our customers, we also actively talk to other departments here on site. In many instances it is through services that the customer's feedback and wishes are communicated to Valmet."
Delivering service to where it's needed
Talking to Olli Sjö, you cannot miss his passion for the job and dedication to the customers. He emphasizes the importance of mutual trust and respect between Valmet and the customers. "We do this for our customers. We have to prove to be worth their trust every time." The service team's dedication is regularly put to the test when they must head out to the customer's site at a moment's notice. "It is not unheard of at all that a call is placed in the early morning hours on a public holiday, and we are on our way to the other side of the world within an hour," Olli tells us.
He can recall years when he has clocked up more than 80 days away from home. While Olli is happy that today he gets to spend the day at his work bench here in Helsinki, Finland, he values the fact that the job he loves has taken him to almost 20 different countries over the years. He has travelled as far east as Japan and as far south as South Africa, all while lending his know-how and experience to valued customers.
Safety is a priority
Olli Sjö compares the staff at the Global Service Center to family doctors: they know the customer, understand the circumstances, are aware of the full history and share the responsibility. "Regardless of any type of time pressure, work has to always be done right. We have a responsibility for both a smooth process performance and the safety of the people on site." Safety matters are kept actively in mind at all times, and know-how and skills are maintained regularly.
The team at the service center is tight-knit and committed to providing excellent service. Together they have more than one hundred years of experience between them. Olli sums up their thoughts on safety: "Throughout the team's history there has never been a life-threatening incident resulting from their work. We have never been caught up in a situation where we would not have been able to perform."
Summing up what service is
Olli Sjö does not make a big number about what he does. He is, however, sure to emphasize the importance of the entire team that he is a part of. He speaks warmly of the know-how and experience of the other technicians and gives the young guns their due respect for their enthusiasm regarding all of the smart devices they are keen to work on whenever possible. He is a true team player, and to him service is a team sport.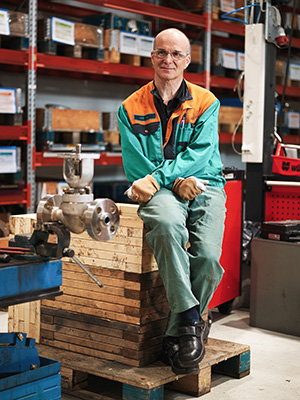 TEXT: Valmet
PHOTOS: Robert Lindström
Published in Results flow control customer magazine 1/2016.
Text originally published in 2016, and slightly updated in April 2022, due to the company name change to Valmet..