Aug 7, 2022
With the construction of a new bioproduct pulp mill in Finland, Metsä Group selected Valmet DNA Machine Monitoring as an integral part of the mill-wide Valmet DNA automation system. As part of the machine condition monitoring application, remote diagnostic support provided by Valmet has proved to be an essential aid to predictive maintenance.
Metsä Group started the world's first next-generation bioproduct mill in Äänekoski, Finland in August 2017. It's called a bioproduct mill since it is increasing the product portfolio with new bioproducts, generating excess bioenergy, and using no fossil fuels. Producing 1.3 million tonnes of pulp per year, mainly for export to Europe and Asia, the main products are softwood and birch pulp for board, tissue and printing paper and specialty products. Valmet's delivery to the mill included the recovery boiler, pulp drying line, gasification plant, lime kiln, sulfuric acid plant, and mill-wide Valmet DNA automation system for the whole bioproduct mill including machine and drive controls for the drying machine.
Valmet DNA Machine Monitoring
Operating as a fully integrated application in the automation platform, Valmet DNA Machine Monitoring measures and analyzes the mechanical condition and performance of machines based on vibration measurements as well as other machine parameters from the Valmet DNA process control system. Valmet DNA Machine Monitoring provides both protection and diagnostics tools for critical machinery, as well as condition monitoring and analyzing tools for predictive maintenance use. For Juha Anttonen, Mill Reliability Engineer, machine monitoring is an essential part of mill operations, "It helps on so many levels, good condition monitoring provides the means to concentrate limited maintenance resources to the right places; if we have a bearing problem, for instance, we have time to plan, order spare parts if necessary and avoid unplanned downtime." With a six-person team of mechanical fitters covering 14 different areas in the mill, time for in-depth condition monitoring is limited and, according to Anttonen, "With over 1500 measuring points in the system it was a smart decision to buy remote diagnostic support from Valmet. In machine condition monitoring, it is not only when preset alarm levels are exceeded that action needs to be taken. To gain the fullest advantage of the system, trends of developing abnormal conditions also need to be analyzed and followed."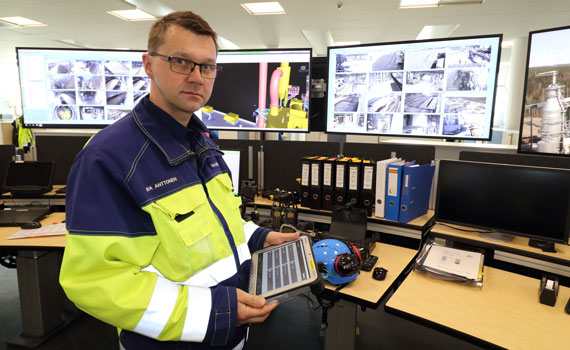 Vibration analysis service via Valmet Industrial Internet remote connection
Analysis and abnormal trend follow-up is the responsibility of Vesa Onnela, a Valmet condition monitoring specialist in Valmet's close-by Jyväskylä service center. Using a secure Valmet Industrial Internet remote connection to the mill system and free from the day to day maintenance activities in the mill, Onnela can concentrate on examining trends or other changes in the vibration spectra measured by the system. "I send a weekly report every Friday to the mill with a condensed view of machine conditions and expert analysis of vibration signals. Covering about 600 pumps, motors, fans, compressors plus the lime kiln, pulp dryer and turbine, various advanced tools in our system help me identify, locate and analyze problems in a targeted fashion. Serious problems that I think need immediate attention can be handled easily by phone," says Onnela. Based on the weekly report, Anttonen has a full picture of developing problems from which scheduled maintenance can be planned well in advance and allow mill personnel more time for causal analysis.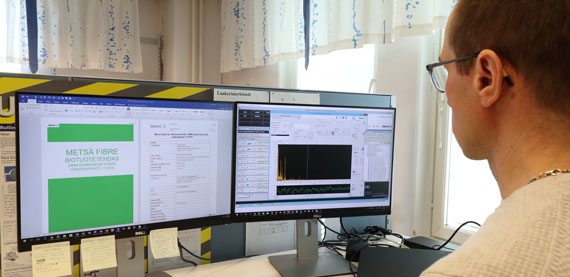 Versatile connectivity including SAP
One target with Valmet DNA was to incorporate process controls, machine condition monitoring and field device management in one system to see the interactions, for instance when production parameters change what changes can be seen in vibrations. Operators are immediately alerted to problems and can quickly take corrective actions. An additional feature of the system delivery is the Valmet Maintenance Pad, a fully functional industrial tablet computer with Valmet Machine Analyzer software that includes route planning, route and off-route measurements as well as efficient tools for vibration analysis. In addition to the 1500 continuously monitored vibration points, there are 10,000 offline points to be measured offline. The maintenance pad is used for almost 6,000 route-based measurements with history data available for instant analysis during the route. "This was another reason to buy Valmet," says Anttonen, "The Maintenance Pad interfaces directly with the online machine monitoring giving us direct access also to the SAP maintenance system as well as the 50,000 data points connected to the process control system. As far as I am aware, this is not possible with any other hand held system."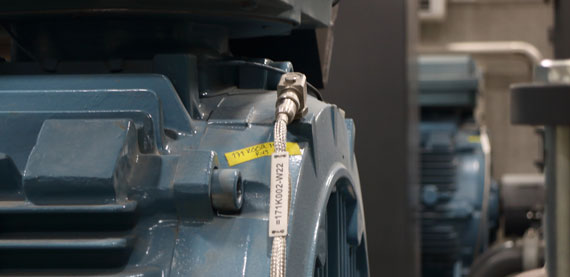 System performed before day one!
Before the mill startup, a potential risk was averted during a pressure test of the recovery boiler. Problems with the main feedwater pump were seen in Valmet's Tampere factory where part of the automation system was still waiting for delivery after the factory acceptance tests. "Luckily the I/O in the mill was connected and Valmet personnel, 150km away, quickly informed us by phone that we had a vibration problem, I can't think of another automation system that could have warned us in that kind of situation," says Anttonen. "Valmet's machine monitoring and remote analysis service has proved invaluable during the startup phase of the mill," he continues, "Finding trouble with new equipment before warranties expire, or pinpointing lubrication problems for example. In a modern mill like this everything is run to full capacity, close to maximum loads, and continuous condition monitoring is a must." Valmet's remote diagnostic support has identified about 200 potential machine problems in eight months since mill startup, not a surprise for Juha Anttonen. "With a new mill, new equipment and so many different suppliers involved during installation, it is to be expected. Following a typical bell curve, reported events will decrease over the next few years until various equipment lifetimes are reached. What has been exceptional is that we have not suffered production losses or downtime due to machine vibration or gearbox faults since startup."
Simplified case example from Vesa Onnela's weekly report