The right forming fabric can bring about huge improvements in boardmaking. The Valmet Forming Fabric OP (earlier known as OptiProof) improves machine efficiency and paper quality as well as providing major cost savings – all benefits warmly welcomed by packaging grade producers.
The production efficiency and cost-saving requirements of packaging grades – liner and fluting – are continuously growing. One such need is to make packaging paper and board grades as light as possible, yet with the same strength properties as heavier grades. "To achieve this in both the cross- and machine directions throughout the web, formation has to be good and fines must be bound on the web. It is also important to have even basis weight profiles as well as good printability properties on liner," says Pekka Kortelainen, Product Technology Manager for Forming Fabrics at Valmet.
Another requirement is to save energy since energy plays a significant role in production costs. The forming section is responsible for approximately 19% of the energy consumption of a packaging paper machine. The sectional drives make up the largest single user of energy in the forming section at 42%. (Fig. 1)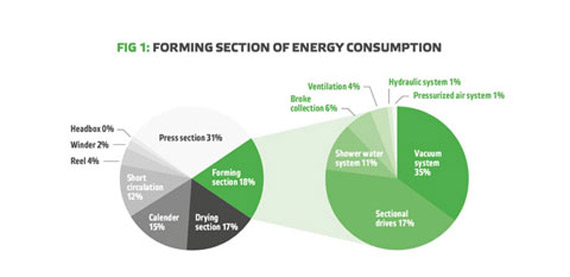 A third requirement is to increase machine speeds in order to produce packaging paper more quickly and without web breaks. The fastest gap former machines today run at over 1,600 m/min, and the 24-hour world speed record is currently 1,700 m/min.
More demands on forming fabrics, too
All these requirements place more demands on forming fabrics, too. "In addition to featuring a long lifetime and effective dewatering, the fabrics must have a good retention capability, minimal fiber and water carry, high dimensional and diagonal stability, as well as good fiber support," Kortelainen points out.
The Valmet Forming Fabric OP provides 25% better fiber support and 15% higher CMD stiffness than traditional SSB fabrics. Although the fabric is thinner and has a void volume almost 10% lower, its wear resistance is almost 20% better than that of a traditional SSB fabric. The seam is also 50% stronger (Fig. 2), mainly due to the lock binding.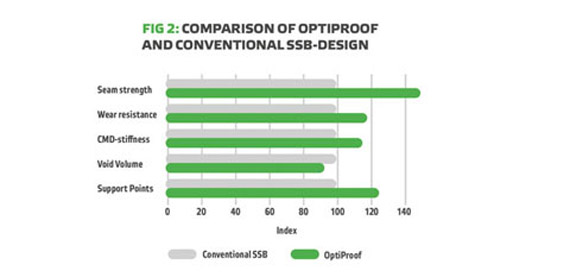 Valmet developed its Valmet Forming Fabric OP based on the fine-surface fabrics originally made for printing paper machines. The fine warps, 10-shed structure and lock binding (Fig. 3) of these fabrics are known to contribute to a fine paper side and a wear-resistant roll side.
According to Kortelainen, experience gained on production machines has demonstrated that Valmet Forming Fabric OP is suitable for both slow Fourdrinier machines and for the world's fastest gap former packaging board machines.
Excellent fabric performance on a Fourdrinier machine
A customer running a Fourdrinier machine that produces corrugated medium (fluting) in a basis weight range of 90–170 g/m2 at speeds of 600–800 m/min wanted to extend the lifetime of their forming fabric.
A trial with Valmet Forming Fabric OP resulted in a longer lifetime than standard fabric. Many other major advantages over other designs were also realized, such as improved dewatering, reduced waste, excellent runnability and higher production.

Best ever profiles and EUR 200,000 annual savings on a gap former machine
A gap former machine producing testliner and fluting at over 1,600 m/min in a basis range of 70–120 g/m2 was having an issue with uneven basis weight profiles. Despite numerous trials with many PMC suppliers' products, it was only possible to achieve sufficiently good profiles with one supplier's fabrics.
In the spring of 2013, a pair of Valmet Forming Fabric OP was installed in the machine, resulting in its best ever profiles. Sheet formation was more homogeneous, and the strength properties (CMT, SBT and burst) improved compared with the standard fabric. There was also a significant reduction in the use of polymer/ retention aid, a high dry content after the forming section and a record-long fabric lifetime.
A huge financial benefit came from significantly lower power consumption, resulting in annual savings worth approximately EUR 200,000.
Originally published in Forward customer magazine 2/2014