Calender roll covers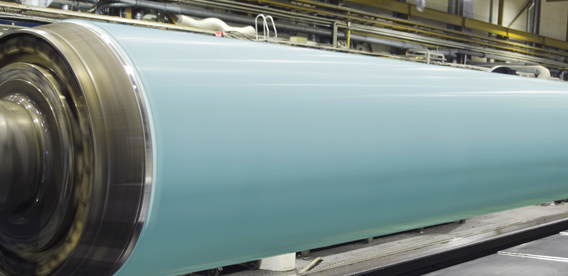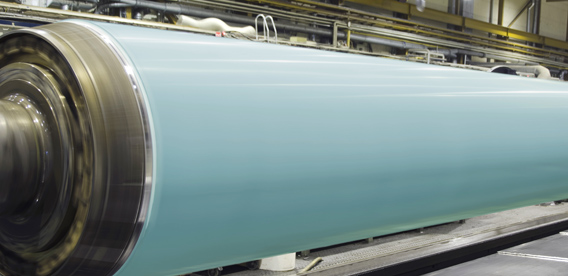 Wide range of hard and soft covers for all calendering needs
At the calender the paper gets the finishing touch, finalizing it's quality. The required paper properties are diverse, depending on the paper quality. Paper can be glossy or matt, most often it needs to be smooth, bulk must be saved or the paper needs to be densified, and always the profile should be uniform. Therefor the calender equipment is diverse, from hard nip calender to soft and matt calender, to super and multi-nip calender, and to the belt calender. The paper can be hard and abrasive, or soft and of low strength, and the operating conditions range from low to high load, hot to cool, and low to high speed.
Valmet caters to all these positions and requirements with an extensive range of hard and soft roll covers. A typical calender roll cover is a composite cover, and Valmet offers composite covers of different performance at economic, standard, and premium level. The right choice of cover ensures special performance such as e.g. barring resistance. For special bulk-saving calendering there is the durable polyurethane cover, while for extreme smoothness and long-lasting running there is the hard coating.
Valmet calender roll covers are renowned for their long grinding intervals and smooth surface quality, which means longer service intervals and optimum paper or board properties. Besides providing better marking resistance, our calender covers allow much higher speeds and temperatures without damage than conventional alternatives. For paper and boardmakers these factors mean quality. Let Valmet help you to run with the most suitable cover for your calender.

Benefits
Smooth surface for excellent paper quality
Wear and barring resistance for long grinding intervals and ease of maintenance
Durability for a long lifetime

Find optimal roll covers for every board and paper process

Click the image above to use Valmet's roll cover application tool to find the right covers for your calender applications
keyboard_arrow_leftBACK
{{currentHeading}}
keyboard_arrow_right
{{productForm.Name}} {{"("+productForm.Size+")"}}
| | | NAME | TYPE | LANGUAGE | FILE | |
| --- | --- | --- | --- | --- | --- | --- |
| | {{file.MaterialIcon}} | {{file.Title}} | {{file.MaterialType}} | {{lang(file.Language)}} | get_app{{file.ContentSize === 0 || file.Title == null ? "" : filterSize(file.ContentSize) + " MB"}} | |