Suction roll seals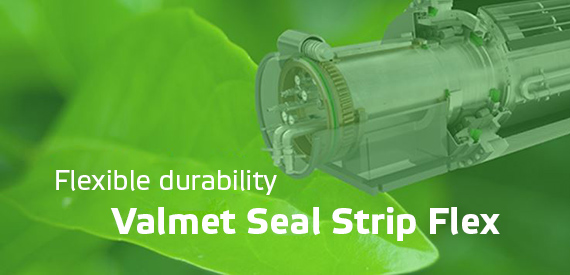 Valmet's suction roll seals are marketed under the brand name Valmet Seal Strip Flex*. It is used as the standard seal material for all new suction rolls, and as a replacement for conventional seal strip materials in the case of older rolls.
Valmet Seal Strip Flex is a rubber-graphite based material that also includes some special components for such beneficial seal strip properties as flexibility, excellent wear resistance and low noise.
Valmet manufactures seal strip flex completely in-house, all the way from the mixing of rubber to vulcanization and machining. This facilitates continuous related research and product development.
Seal strip flex can be used on all paper, board and tissue machines and drying lines, and at all suction roll sealing positions.
Pneumatically loaded axial seals
Valmet Seal Strip Lock** constructions
Spring-loaded end seals
Seals originally made by other manufacturers
The properties of seal strip flex provide superior performance over traditional rubber-graphite seals.
The formulation is substantially better in the areas of wet and dry wear. Customers have even doubled the life of seals with seal strip flex and thus significantly reduced their maintenance and roll change needs.
The flexible material conforms to the shell surface better and faster, and the desired vacuum level is achieved quicker.
The seal's superior handling characteristics reduce the risk of damage during handling and mounting.
Traditional seal strips are delivered in long transport packages and freight costs can be very high. Seal strip flex can be coiled into small square boxes that are cheaper to ship.
Hundreds of customers all over the world are already using Valmet Seal Strip Flex in their suction rolls. Due to its modern and cost-effective manufacturing processes Valmet can also supply strips for entire machine lines or even mill sites. Contract customers can reduce their seal inventories based on Valmet's guaranteed timely delivery of all contract items.
The use of Valmet seals will reduce customers' procurement costs:
Premium product with competitive pricing based on efficient manufacturing and large volumes
Wear-resistant premium material with a long useful life
Fast delivery of all standard Valmet seals and contract items through logistic centers in Europe, North America and the Asia-Pacific region
*earlier known as FlexSeal
**earlier known as LocSeal