Management systems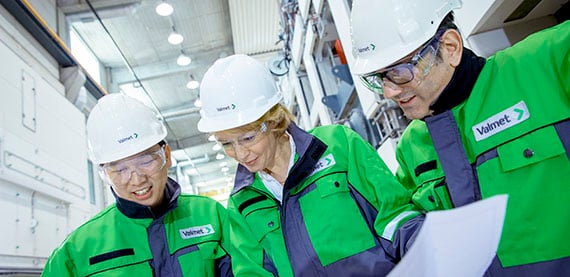 We believe that our global management system supports an efficient and process-oriented way of working towards satisfaction of customer and other stakeholder expectations. Everyone in Valmet works according to the management system and contributes actively to achieving our objectives and to continuous improvement.
In 2016, Valmet decided to move away from a unit-based certification structure and to instead certify the way of working in global multi-site certificates according to the Quality (ISO 9001), Environment (ISO 14001) and Occupational Health and Safety (OHSAS 18001) management system standards. We believe this change enhances strategic alignment and risk and opportunity management.
Valmet's first global multi-site certificates, including 71 locations, were issued in December 2018. Certification assures stakeholders that we embed effective quality, health, safety and environmental (HSE) management practices into all aspects of our business.
Our target is to expand the coverage to all production facilities so that at least 90 percent of our people work in operations certified to all three standards by 2025.
All locations, also those not certified to one, or all, of the standards, are internally audited on a regular basis as part of our internal control procedures.
Articles