Jun 5, 2019
Valmet is very proud of its employees who are constantly doing everyday actions for the wellbeing of the environment. Valmet's office in Karlstad organized an Environmental hunt competition to promote environmentally conscious behavior.
Valmet is committed to improving the environmental performance of its operations and of the industries it serves. In addition to technology development, cleaner production activities and sustainable sourcing practices, individual people also make a difference. Therefore, Valmet is very proud of its employees who are constantly doing everyday actions for the wellbeing of the environment.
World Environment Day on 5 June gives a good opportunity to present one of these inspirational actions.
It all started from disposable cups
In a lunch room in Valmet's office in Karlstad, environmental actions were in exceptionally special focus in April and May 2019. Business Development Managers Magdalena Ottosson and Agnes Lindell organized a competition to promote environmentally conscious behavior.
"It all started with a discussion in our lunch room about the usage of disposable cups for coffee and tea. We tried to convince our colleagues that we should use reusable mugs instead of only using it one time and then throwing it away," Ottosson says.
Ottosson and Lindell started to discuss how to get their colleagues more interested in the environment and how to show that also small choices in daily life matter – the idea of the Environmental hunt was born.
Increased discussion and concrete results
The Environmental hunt was based on a list with different actions that were valued between 1-10 points:
Use the train instead of car or an airplane during business travel (10 points)
Eat vegetarian lunch (2 points)
Colour print outs (-3 points)
Share a car ride to work (3 points)
Use a reusable mug for coffee (2 points)
Use a disposable cup (-2 points)
Carry out a meeting by skype (10 points)
Bike to work (5 points)
Say no to disposable cutlery when buying lunch (2 points)
"Then we encouraged people to participate and the engagement has been high. We also invited people to add more actions that could generate scores. The additions included for example using an electrical car and bringing your own lunch to work from yesterday's leftovers," Lindell explains.
The impact of the Environmental hunt can be seen in increased discussions about the environment in Karlstad office's lunch room, but there are also some concrete results.
"The usage of paper cups has definitely decreased! Also, people are no longer using plastic cutlery for their takeaway lunch, and many people are choosing the train to Stockholm instead of traveling by plane."
And we have the winner!
Altogether 22 people in the lunch room participated in the Karlstad office's Environmental hunt, and the plan is to expand the project to other lunch rooms in the Karlstad office and to other Valmet's locations too.
The winners of the Environmental hunt were selected in early June 2019. First place went to Björn Hagdahl, second place to Daniel Fransson and third to Charlotte Malmros. Björn Hagdahl is very happy about the success and committed to continue with the environmentally-friendly actions. "I have collected most of my points by taking the bike to work, something that is not only good for the environment but also for my health," Hagdahl says.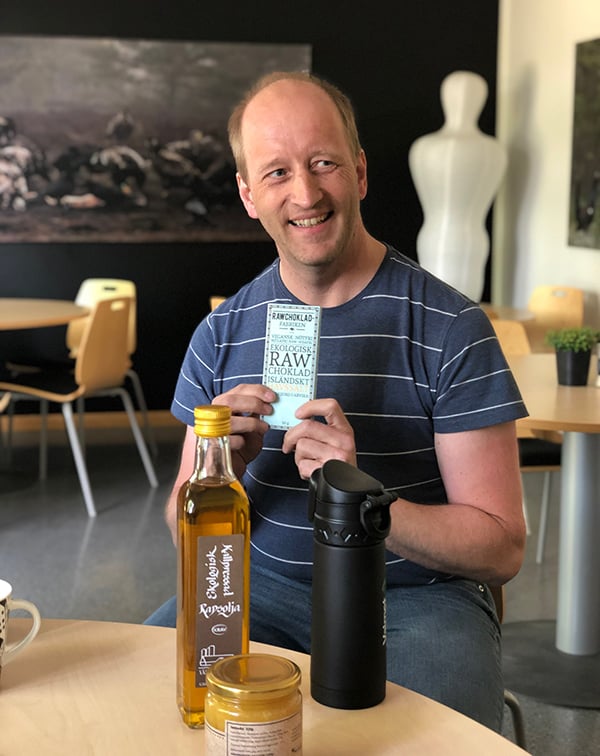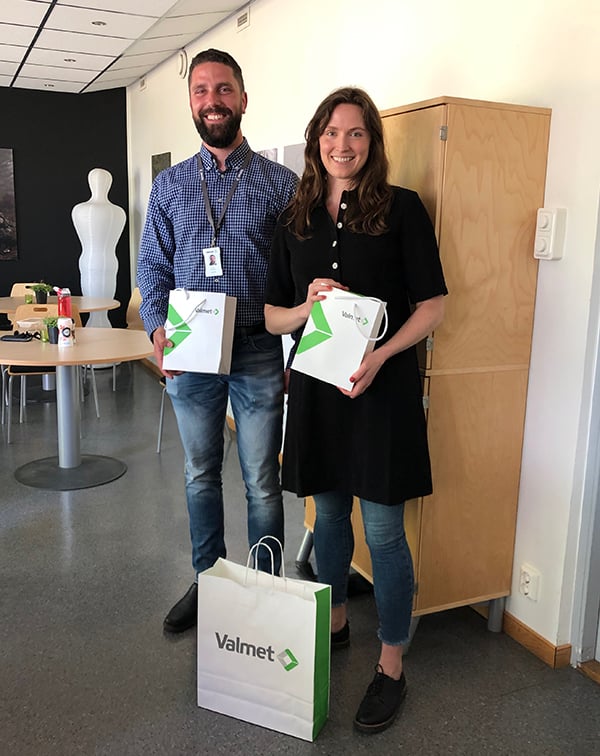 Sustainability is at the core of Valmet's business strategy and operations. Valmet's values, Code of Conduct and related policies as well as selected globally acknowledged initiatives and principles create the foundation for sustainable performance. Health, safety and environment (HSE) is one of the five focus areas of Valmet's 'Sustainability360º agenda. The agenda takes a comprehensive approach to sustainability at Valmet by focusing on sustainable supply chain, people and performance, sustainable solutions and corporate citizenship.