Health, safety and environment (HSE) is one of our five sustainability focus areas. We work to provide safe and healthy workplaces for all and we strive to continuously improve the environmental footprint of our value chain. We do this by investing in a positive safety culture, collaborating with customers and partners and constantly improving our processes and practices towards our common goal of zero harm to people and environment.
A culture where we take care of each other
We believe that safety is created every day in our interactions with each other and that is why we promote an open and continuous dialogue on HSE and focus on developing positive safety attitudes, skills and behaviors at all levels of the organization.
We take responsibility for a safe, healthy and well managed workplace wherever we operate by working safely, following HSE procedures, taking care of each other, participating in HSE activities and contributing to continuous improvement.
Managers at Valmet lead the way and HSE development is part of business management processes, performance targets as well as strategic and annual plans.
Active collaboration with our customers and contractors
We collaborate with customers, suppliers and contractors to secure safety on shared worksites. We believe that effective planning, commitment to common goals and rules, clear responsibilities, good coordination and open communication are key to making sure everyone goes home healthy and safe. We implement best practice HSE tools and activities on customer sites to ensure the safety of all.
Each year we also hold several contractor HSE days where we align safety commitment and expectations with our key site suppliers. In addition to the Sustainable Supply Chain policy, we require suppliers and other business contacts to recognize and comply with our HSE Policy.
Certified operations
Valmet's global management system (GMS) provides a common platform for quality and HSE management in all operations. Through the annual planning process, targets and improvement initiatives are aligned across all units and locations to drive development towards our strategic HSE objectives. By taking best practice into common global practice we are able to achieve sustainable improvements in our HSE performance.
We believe that multi-site certification of our operations assures our customers and other stakeholders that we have a process-oriented and standardized global way of working according to the international ISO standards for quality (9001:2015), environment (14001:2015) and health and safety (ISO 45001:2018) management systems. Our target is that at least 90 percent of our people work in operations certified to all three standards by 2025. All Valmet's locations are internally audited on a regular basis.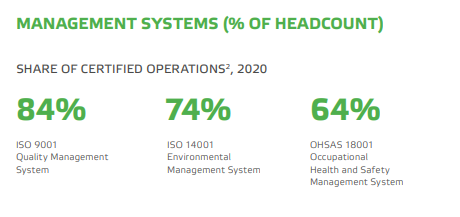 Reducing the environmental footprint of the value chain
We estimate that our supply chain accounts for approximately 4 percent of the environmental impacts of our entire value chain. Through our sustainable supply chain activities, we collaborate with our suppliers and develop our products to reduce the impacts for the environment.
Around 1 percent of our environmental impact arises from our own operations. We are replacing fossil fuels with renewables, purchasing CO₂-free electricity and district heat, and implementing energy efficiency improvements in our locations. We also enhance digital tools, develop remote working habits and promote low-carbon commuting. ​During 2020, 15 million EUR was invested in environmental improvements and management in our own operations.
Most of Valmet's value chain's environmental impact comes from the use phase of its technologies. We develop new technologies and improve the energy efficiency of our current offering to improve our customers' environmental and safety performance.
Responsible management of chemicals and substances
Valmet is fully committed to the goals of the European Union Regulation on Registration, Evaluation, Authorization and Restriction of Chemicals (REACH) and the Restriction of Hazardous Substances (RoHS). Valmet is primarily considered a downstream user and does not manufacture or import chemicals to Europe, with a few exceptions.
Valmet actively implements precautionary and substitution principles to minimize the use of hazardous substances in our activities and to anticipate requirements from authorities. We constantly monitor ECHA's Candidate List of Substances of Very High concern (SVHC) to ensure ongoing compliance.
The minimum requirements that all Valmet's global operations must fulfill are detailed in Valmet's Exposure to Hazardous Substances standard which includes everything from the storage to labelling the hazardous substances.
Key figures in HSE in 2020: