Valmet iRoll portable services make it possible to analyze profiles online – quickly and cost-efficiently, without any investments.
Valmet's iRoll tools are widely used on paper, board and tissue production lines, from wet end to winder. Valmet's iRoll portable technology has been used in hundreds of measurement cases globally in a wide range of paper- and board-making processes. For example, it can measure sheet tension profiles of presses or reels on a tissue machine.
The temporary iRoll system consists of force-sensitive film sensors mounted in a helical pattern on the roll surface with special tape. When used on a tissue press, the system makes it possible to analyze nip load profiles under dynamic conditions during a shutdown. In a typical case, nip profiles are analyzed dynamically with the old roll covers. Based on the data, optimized crowning can be calculated for new roll covers even before they are manufactured. This means that they have the best possible crowning to begin with.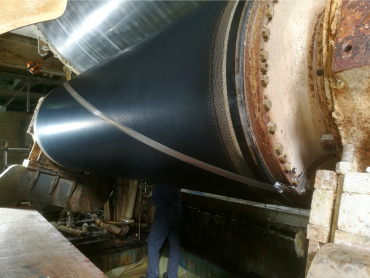 How it works
Dynamic nip profile analysis with Valmet iRoll
Sensors and measurement modules are installed on the roll. This usually takes two hours and can be done during a felt change shutdown.
Profiles are measured under dynamic conditions with rotating rolls. The process conditions are kept as close to real production as possible. For example, press section felts are in the machine and wet, as usual. The Yankee cylinder temperature and pressure are at normal production levels, and the suction roll vacuum is running. Even in extensive nip profiling trials, measurements can usually be carried out in a relatively short time, as the results are displayed immediately. This phase normally takes no more than two hours.
After taking the measurements, the sensors and measurement modules are removed from the press and the paper machine can be started up again. This phase usually takes half an hour. Altogether, the whole analysis procedure can be done in a shutdown of six to eight hours.
The measurement data is analyzed by experts, who draw up a report with recommendations for further action, such as changing the press nip crowning. This analysis often includes update recommendations for roll cover material, hardness and surface topography, too.