Tissue machine productivity relies on efficient dewatering, good moisture profiles, low energy consumption and cost savings. Valmet offers a solution to improve the performance of tissue press nips with better paper profiles. It includes the best options for roll covers, cover surface topography optimized with simulation models, and improved crowning profiles with Valmet's iRoll technology.
Reducing Yankee/hood energy consumption is a key item in increasing cost efficiency. Higher dry content after the press results in energy savings or offers the possibility to run the machine more quickly. Press area dewatering can be enhanced with optimal cover and surface topography: it needs the right combination of cover hardness and material, as well as grooving and drilling patterns.
In an efficiency development project, a typical target is to improve the nip profiles of the suction press or second press to ensure even moisture profiles and remove moisture peaks at the edges. High-moisture areas require additional energy for drying, or they can cause web breaks, compromising production line time efficiency. Profile quality goes hand in hand with higher dry content.
The nip profile depends on the crowning shapes of the Yankee and press roll covers. As changing the Yankee shape is a bigger, more expensive and riskier task, the press roll cover crowning is typically adjusted to get straight nip loading. This requires accurate nip profile measurements under dynamic conditions and the capability to calculate new crowning based on the results.
A third important task is to ensure correct nip loading conditions and proper performance of loading equipment. Alignment errors, skewed loading, variations in load level and other disturbances can lead to profile issues, roll cover damage and negative impacts on felt condition. Early detection of nip loading equipment malfunctions is a must for overall efficiency.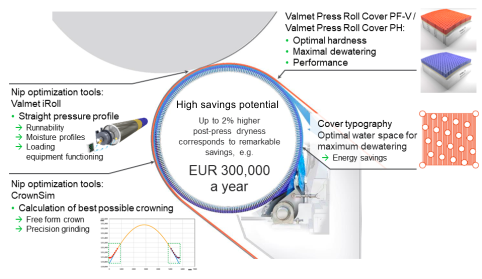 Valmet's tissue press efficiency solution is a comprehensive toolset to improve press performance and profiles.