Metsä Tissue's Mänttä mill intends to utilize Valmet's grooved, countersunk breast suction roll shell to reduce unplanned roll changes on its TM 1 tissue machine and extend roll running times.
Eliminating runnability and contamination problems – and the shrink sleeve
In April 2016, Metsä Tissue's Mänttä mill installed a Valmet grooved breast suction roll shell on the twin-wire gap former of TM 1. It marked Valmet's fourth delivery of this innovative solution for a tissue machine.
The breast roll on TM 1 had previously been operated with a plastic shrink sleeve. "There were a lot of runnability and contamination issues on the breast roll. A few times a year, we had to clean the roll, remove dirt that had accumulated under the sleeve and repair damage to the sleeve. The sleeve became wrinkled, and yarns broke due to wear," says Jyrki Pekkala, Maintenance Manager at the mill.
In most cases, it was not even possible to repair the sleeve. The roll had to be removed from the machine and the sleeve replaced. The typical running interval for a breast roll was less than a year.
"In the fall of 2015, the old breast roll shell reached the end of its life, and we had to acquire a new one. At the same time, we wanted to get rid of the unreliable sleeve. We chose Valmet's grooved shell solution based on it's good experiences and performance with previous deliveries," Pekkala explains.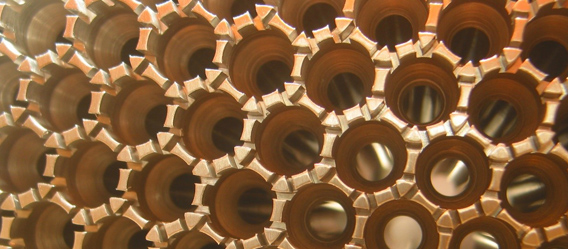 Good runnability, no hole shadow marking, no contamination
The grooved breast suction roll shell has been operating continuously on TM 1 since its installation. "Start-up went without problems. Runnability has been good, and the shell does its job well," says Jyrki Leppäaho, Development and Energy Engineer at the mill.
Before the start-up of the new shell, Metsä Tissue was worried that the suction roll without the sleeve would increase hole shadow marking on the paper. "We have now produced most of our tissue products on this machine, and we have not noticed any hole shadow marking that would lower paper quality," Pekkala remarks.
Additionally, roll cleanliness is better than before since no dirt can accumulate between the shell and the sleeve. "We can also use high-pressure washing showers more freely, since we do not have to watch out for the sleeve," Leppäaho points out. According to the mill, running with a sleeveless breast roll has not increased wear on forming section fabrics either.
Aiming to expand running intervals up to 2½ years
So far, this new breast roll solution has not needed any maintenance.
"We expect to extend breast roll running and maintenance intervals from less than a year to up to two-and-a-half years. Since there will be no unplanned roll change shutdowns due to sleeve damage, we will get dozens of hours more running time every year," Pekkala continues. "We will consider this same solution for our spare breast suction roll, too, when its shell needs to be replaced. I can warmly recommend this solution to other tissue-makers who are having issues with shrink sleeves."
Grooved (countersunk) suction roll shell benefits:
Higher reliability
Longer maintenance intervals and savings on maintenance costs
Easier roll cleaning
Longer running intervals (fewer roll condition checks and change shutdowns)
The new solution provides significant benefits for tissue-makers. Thanks to the innovative groove pattern, it is no longer necessary to use a damage-prone metal wire or plastic shrink sleeve on the breast roll. This results in better roll reliability and less need for maintenance.