Three decades of cooperation between Yuen Foong Yu and Valmet continued in 2017 with a new OptiConcept M board-making line starting up successfully. The long-term cooperation is based on shared values and a focus on sustainability.
Focus on sustainability
Yuen Foong Yu is a well-known company in Taiwan and has a history of more than 90 years. Both Yuen Foong Yu's model of sustainable operation and Valmet's Way Forward have a common core: maximizing the use of resources, minimizing the impact on the environment, and dedication to serving their customers.
These common values have contributed to long-term cooperation between the two parties over the past 30 years. The first Valmet-supplied papermaking line was delivered to the Yuen Foong Yu mill in Taiwan in 1989. When Yuen Foong Yu decided to invest in a new production line (PM 3) in 2015, Valmet's OptiConcept M production line won the bid again. Fewer raw materials, less energy consumption, better-quality products: all the key features of the OptiConcept M technology are highly compatible with Yuen Foong Yu's business philosophy and long-term vision.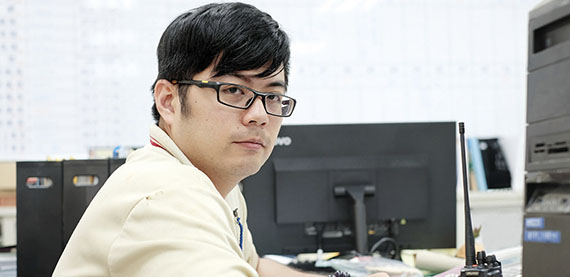 "Valmet has professional service team and a worldwide support team. We feel relaxed when cooperating with them," comments Song Fu Shen, Specialist for PM 3 at Yuen Foong Yu's Hsin Wu Mill.
Maximum resource utilization with zero waste
"Yuen Foong Yu has been pursuing the goal of zero waste and actively utilizing new technology to cherish every resource. From raw materials to energy, water utilization, recycling and reuse, to the development of appropriate product features, we have been working hard. We promote proper products: too much packaging is a waste, too little can damage the product. The key is to strike a good balance," says Chou Yu Lung, Mill Manager at Yuen Foong Yu's Hsin Wu Mill, introducing their business model.
"At the Hsin Wu mill, we have also built a multi-fuel heating and power plant, which can make full use of the waste from the paper mill as the raw material of the power plant. We do very careful classification and maximum recycling. It is not only a cost saving, but also maximum resource utilization," he continues.
"Our PM 3 board machine uses 100% recycled fiber to produce containerboard, including corrugated paper and kraftliner. The OptiConcept M was chosen for its advantages in energy saving and water saving in the beginning. But we were delighted to discover its high tolerance to the raw materials, and production transfer between linerboard and corrugated board is also very smooth. This makes it even more aligned with our original intention of making full use of all resources. The competitiveness of the design and the concept of sustainability are integrated features of OptiConcept M," says Chou Yu Lung in summary.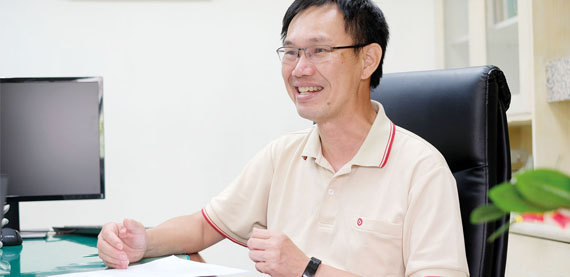 "OptiConcept M was chosen for its advantages in energy saving and water saving in the beginning," says Chou Yu Lung, Mill Manager of Yuen Foong Yu's Hsin Wu Mill.
Common values have contributed to long-term cooperation between the two parties over the past 30 years.
Towards zero emission
Willie Chen, Executive staff of Yuen Foong Yu Hsin Wu Mill, recalled the whole process of negotiation and implementation of the project: "We have always adhered to the green business philosophy. We have obtained international environmental protection certifications such as CoCs for paper, PEFC, etc. We had a clear goal at the beginning of the project: energy saving and environmental protection. We always do our best to reduce the carbon footprint, minimize the impact on the environment, and finally achieve zero emissions."
"Many features of the Valmet OptiConcept M board-making technology impressed us. For example, its compact design can reduce the carbon footprint a lot even during the construction period. It saves energy, water, and fiber. Now our steam consumption for 90–95 g/m2 board is around 1.1 tonnes, and power consumption is about 320 kilowatts per ton. This is a very low level in the industry and meets our expectations well," he summarizes.
Innovation behind differentiated quality
"The product quality from the Taichung mill could not meet customer needs anymore. In order to better serve our customers, improve product quality and enhance competitiveness, we invested in the new production line. The OptiFlo headbox of PM 3 ensures paper evenness, which means that our customers are satisfied with product quality, and we are also very proud of that. Now we are confident to say that we produce the best corrugated paper in Taiwan," says Xu Wenxian, Associate Director of the Yuen Foong Yu Hsin Wu Mill, who is very satisfied with the current product quality.
Mr. Zhou also highly recognizes the benefits and quality of PM 3: "Because of low energy and fiber consumption including our own power plant support, our advantage in cost competitiveness is obvious, as well as our profitability and market competitiveness. We always believe in the driving force of new technologies for product development and believe in Valmet's ability to innovate. Our product quality improvement is strong proof of this. It can be said that Valmet's product quality has promoted the quality of our products, and its innovative way to service has contributed to our longer-term cooperation."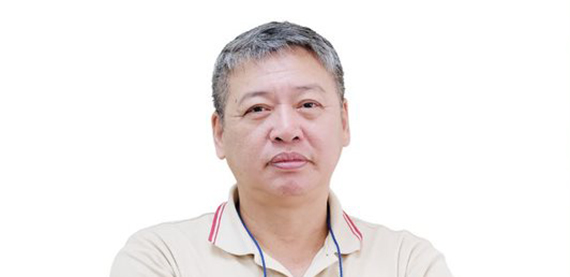 Xu Wenxian, Associate Director of Yuen Foong Yu's Hsin Wu Mill, is very satisfied with the current product quality.
Smart paper machine
Lin Song-shing, Supervisor of PM 3, praises the machine automation system: "PM 3 is a smart paper machine. It has user-friendly user interfaces, and a unified platform for the whole production line with chain control. It is very convenient to control and check machine problems, and easy to maintain. It is also easy for newcomers to get started, which greatly shortens our training time, and solves the most challenging labor shortage problem at the same time."
"This is not the first time we have used a Valmet automation system. In 2010, we rebuilt PM 1 with Valmet QCS and MCS. The user experience has been greatly improved. So we were happy with management's decision to choose Valmet automation again this time."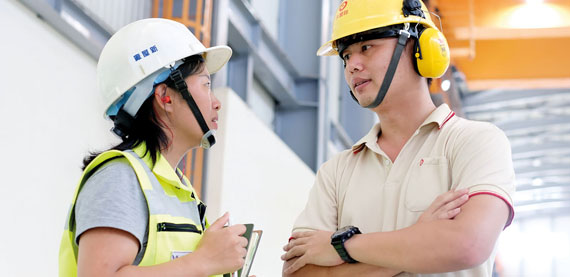 About Yuen Foong Yu
The company was founded in 1942, and officially established as Yuen Foong Yu Paper Mfg. Co., in 1950. At present, it is widely regarded as the pioneer of private paper manufacturers in Taiwan.
Yuen Foong Yu Paper produces reading and writing, industrial, and home use paper. It is characterized by a fully integrated production chain covering upstream (forestry, pulp), midstream (paper manufacturing) and downstream (printing, packaging, and design) operations, which creates synergies. Yuen Foong Yu Paper currently ranks among the 50 largest paper manufacturers in the world.
TEXT: Sara Li
Article published in Forward magazine 1/2019.