The interest in lightweight linerboard is on the rise in North America. In response, Kruger converted their newsprint machine in Trois-Rivières to board machine to produce the finest 100-percent recycled high-strength linerboard on the market.
Kruger has over 50 years' experience in the packaging industry. They put that experience to good use when they entered the market with their premium XTR linerboard in 2017. Having a strong customer base caused high expectations. But when the bar is high, it feels even sweeter to succeed.
"We met the market's expectations," explains Gino Lévesque, Vice President of manufacturing at Kruger. "We promised our customers a lightweight, high strength board, and that's what they got. And trust me, they did all kinds of testing when they got the sheets for the first time."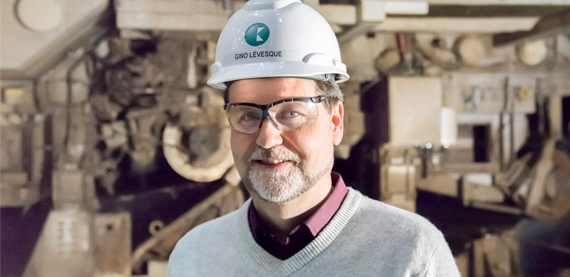 PM 10's grade conversion journey started five years earlier. After initial planning, it became obvious that their best newsprint producing machine, at the Trois-Rivières mill in Canada, was the most suitable candidate for conversion. "Valmet presented us an integrated, overall solution in terms of technology and were willing to take a kind of calculated risk, too," Levesque says, explaining the rationale behind the choice of supplier for the reconstruction project.
Kruger also took advantage of Valmet's piloting services to develop the right rebuild scope. "Valmet's pilot machine in Finland was adapted to show the different grades that could be produced on PM 10", says Anish Patel, Superintendent of PM 10.
The transformation that works – and why
Grade conversion adds an extra layer to the complexity of a rebuild project, as the mill has to adapt and learns the tricks of the new grade. "With liner, there are more parameters to control than with newsprint. If the printer is complaining, it's easy to go and fix things. In packaging, there are plenty of customers, and you have to make sure that every parameter is under control. You can never tell which deviations can lead to large stresses in the box manufacturing," Levesque explains.
To ensure a smooth transformation, the operators received thorough training during the six-week shutdown. Both Levesque and Patel praise the team spirit. "We had the right people in the right place. We have a good mix of young engineers in the team, and we also have experienced papermakers to help with problems that young engineers fresh out of school haven't come across yet," Patel says.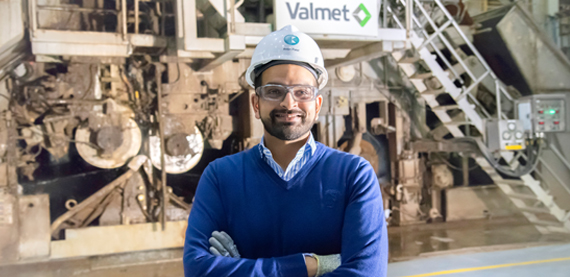 Success comes from having good expertise on both sides. "Being one team with Valmet has been the key. This is not a customer-supplier relationship – it's a true partnership," says Levesque.
The team was put to the test when some challenges arose. "Valmet had a positive and collaborative attitude, despite the challenges we went through with the OCC plant. There was no blame game involved, and we saw how Valmet's team adapted and tried to help in any way possible," Levesque continues.
Kruger has also taken advantage of Valmet's knowhow after the initial tune-up period by having a Valmet expert on-site to help with further optimization of the machine.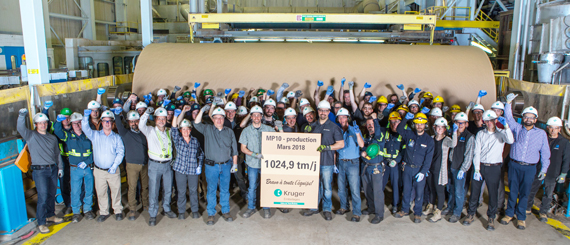 In March 2018, Kruger's Trois-Rivières PM10 reached an important milestone as it reached a monthly production record of 1,024.9 metric tonnes/day.
Surpassing industry standards with innovative technology
Kruger's ambitious target is to be among the best linerboard mills in North America and to provide their quality-conscious clientele a strong, stable, flat sheet with the best strength-to-basis-weight ratio. The technical scope of the rebuild was crafted with that in mind.
"Kruger did the choice of implementing the latest technology available and had dedicated proper resources to exploit the full potential of that technology," says Levesque. "We have excellent sheet formation, and the new dilution headbox means excellent CD profiles. We had some issues with the pick-up. They were resolved by changing the felt design, and apart from that we've had very good experiences with the OptiFormer forming section with shoe and blade technology," Patel says.
He is also happy with the retrofitted shoe press. "Obviously, it has provided us with more capacity with more dryer sheet, and it has been straightforward to use. The first sleeve exceeded its warranty life, and it was in excellent condition considering the beating it experienced during the start-up," he continues.
During the start-up, the mill was forced to push the upper and lower limits of the machine. "It showed to us that the machine has the flexibility and ability to run within wide limits. We were able to go as low as 88 gsm or as high as 171 gsm or over. We do not have to play with the tilt, rod design or all these different elements every time we change grades. It gives us a certain flexibility to make the transition from light to heavy weight without the downtime that comes from changing the equipment. It increases efficiency," Patel says.
More capacity with steel cylinders
Kruger chose steel cylinders instead of cast iron cylinders for their rebuild. The machine had a footprint that it had to fit within without moving the current reel and winder. In order to reach their target capacity, they needed to get the highest efficiency for drying. The thinner shell of steel cylinders enables higher heat transfer.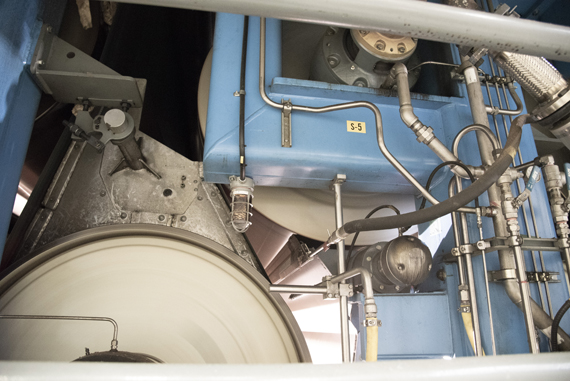 "The steel dryer cans are performing well. We were initially a bit concerned, but in nine months of operation, we haven't had any issues," Patel shares his experiences. The use of OCC as raw material made them concerned about cleanliness. "We haven't had any sticky issues. The doctors are new, which definitely helps, and we have fabric cleaning devices making sure that fabrics stay clean."
The paper machine has good evaporation rates, and they've been able to meet or exceed the machine speeds that we guaranteed.
Attitude for going forward
When asked about the success of the project, Levesque says: "Marketwise, we are now providing a solution to the market that makes people talk about us. But, we have the attitude to keep moving forward." Patel feels the same. "We're continuing to make the board better and taking advantage of all the new technology we have on the machine. Valmet DNA is a very powerful tool for collecting data, and we're using it for optimization. While we are producing a very high quality product, Kruger is committed to pursue the development of this product line in order to exceed the customer requirements regarding the low basis weight high strengths ratio."
And how does the future look for Trois-Rivières PM 10? Very good, as long as they keep delivering the results.
Want to learn more about how to plan a successful rebuild?

Over the years, we have gathered plenty of experience and expertise in rebuilding all kinds of machines. We asked our experts to provide tips, advice, and industry insight to help you demystify the rebuild process and created a practical guide book.