In July 2021, Bati Kipas Kagit commissioned Europe's largest paper machine (PM2) for coated paperboard production in Soke, Aydin, Turkey with a capacity of 720.000 t/y. Valmet Retention Measurement (Valmet RM3) is used for wet end measurement from the first moment of commissioning in order to achieve high efficiency in production as well as high savings from chemicals.
The most important goal for PM2, which has been commissioned for almost a year and optimization work is ongoing, is to prevent paper breaks. "Measurement of wet end is a good indicator of process stability. Paper breaks in machines are sometimes caused by wet end retention and consistency fluctuations. This is a parameter that greatly affects productivity." says Hakan Sannan, Electrical-Automation Manager at Batı Kipas Kagit.
Increased efficiency with retention measurement
Retention control is critical to paper breaks in all kinds of paper production and to operate the machine at the highest efficiency. Especially in high capacity machines, it adds a remarkable value to the production. "Typically wet end retention controls are done according to laboratory values in traditional systems. Therefore, there is no continuous measurement data available where you can see and adjust process before you take a new sample. This is a blind control. The most important advantage of Valmet Retention Measurement is that it performs this measurement online. So that, in addition to ensuring paper quality, I think it will contribute to increasing paper production as it reduces paper breaks." says Hakan Sannan.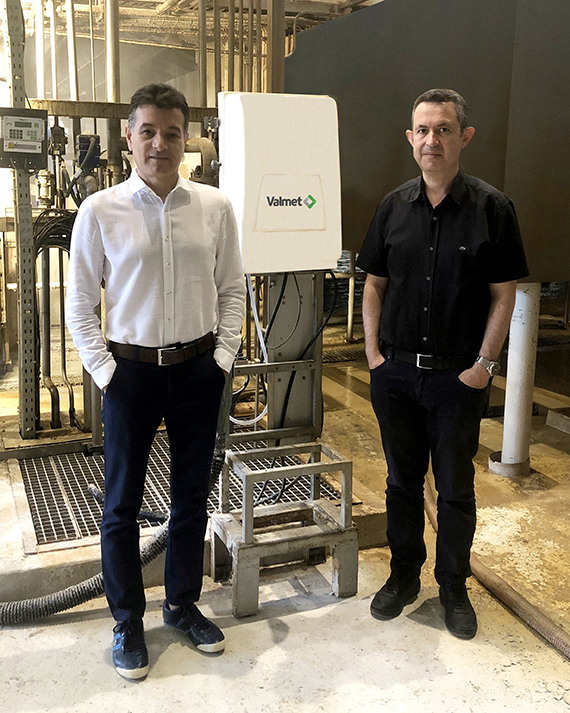 Wet end control directly affects costs
With a capacity of 720,000 tons/year and a speed of 1300 m/min, PM2 produces 8 different grades including fluting, testliner, kraft top testliner, coated testliner, white chip light duplex and triplex board, grey board and coreboard. Saving on raw materials is crucial for the company. "We produce in product groups for which our domestic market is dependent on foreign imports. Therefore, especially raw materials costs are critically important for us just like every manufacturer. The main purpose of the retention control is to keep fibers and fines in the sheet, thus reducing fiber loss. This is one of the most important advantages of the Valmet RM3." says Hakan Sannan.
High optimization of chemicals
Valmet Turkey Sales Manager Hamit Demir supports the project like a team member. Demir says that professionals who have experience of using Valmet Retention Measurement in different mills before are very comfortable when choosing the measurement for this machine: "In this project, there are those who have used Valmet RM3 in different mills before. In their previous experience, they achieved an improvement of 40% in chemicals thanks to this device. So, they chose Valmet for PM2 without any hesitation. I believe we will reach a similar efficiency value here."
Thanks to Valmet's "tailormade" solutions and services
The cooperation between Valmet and Kipas Kagit goes back many years. Stating that he hopes this cooperation will continue, Hakan Sannan says, "Valmet is a company that has proven itself in the paper industry. It is very successful especially in this kind of automation devices specific to paper machines. Compared to its competitors, I can say that we prefer Valmet because we trust Valmet's technology more. At the same time, their support continues after product delivery, which is very important. In this context, we are very pleased to work with Valmet."
Bati Kipas Kagit is currently installing a new Valmet corrugated paper production line (PM3) at the same location as PM2. Hakan Sannan says that they rely on Valmet for retention measurement on this machine, too.