Valmet Online Learning
Self-paced learning at your fingertips
Mix and match courses in many languages to build your online learning paths. Take tests, earn badges, and follow your team's progress in our learning platform.
From basic to advanced - whenever and wherever you need it
Our large library of standard online courses cover equipment, processes and automation for the pulp, paper, tissue and energy industries. We continuously develop new content based on the latest technologies. We supply courses in a variety of languages.
Our self-paced courses range from basic to advanced levels and can be combined with instructor-led courses to build blended learning packages. We also develop customized online courses based on customers' plant documentation.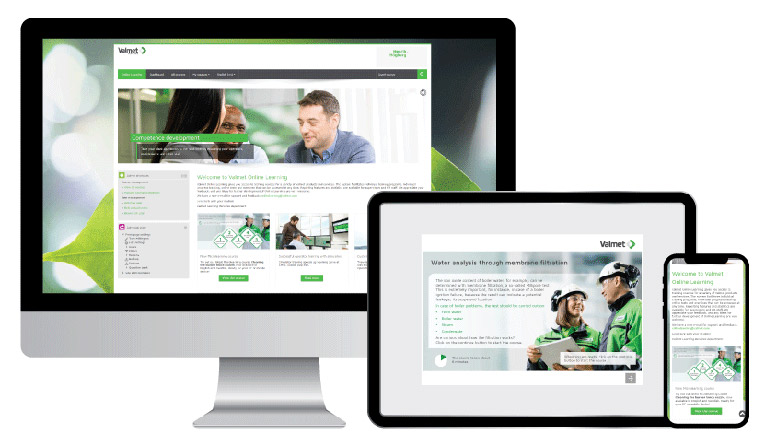 A full-scale LMS at your service
Our online courses are delivered via Valmet Online Learning, a platform built on the widely Moodle Open Source LMS. A Learning Management System (LMS) is an online platform for the administration, documentation, tracking, reporting and delivery of e-learning courses.
Supervisors and HR personnel can get access to advanced reporting features and tools to build customized learning modules, quizzes, and tests.
Bite-sized microlearning courses for your phone or tablet
Microlearning refers to short online course modules, designed for mobile use and focused on solving practical tasks. Using a step-by-step approach, videos and other rich media, learners build new skills and get support with everyday tasks.
The course presents fundamental information about the equipment and the process in a very clever and pedagogical way"
Discover our on-going courses and learn about Digital Badges
Free trial: Valmet Online Learning
Fill in the form and get access for a free trial.
Customer case: Vallvik Mill, Sweden
We want to provide all of our recovery boiler operators, both the experienced operators, as well as the less experienced operators, with the best prerequisites and skills to deliver excellent performances. Since Valmet also includes safety aspects in their online training, we decided that this was a superb addition for our operators' regular (internal and external) training agenda.