Valmet Virtual Mill
A virtual learning experience
Valmet Virtual Mill is a digital design twin of the customer's machinery and surrounding facilities. It can be used for training operators and maintenance workers before both the initial start-up and major shutdowns.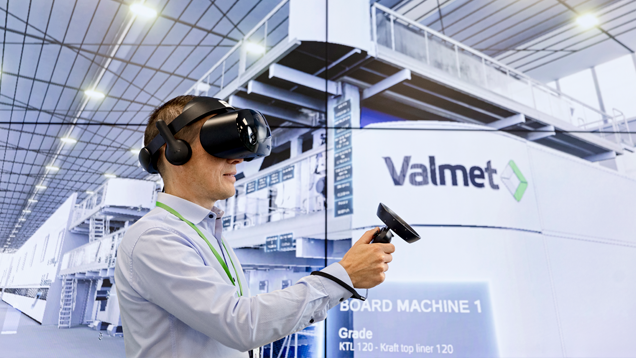 Enter a 360 learning environment
Using virtual reality and controllers, the users enter a 360° learning environment, move freely in a 3D virtual setting and interact with simulated machinery to learn more about the process and the equipment. The included training modules are lifelike training scenarios, created especially for the maintenance actions in forming and press sections.
As a result, the users learn in the best possible way — through personal experience — which significantly improves learning retention, job performance, and workplace safety.
"Valmet wants to ensure that the customers get the most out of their equipment, systems and processes. We are constantly looking for ways to make knowledge transfer more efficient, as the success of a board and paper producer is not only dependent on the quality of the technology they use but also the level of competence of their employees,"