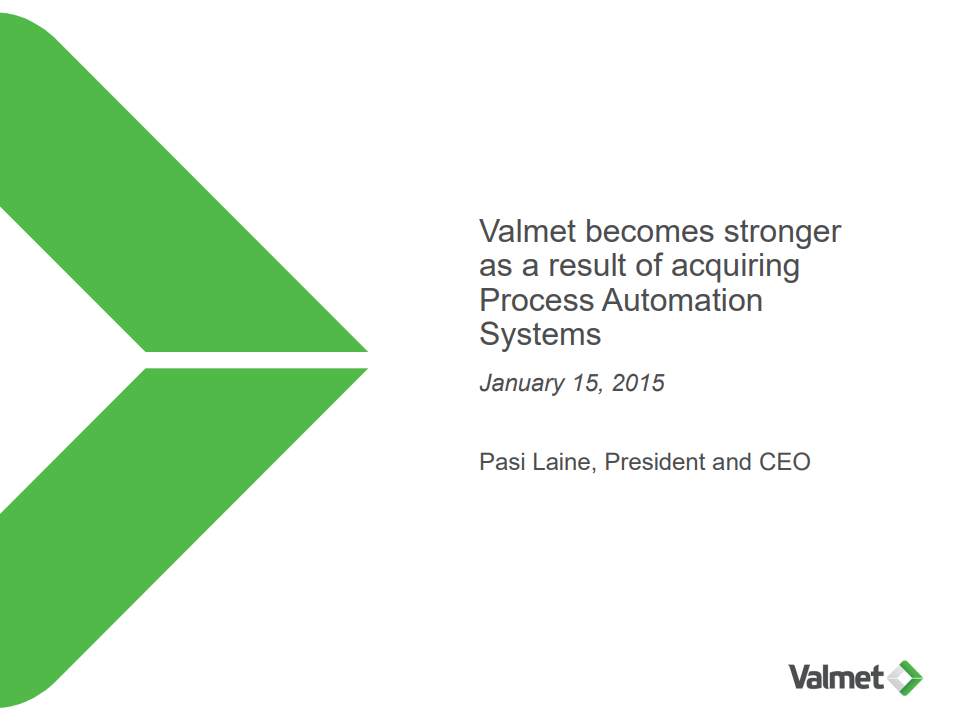 Click the image to access the presentation
Valmet Corporation and Metso Corporation have signed an agreement on the sale of Metso's Process Automation Systems business to Valmet on January 15, 2015. The enterprise value of the acquisition is EUR 340 million. The acquisition was financed with committed long-term financing. The acquisition was completed on April 1, 2015.
The acquired operations supply process automation and information management systems and related applications and services to the pulp, paper, energy and other process industries. The purchased operations employ about 1,600 people. Net sales for 2014 amounted to EUR 297 million.
According to Valmet's new organizational structure, the acquired business forms Valmet's fourth business line, Automation. Valmet will continue to report its financial results as one segment, and Automation business line will be included in reporting starting from April-June 2015 Interim Review. Orders received, net sales and personnel will be reported for all business lines and areas. Mr. Sakari Ruotsalainen, M.Sc in Engineering, has been appointed President of Automation business line.

Stock exchange releases
Valmet has completed the acquisition of Process Automation Systems
Stock exchange release on April 1, 2015
Changes in Valmet's organizational structure and appointment to the Executive Team
Stock exchange release on February 6, 2015
Valmet acquires Process Automation Systems business from Metso: Valmet becomes stronger, more stable and more profitable as a result of the acquisition
Stock exchange release on January 15, 2015
Presentation material
Automation completes Valmet's offering
Pasi Laine, President and CEO
Presentation at Capital Markets Day on March 19, 2015
Valmet becomes stronger as a result of acquiring Process Automation Systems
Pasi Laine, President and CEO
Presentation at the news conference on January 15, 2015
Articles, videos, transcripts
Article: Process Automation Systems business in brief
Webcast recording of the Capital Markets Day on March 19, 2015
Webcast recording of the news conference on January 15, 2015