What is Valmet acquiring and what is not included in the acquisition?
GL&V (http://www.glv.com) is a supplier of technologies, upgrade and process optimization services, rebuilds, and spare parts for the pulp and paper industry globally – especially in the areas of chemical pulping, stock preparation, papermaking and finishing.
GL&V's key locations are in Nashua (New Hampshire), Lenox (Massachusetts), and Hudson Falls (New York) in the U.S., in Trois-Rivières (Quebec) in Canada, in Stockholm, Sweden, in Pune, India, and in Campinas, Brazil.
GL&V's washing, oxygen delignification and bleaching operations with Compact Press®, pumps and mixers technology for chemical pulping as well as the related Product Center in Karlstad Sweden are not included in the transaction scope.
What is the rationale behind the acquisition?
The acquisition has an excellent strategic fit – it strengthens Valmet's global services business, complements Valmet's technology offering and builds further Valmet's local presence and capabilities especially in North America.
The combination of Valmet's global reach and GL&V's product and services offerings for chemical pulping and paper production form a good basis to create new business opportunities and serve customers even better.
What are the key financial metrics of the acquired operations?
The net sales of the acquired operations were approximately EUR 160 million in 2018. Of net sales, approximately 70 percent is from North America, 20 percent from EMEA (Europe, Middle East and Africa) and rest from Asia-Pacific, South America and China.
The EBITA margin of the acquired operations was approximately 11 percent in 2018, exceeding Valmet's 2018 Comparable EBITA margin of 7.7 percent.
The acquired operations employ approximately 630 employees, of whom approximately 65 percent are in North America and the rest mainly in Europe, South America and India.
When was the acquisition completed and how are the operations included in Valmet's reporting?
The acquisition was completed on April 1, 2019. A majority of the acquired operations are reported in Valmet's Services business line.
How is the acquisition financed?
The acquisition was financed partly in cash and partly through long-term financing.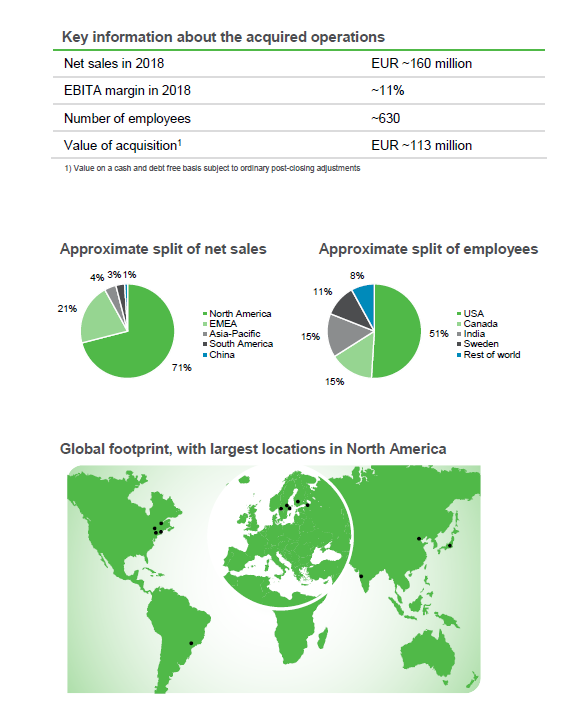 Read more: