Nov 4, 2022
Valmet and the tissue paper manufacturer ICT have been collaborating closely for 10 years. When ICT's mill in Pannes, France, reached an important milestone earlier this year, 10 years of production on its PM31, Valmet was there to share the joy.
In 10 years, the machine has produced a quantity (tons of tissue), equal to 15,000,000 km or 375 times around the globe. Besides being the machine supplier, Valmet has played an important part in the maintenance and several upgrades over the years. "
"These are special moments for us – seeing the paper machine we've manufactured still going strong and as good as new. Of course, I'm proud of my colleagues contributing to the well-being of the machine over the years, but we couldn't have made it without the dedication, hard work and skills of the entire ICT team. It's been a true team effort", Johan Björn, Key Account Manager, Valmet, says.
In addition to the continuous service partnership, Valmet has also taken care of the regulatory Yankee maintenance ensuring the performance and safety of the Yankee dryer. In 2021, Valmet managed the annual shutdown of PM31 with excellent outcome – less than 20 hours downtime for the machine and the re-start in flawless condition, Paul Arnold, Tissue Solutions Manager, Valmet points out.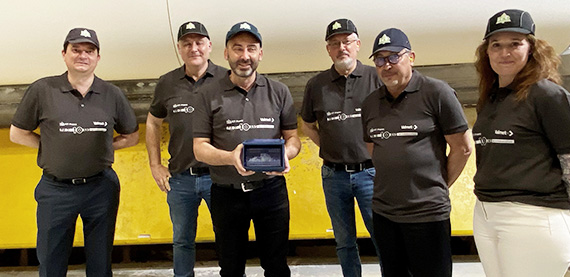 Towards more sustainable production
As one of the recent improvements, the tissue machine was equipped with Valmet Advantage ReDry, a solution that enhances press dryness whilst also reducing energy consumption and CO2 emissions.
"On ICT's PM31, the Advantage ReDry has led to savings on gas consumption and savings on electricity consumption. Here, too, the exemplary results have been obtained jointly with the world-class technology and the people embracing it.
Collaboration to be continued
Jean-Paul Da Costa, Paper Mill Manager, ICT, knows the mill's PM31 by heart – he has overseen the production for the entire ten years.
"I'm very satisfied with the way Valmet has supported us throughout this time and I think our teams make a good match. By listening and respecting each other's opinions we've built an atmosphere of mutual trust. I'm sure we will have many more successful years to come", Jean-Paul Da Costa says.
"I agree – it is great to work together with Jean-Paul and his team. They have such a professional approach to their machine's performance and lots of enthusiasm for further improvement", Johan Björn says.