Jun 17, 2022
At Valmet Performance Center (VPC), the collection of data and tissue production improvements have a direct correlation. But it's the shared knowledge from the people behind that really makes it happen. We visited the VPC for Tissue in Karlstad to find out how this all comes together in reality.
Unlimited amount of data, millions and millions of rows, the possibilities are endless. Having access to data is one of the most important tools for making decisions and reaching goals, whether it be developing a new medicine or target consumers with the right products. We have always collected data in one way or the other, this is of course nothing new. However, the method how it's done has rapidly changed over the last few years, and the amount available is near to impossible to grasp. To understand how Valmet is using data we decided to meet Niklas Lindberg and his colleagues at the Valmet Performance Center for tissue in Karlstad, Sweden.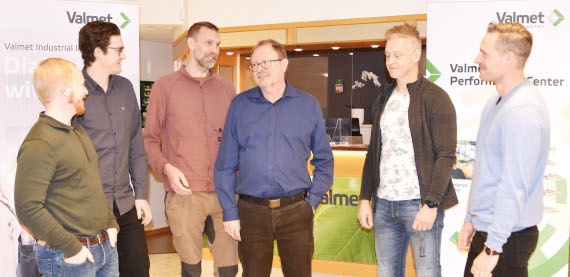 Four big computer screens are filled with graphs and numbers as we enter the operator room. For an outsider, the information is overwhelming and almost impossible to interpretate. But for Lindberg, this is his area of expertise. Although being relatively new in this role, he is not entirely new in this field. He started his data analytic journey already at the University when studying Industrial Economics & Software Development and doing a master thesis on optimizing district heating with the use of artificial intelligence algorithms. Later finding his position at Valmet, resulted in a move of 500 km from home to join the other VPC team members in Karlstad.
The combination of skilled people and advanced computer programs is key
Lindberg and the team receive daily assignments both from customers and Valmet co-workers from all over the world. It can be on-demand support, where the customer needs instant help with an issue, or it can be requests from Valmet product managers to analyze data to support new innovations or developments.
To be able to understand machine performances 24 hours a day, a huge amount of data is available in the cloud. Lindberg and his co-workers can then extract the information needed, analyze the data, and most importantly understand what the data is telling them to take action. This is when the combination of skilled people and advanced computer programs is key. "You can have a smart home with all appliances and devices connected, but without for example a phone to control it all, it's quite useless", explains Lindberg.
The same applies to smart tissue machines. Lindberg continues "We can collect data. In fact, that's something that most can do. But if we don't know what to do with it, then what's the point? The combined knowledge inside Valmet is crucial". Continuous collection of data, bringing the needed expertise together, understanding the data, looking at reference points, and after that agreeing on recommendations or actions together with our customers - that's what "Dialogue with data" brings to the equation.
Looking back, only a few years ago, a person had to physically visit the machine and document the machine performance statistics on a piece of paper. Collected data was then limited to a certain occasion but the possibility to monitor the whole machine and connected processes over time was almost impossible. Today, reference data over a specific time can be extracted quickly. Hence, irregularities can be discovered rapidly in order to help preventing potential production stops or breaks.


Expertise close at hand
Having the VPC team on board during start-ups is another advantage for tissue makers. A deviation in the start-up process can be discovered and the VPC can quickly mobilize a group of experts for support.because unique knowledge about tissue production is in close proximity of the VPC control room. Just around the corner we find concept managers for the Advantage dry-crepe and hybrid technologies and start-up and reference teams. But the competence doesn't end there – another 400 tissue employees are within reach in Karlstad. And with today's remote accessibility knowledge can be shared with the different Valmet locations world-wide.
Having the VPC team on board during start-ups is another advantage for tissue makers.
​​​​​​​Mikael Wiklund, Manager Performance Center Tissue, has been working at Valmet for many years. He has a background in application and programming and is now leading the VPC team. Wiklund says "As a result of the data analysis Lindberg and the team are doing, we can bring together the competence we have here at Valmet, the applied knowledge, and solve a customer's problem or make an improvement".
He continues: "That's what I enjoy most with my current role. If a customer for example is facing an issue with their Headbox, we can quickly call our expert one floor up who's been working with Headboxes for over 15 years. We all get together in the collaboration room, call the customer, potentially bring in more expertise from other Valmet locations, and address the issue together to fix the problem. To see all the data that we can access is amazing and I am astonished how fast we're moving forward in this area. Soon we will open yet another tissue specific performance center in Gorizia, Italy, expanding our resources even further".
Serving customers with endless opportunities
Wiklund is also emphasizing the importance of understanding each customer's need. "There are big corporations with huge amount of knowledge, expertise, and access to a lot of data. But there are also smaller producers with more limited resources. Each customer has their own challenges and opportunities. But the common denominator is that regardless of this, we work together as a team. And although we share knowledge, we work under strict confidentiality."
Reference data can be extracted quickly to discover irregularities and help preventing potential production stops or breaks.
"Because Valmet holds such huge number of statistics, we can many times confirm if a customer's production goals are realistic or give guidance on how adjust them based on the data previously collected from other similar tissue mills." As Wiklund puts it: "Being connected to the VPC provides not only a level of reassurance but endless opportunities for development and improvements".
Text Anna Boström Mora
Photos Josephine Bäcker