Aug 20, 2020
Pulping and biorefinery companies can benefit from utilizing Valmet's piloting capabilities, ranging from comprehensive laboratory-scale to industrial-scale trials, to test new raw materials or pulping and biomass pretreatment processes, for example.
Every raw material is unique, and the required process conditions to achieve certain end-product characteristics may differ, so pulping and biorefinery companies are highly motivated to conduct lab and pilot trials when developing their processes, changing a raw material base or making investment decisions. However, not every company has the possibility or the facilities to perform such trials. Valmet can offer its customers the required facilities and a wide network of experts.
Megatrends speak for fiber- and bio-based products
Some of the biggest concerns of our time – climate change, the scarcity of resources and marine plastic pollution – call for renewable and fossil-free fiber- and bio-based raw materials and products.
"Our customers are eager to capture the business opportunities created by the increased need for sustainable and renewable products and solutions. We're very happy to be able to support this transformation by offering customers our comprehensive expertise and piloting facilities," says Olof Melander, Senior Manager at Valmet's Fiber Technology Center in Sundsvall, Sweden.
Another growing trend in the pulp business is that producers are moving toward producing end-use-specific pulp products that become raw materials for the textile, food or pharmaceutical industries, among others.
"In these situations, it's beneficial for customers to be able to carry out test trials for machine optimization and pulp quality before making a greenfield investment decision," explains Jukka Leino, Manager, Technology and R&D, who is responsible for the pulp drying pilot operations at Inkeroinen, Finland.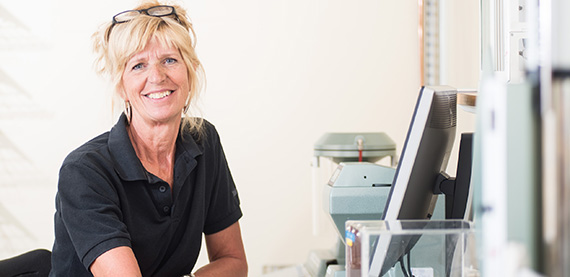 Trial services covering every step of pulp production
The process steps in which Valmet can help its chemical pulping customers at Valmet's Fiber Technology Center in Sundsvall, Sweden, include bleaching, screening, washing, and high and low consistency refining. Sundsvall also features capabilities for running fiberboard processes and a wide range of pilot-scale mechanical pulping processes. A cooking and recausticizing laboratory is located in Karlstad, Sweden, and pulp drying piloting operations in Inkeroinen, Finland.
"Finding out, for example, if a raw material or process enables certain quality parameters such as pulp strength, optical parameters, yield or shive content, or what the runnability is like may be very important information for a pulp producer. The laboratory services, pilot facilities and expertise at our disposal in Sundsvall and Karlstad make it easier for our customers to gain that insight," Melander says.
Well-equipped analytical laboratories that perform physical and chemical analyses of raw materials, products and process liquors to support our customers' R&D efforts are available at all Valmet's pilot facility locations.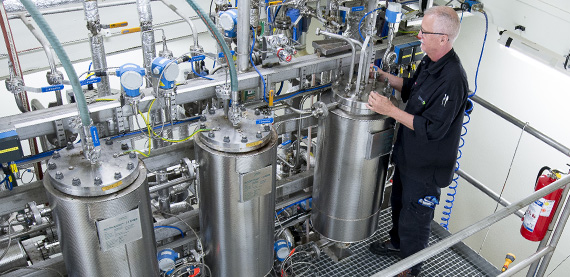 A trial run starts with a thorough planning phase to ensure that the customer's needs and targets are met in the actual trial run. Valmet's trial project manager and a dedicated trial team cooperate closely to ensure a successful trial with reliable results.
"Customers often participate in trials personally – and they come from all over the world," says Melander.
After the trial, customers are provided with a report on the trial and its results, and they are also asked for feedback to further develop Valmet's laboratory and piloting operations.
A flexible pulp drying pilot machine to serve every customer need
The pulp drying pilot machine in Inkeroinen features the latest wet end technology. The optimal dewatering processes for various pulp qualities can be tested using state-of-the-art forming and pressing technologies.
Typical trials include testing of dryness versus capacity, formation, quality, and the strength properties of the sheet. They are always done with the customer's own pulp. Pulp can be transported to Inkeroinen as bales or low consistency stuff. Approximately four to six customer trials are carried out annually.
The machine, which was recently rebuilt, is very flexible. It is designed to ensure that it is easy to change components such as different presses and build a copy of the customer's machine. This is especially beneficial when a customer with an existing plant is planning to start production of another pulp type and wants to optimize the process," Leino says.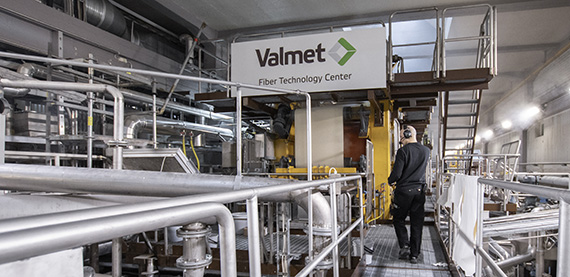 A new biomass pretreatment BioTrac pilot is on the way
Valmet focuses strongly on bioenergy, biofuels and biochemicals, and the pilot facility is a cornerstone in our work in this field. We can offer our customers laboratory and piloting services in Sundsvall and provide opportunities to test different feedstocks and develop, verify and optimize the pretreatment process for their specific purposes.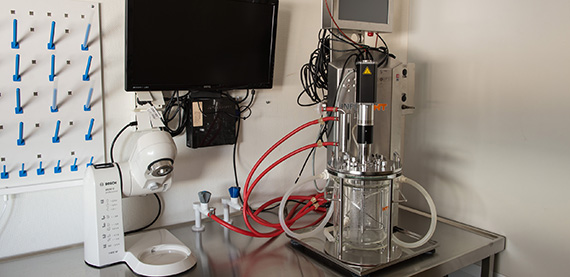 The Valmet Pretreatment BioTrac™ system offers pilot-scale testing for the pretreatment of biomass for further downstream processing to bioethanol, biochemicals or black pellets, for example. The system is flexible for both raw materials and process alternatives.
"There is strong interest among biorefining companies in utilizing different types of residue material. For example, our customers have had test runs with wood/wood residuals, straw, empty fruit bunches, bagasse and corn stover at our facility, but other less obvious raw materials have also been tested," Melander says.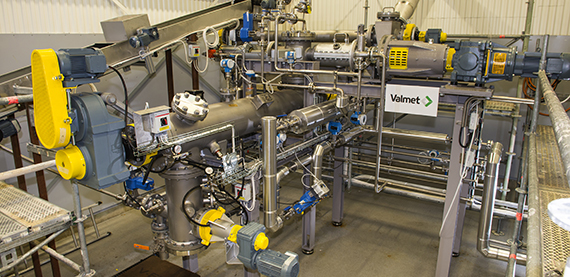 The current BioTrac pretreatment system in Sundsvall was installed in 2014. To further strengthen its own R&D capabilities within biorefining and serve its customers even better, Valmet is investing in a new biomass pretreatment pilot facility at Sundsvall. The new investment will enable even more extensive trials with more variations and process options. The new facility will be operational in the first half of 2021.
Did you know....
that the Valmet Pilot Facility in Inkeroinen is celebrating 150 years of innovation?