In October 2012, Hyogo Pulp in Japan decided to invest in a new pulp drying line for its Tanigawa mill. The company is the only producer of unbleached kraft market pulp in Japan.
Hyogo Pulp decided to go for a Fourdrinier type (no top former) machine based on Valmet's references for unbleached pulp drying. The project was completed as scheduled. The first equipment was delivered on site to Hyogo Pulp's Tanigawa mill, located in Hyogo Prefecture, 435 kilometers southwest of Tokyo, in January 2014. The first dry sheet was produced in November 2014.
From local to regional
The company's initial plan to acquire a pulp drying line started in early 2010 when major customers for unbleached kraft pulp in Japan had moved from the Kansai area to the north Kanto region. At the same time 50% of the end product was being shipped to China, South Korea and Taiwan.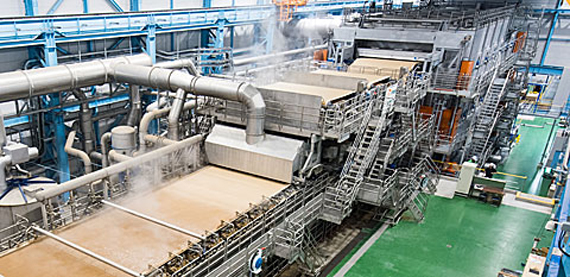 Yuji Ikawa, President of Hyogo Pulp Industries, says: "We had planned to invest in a pulp drying machine in the past decades, but that had not been feasible because the increase in energy costs would have been a great deal larger than the reduction in transportation cost to the customers. The project finally became possible due to the birth of Valmet's energy-efficient machine and process system, in addition to changing market factors, i.e. customers locating far away."
"We chose Valmet as our preferred supplier because we believed the equipment supplied would be able to meet standard uniform quality and would be adaptable so we could produce various grades of unbleached kraft pulp. Valmet also has a strong local presence. Its Japanese staff possess a wealth of experience in construction and in starting up pulp drying facilities. We believed in Valmet's credibility in technical support for optimal operation and maintenance systems."
The mill operates a single-line continuous digester, a pulp washing system, four HC stock storage towers and a newly installed pulp drying line with three wet lap machines. The main rationale for a new pulp drying unit were the following:
· Uniformity of finished product and meeting new customer demands
· High logistic cost of wet lap pulp
· Longer storage in warehouses compromised product quality
Delivery scope
Valmet delivered the entire pulp drying line including stock screening, wet end, airborne dryer, cutter-layboy and pulp baling systems. The customer carried out the civil work. Valmet also managed erection, training, and supervision during and after start-up. The drying line is dimensioned for a capacity of 770 adt/d. The trim width of the drying machine is 3,900 mm and the design speed 200 m/min. The Fourdrinier-type machine is furnished with combi and shoe presses for optimum dryness prior to the airborne dryer. There are 30 drying decks and one cooling deck.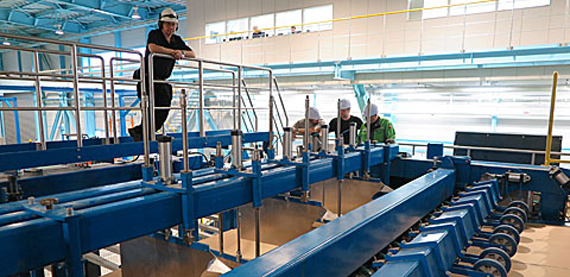 The cutter layboy cuts the pulp into sheets, which are then stacked into bales (250 kg). The baling, wrapping, marking and conveying system is totally automated.
Mr. Ikawa mentions: "So far the new equipment appears solid and robust. My impression is that the production capacity of these machines will be greater than the original design. After starting up, we faced some difficulties in producing some kinds of softwood pulps, but improvements and adjustments to various machines and parameters were swiftly carried out in order to overcome the difficulties."
"Now the speed of production has increased along with improvements in the operation techniques used by the operators. We hope the full design capacity can be achieved in several months."
The project was awarded to Valmet on an EPC basis only excluding civil engineering work. It was a big challenge, as it was Valmet's first turnkey pulp dryer project in Japan.
Plans for expansion ahead
Mr. Ikawa further says: "In line with our future business development plans, now that we have established a pulp drying system to meet our customers' needs, we would like to expand the business to the whole of East Asia, in addition to China, South Korea and Taiwan, and of course, Japan.
"Drying resolves the issue of high transportation costs and quality deterioration. It also halves the handling and storage cost on the customer's side, and with the new drying of the pulp this then allows for an expansion of the sales area."
While all the energy required for the drying lines is covered by the existing recovery boiler power generation system, the amount of surplus power supplied back to the local community decreased accordingly. For this reason, the mill is currently planning to install a new biomass boiler system.
With a successful project completed, cooperation with the customer will continue with continuous support and service, to be able to take the customers' performance forward.
Hyogo Pulp in a nutshell
Hyogo Pulp Industries, Ltd. is a family-owned company, founded in 1955. It is located in Tanba city, Hyogo Prefecture, in Japan. The company produces unbleached kraft pulp with an annual capacity of 200,000 tons. It is the only producer of this pulp grade in Japan and is also leading the unbleached kraft pulp market in East Asia. The company employs 140 persons and provides biomass energy to a regional energy company.