Jan 10, 2019
Information is at the heart of digitalization, and the production process for bioproducts such as pulp and paper, is full of it. As digitalization increases and gains popularity in the industrial sector, those who understand how to utilize the available information most efficiently stand to gain the most. Accurate data can deliver considerable benefits when interpreted correctly and used smartly. Important factors to look at include your installed base information, process performance data and the opportunities that the Industrial Internet of Things (IIoT) brings across the entire value chain.
Get started by taking a firm grasp of your installed base information
Unified asset information in the form of a streamlined installed base list that is both accurate and based on real-time data is a starting point for any planning aimed at creating savings in terms of maintenance time, money and resources. Bringing clarity into the list of items and structure into the naming policy makes the planning of preventive maintenance easier, helping ensure spare parts availability and minimize the risk of lengthy and costly shutdowns.
It is not at all uncommon for installed base list to be degraded over time. Over the mill lifetime, every variant spelling is a new and separate item on the list and managing this list can be a virtual nightmare without a coherent naming policy and a unified database. Utilizing the modern digital tools at our disposal,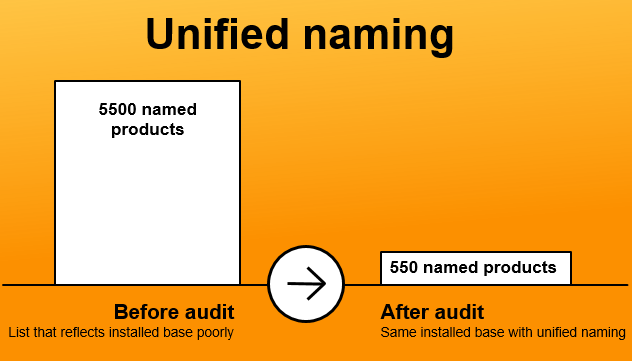 together we can create a streamlined list of relevant equipment data, which can work as a basis for any maintenance work and equipment material planning procedures. It will also bring ease to future order, invoicing and delivery operations. Due to our advanced philosophy and the digital tools we have at our disposal, the efficiency of digital audits has increased tremendously, reducing the need for physical audits, which in some cases may still be needed to verify the accuracy of the new list.
The end result is a full list of devices that is clarified, unified and harmonized – and in most cases considerably shorter and easier to manage and maintain in the digital environment. We have experienced situations that have started with over 5000 listed items. By creating a coherent naming policy and carrying out the streamlining process together, by the end of the audit process it turned out that with the exact same installed base the list had shrunken down to just 550 items without any increased risk of deficiency.
An accurate installed base list makes the
planning of preventive maintenance possible,
helping ensure spare parts availability and
minimize the risk of costly shutdowns.
This almost 90% improvement is largely explained by eliminating inconsistencies in the naming and listing of devices by adopting a new item management approach and policy. By harmonizing, streamlining and maintaining your accurate and purpose-built installed base data you can achieve great monetary savings in labour costs and spare parts inventory. At the same time you can uncomplicate the tasks involved with well-planned and executed lifecycle services and predictive maintenance. The next steps may well involve the automation of spare parts ordering and inventory monitoring. With incorporated installed equipment data, performance and condition monitoring applications start to bring real new value into mill operations and maintenance planning.
Intelligence is the best tool for optimisation
Many of the devices in the modern pulp & paper process, including our smart control valves, hold a lot of performance and condition data. Just by following measurement signals or set-point responses with Neles' Expertune PlantTriage tool a great deal of this silent information can be gathered into one place, analysed and used to stabilize and optimize processes, creating savings and improving profitability. Minimizing process variation can help increase relevant production, improve energy efficiency and help boost quality.
Sometimes the achievable improvements may seem small or insignificant – 1% here and there. But just like in professional sports, paying attention to the small details often defines the winners. Details bring gains across the entire process; Improvements in process efficiency, raw material efficiency, energy consumption and water consumption to name just a few. A one percent reduction in the duration of a complete plant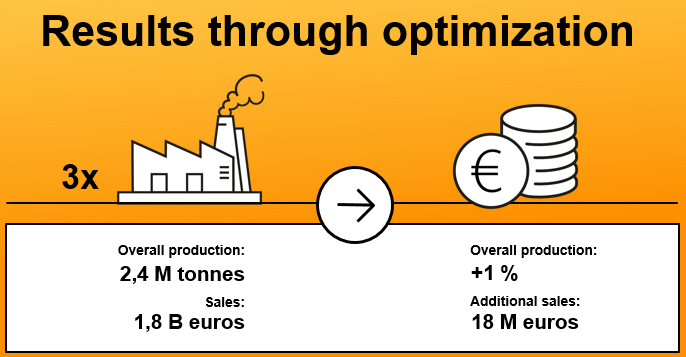 shutdown for example, is already economically a major saving. More often than not, the accumulating one percent improvements can end up delivering considerable economic benefits.
Let's use a hypothetical example to illustrate this point. If a corporation had three pulp mills, with a combined production output of 2,4 million tonnes per year, your sales might equal approximately 1,8 billion euros. By adjusting and optimizing your operating model utilizing the tools and information provided by digitalization, you could increase overall production by 1%. This in terms of added sales volume would add up to 18 million euros each year. For many, this one percent is an attractive proposition and worth taking steps towards.
Data can be utilized to stabilize and optimize processes, creating savings and improving profitability.
It is also worth remembering that with the strong emergence of the Industrial Internet of Things (IIoT) and cloud-based services and platforms, data-driven solutions and operating models are no longer restricted to individual and isolated processes. Organization-wide information sharing through unified data solutions for example can help improving efficiency on a much wider scale inside your entire organization.
Harness the power of shared information
With the emergence of the IIoT, devices, systems and platforms are able to communicate, reducing the need for manual labour, freeing resources for other tasks and eliminating risks related to human error. The seamless cooperation between people and machines can improve efficiency across the entire prosses. This can include everything from the planning of production and ensuring correct service timing and spare parts availability to securing the logistics chain and on-time deliveries.
The nature of connectivity has changed over time. If we so choose, the modern digital environment no longer requires heavy investments into individual portals for all external sharing. The digital community works like a secure network where data only has to be fed into the system once and shared with relevant contract parties to help achieve smoother and more economical cooperative operations and better business performance. This newfound openness makes it possible to utilize all the agreed information across the production process and value chain to enable the development of new proactive services based on the analysis of the best experts.
As entire value chains become connected and relevant information is shared across organisational borders, it will be increasingly difficult for companies to work in isolation. Digitalization is something that is created together and over time. Spreading the investments into digitalization over time makes economic sense. The smart digital solutions at our disposal bring agility to analysis and make important information more easily attainable. Each investment has the potential to strengthen your process, bringing with it measurable benefits in terms of both your production process and your overall business.
Just as the pulp & paper industry is developing and expanding towards a wide range of modern bioproducts, the world of efficient expert services based on digitalization is also continuously evolving.
Digitalization is often seen and expressed as something challenging, complicated and difficult to define. It does not need to be any of these things. We like to see it rather as a tool that opens up an infinite number of opportunities. With the right partners it is possible to take your pulp, paper, tissue or board production towards a more efficient and profitable future. Just as the pulp & paper industry is developing and expanding towards a wide range of modern bioproducts, the world of digitalization is also continuously evolving. To get to where we are going in terms of harnessing digitalization, we need open communications across the board, with customers, partners and service providers alike. By bringing the best players together and improving communications, digitalization is helping create a true winning team.
The core benefits of embracing digitalization in the modern pulp & paper industry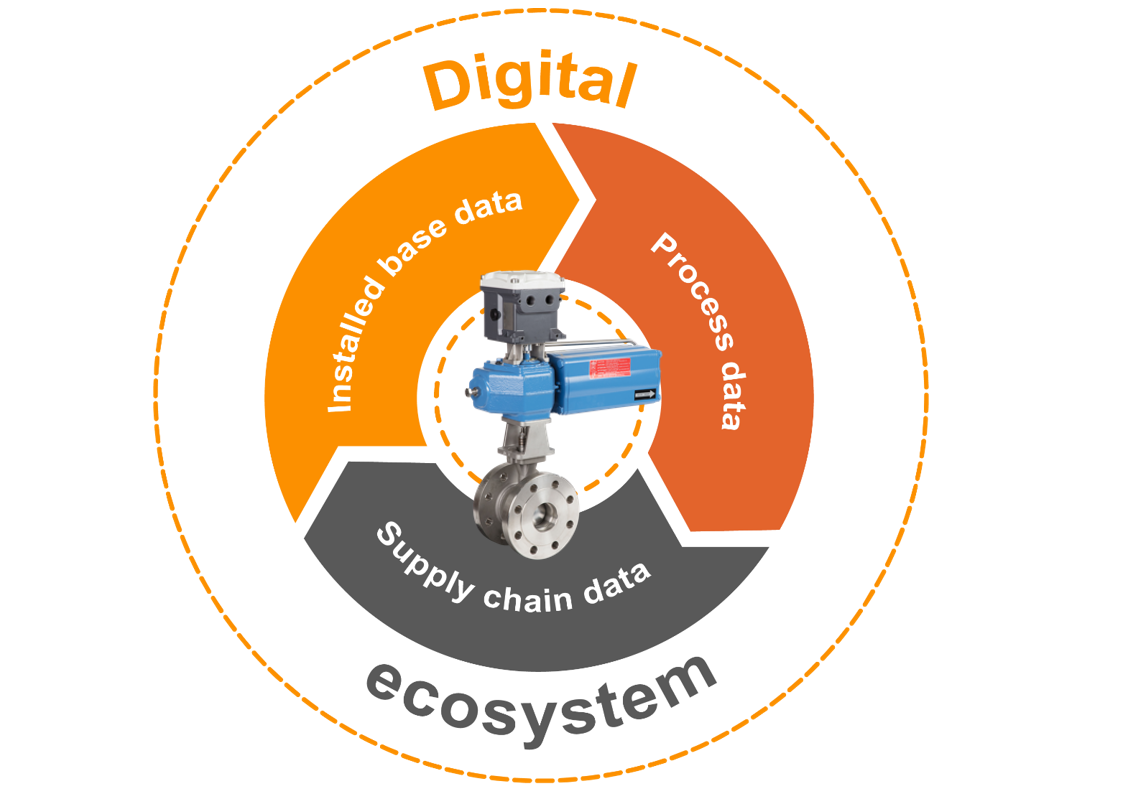 Installed base data (Asset information)
Real-time accurate data makes economical and effective decision-making possible
Streamlined installed base list creates savings in labour costs and spare parts inventory
Enables well-planned and executed lifecycle services and predictive maintenance
Process data
Smart, digital analysis of running process data helps optimize production for maximized profitability
Stabilizing processes reduces variation and increases relevant production and output quality
Increase energy, resource and labour efficiency with optimization based on accurate data and analysis
Supply chain data
Reduce processing times and risk of human error by letting machines and networks help in communicating
Smoother and more efficient cooperation throughout supply chain with secure cloud-based IIoT solutions can also deliver and maintain up-to-date asset information
Shared information helps plan production, ensure smooth service and spare parts availability and secure the logistics chain and on-time deliverie
Text by Neles' expert Ilpo Miettinen, P&P Industry Manager.
Text originally published in 2019, and slightly updated in April 2022, due to the company name change to Valmet.