Aug 15, 2017
The constraints, brought about by both developing trends in the pulp and board industry and the conditions of an ever-increasing competitive environment, are getting tighter; while the requirements for the reduction of environmental load in the treatment of process wastewater become even more pressing. Competitive conditions oblige the pulp and paper producer to be more responsive to environmental issues as well as meeting the need to increase the speed and range of the machinery, reduce basis weights and raw material costs. In order to achieve these goals, it is essential that an accurate and efficient retention control is maintained on the wet-end of the board machine. Retention control, having an impact on board quality and cost as well as wastewater treatment, is of critical importance both in terms of reducing board production costs and the environmental benefits it provides by reducing the work load of the wastewater treatment plant.
On newer high speed board machines, wet-end management with on-line measurements and controls are already seen as a necessity. The top board producer in Turkey, Modern Karton, followed Valmet's recommendation and chose Valmet LC (Low Consistency) for PM5 which started in 2015.
Overview
Modern Karton, located in the Ergene region of the city of Tekirdağ, accounts for almost the total export volume of corrugated board from Turkey. Now Turkey's largest corrugated fiberboard producer, Modern Karton has increased its production capacity from 24.000 tpy in 1978 with PM1 to 1.050.000 tons today. Setting off with the slogan "Together for 1.1" to reach 1.100.000 tons within this year, Modern Karton ranks as one of the biggest in this sector in Europe as well. Utilizing 100% waste paper it produces fluting, testliner 3, white testliner, imitation Kraft and imitation NSSC within the range of 70-200 gsm.
Modern Karton's preference was Valmet LC for the retention management of PM5 which started in June 2015 with a planned capacity of 400,000 tons per year. Osman Özkeser, PM5 Electrical Automation Maintenance Manager, states: "After we were notified by the producer of the machine that there were no set functions embedded in the process control system (DCS) for retention control, we set off on finding a solution. We decided to use Valmet LC on PM5 for the first time at Modern Karton." Today, he is very pleased with the decision to install Valmet LC.
Application
Valmet LC, Valmet's new generation optical consistency transmitter, is installed on the 4 sections of PM5 to measure headbox top layer consistency, headbox bottom layer consistency, white water 1 top layer channel consistency and white water 1 bottom layer channel consistency. White water and headbox consistency measurements, when combined with the correct retention chemicals on board machines operating with board of different types and basis weights contribute immensely to board formation, runnability and energy saving. According to Murat Çeltikli, PM5 Production Superintendent, "Valmet LC, provides us with the measurements on 24/7 basis, enabling continuous online monitoring and management. Thanks to that feature, we can easily take action when necessary."
The detection of the amount of the retention chemical used is another important cost-saving benefit provided by these measurements. Osman Özkeser states "Before the installment of Valmet LC, the processes were carried out by prediction based on earlier experiences, which is rather subjective and far from standardization. Previously, we had to check the retention chemical by looking at general process data and comparing them to some laboratory analyses. The problem is that laboratory work takes a lot of time. Thanks to Valmet LC, we have not only saved in terms of retention chemicals, a significant share of production cost, but also saved time to a considerable extent." At present, these measurements are carried out once a day in the laboratory as long as there is no disturbance in the process conditions. The result is then compared with that of Valmet LC and the accuracy of the measurement is verified.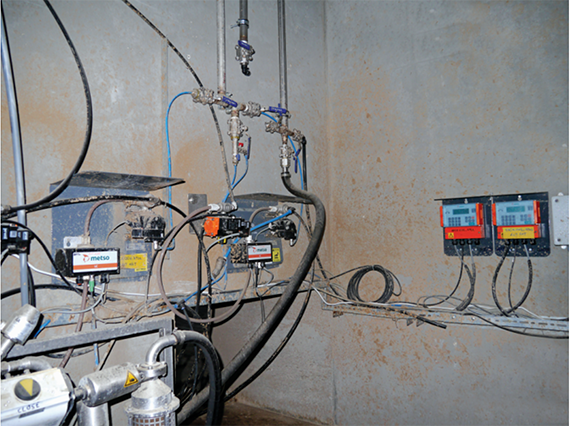 Headbox top and bottom layer consistency measurement points.
Install and forget
Based on the working principle of light polarization and attenuation Valmet LC is particularly well-suited for recycled pulp lines. Measurement accuracy is not influenced by the disturbances caused by ash fluctuations, pulp color and brightness variations. When the rather difficult conditions under which the device operates are considered, Modern Karton staff find the performance more than satisfactory.
The follow-up of measurement performance is made by comparison with laboratory results at least twice a week. Stating that the results mostly correspond with the laboratory values, Modern Karton staff defines the device as one of "install and forget".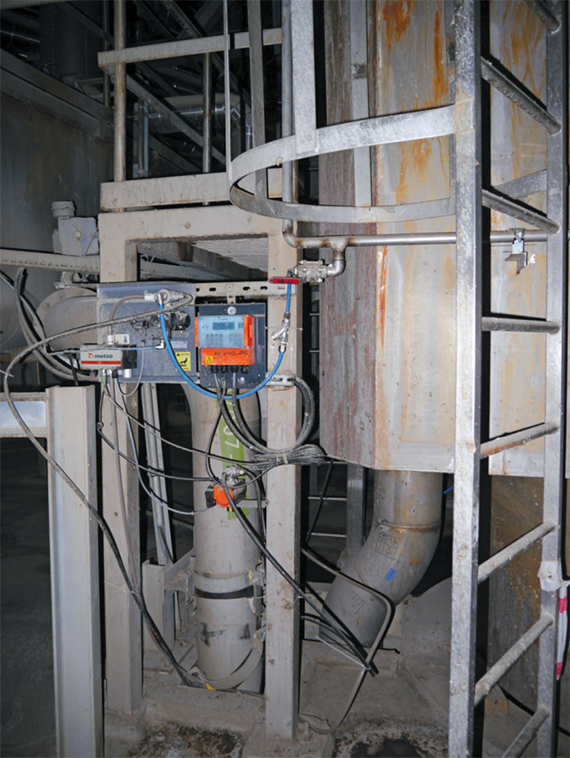 White water 1 top layer channel consistency measurement point.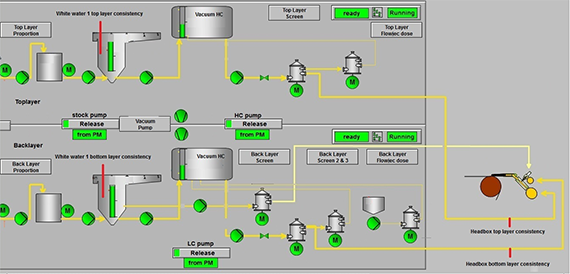 Valmet LC is located on PM5, at four points: bottom and top layers of headbox and white water. (click in the image to make it larger)
Local service advantage
Osman Özkeserpoints out that Valmet has the advantage of having a stronger local service infrastructure when compared to other foreign companies in Turkey. He states: "When making a decision on what company or product we should prefer for retention measurement, our main consideration is whether the company has a strong local service infrastructure in Turkey, regardless of whether the company has high quality products. Apart from Valmet's PM4 application's good performance, it is also very important for us that Valmet has a strong local service infrastructure."
Results
Modern Karton's PM5 has approached the 60 ton/h target production in as short a time as 18 months, with the four Valmet LCs contributing significantly to this result.Osman Özkesercomments that, "The nominal value of PM5 is 60 tons per hour. At present, we have been carrying out our production close to this nominal value at different basis weights and at some types we can even surpass it. It is really important to succeed in reaching these values in as short a time as this and Valmet LC has a significant part in this success.". Murat Çeltikli is in full agreement, "Valmet LC is a product which provides us with "install and forget" feature during production. It is a device which has always been trouble-free and has had a direct impact on our production by the help of the accurate results when checked against the laboratory values ever since its installation."
Valmet LC follow-up results (December 2016 - May 2017)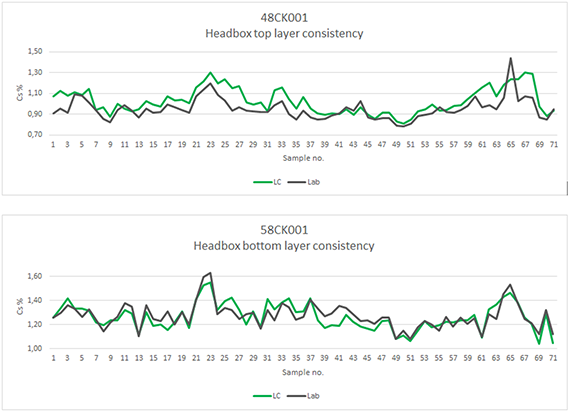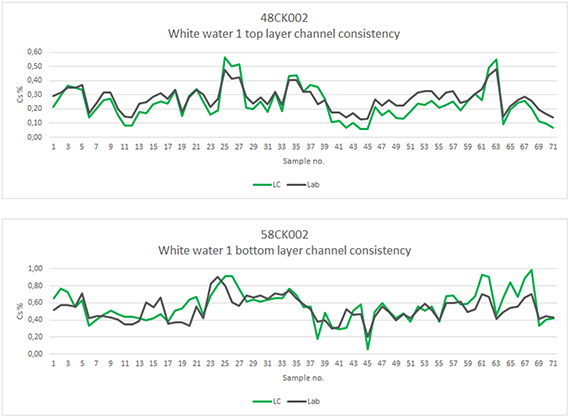 As the figures show, Valmet LC correlates well with laboratory measurements, showing real-time true changes. This is a firm base for operators to stabilize actions.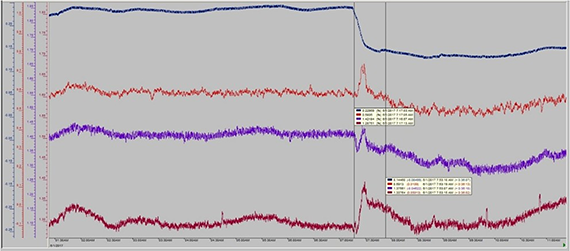 The change in consistency during the transition from 90 grams to 115 grams in production. The values that Valmet LC provides have critical importance at this stage.
*) Note!: Product and company names are changed while Valmet acquired Metso's Process Automation System business and products on April 1st 2015.