Dec 10, 2019
8% increase in pulp machine production made possible by a Valmet IQ Steam Profiler improving drying capacity.
Ence's Pontevedra biofactory on Spain's west coast produces chlorine-free pulp and energy from forest biomass. It is one of the only two factories in Europe that produce total chlorine-free pulp (TCF) from eucalyptus wood with an annual production of 430,000 tonnes, mostly destined for export. The recent installation of a Valmet IQ Steam Profiler steambox, to increase production on one of Pontevedra's two pulp machines, has provided impressive results. "Today we are pulping eucalyptus nitens as well as eucalyptus globulus. The nitens was giving us some drainage problems which meant that the speed of the machine was limited by the drying capacity because of steam availability," explains Antía Fernández Portabales, Ence project engineer. "We looked at several alternatives and decided on Valmet because of the robustness of the solution and the guarantees that Valmet provided. To date we have exceeded expectations and look forward to even more as we optimize."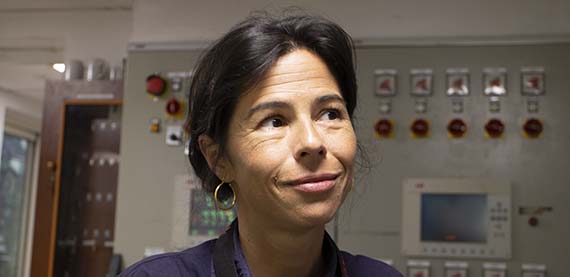 According to Antía Fernández Portabales, Ence project engineer, "the project exceeded expectations."
Increased production
The Valmet IQ Steam Profiler is a high technology steambox for the forming and press sections of paper and pulp machines. Its function is to heat water in the sheet, lowering its viscosity and allowing it to drain more readily leading to reduced moisture entering the pulp dryer. In a well designed configuration, the improved dewatering can be translated directly to overall steam savings or, as in Ence's case, increased production. The IQ Steam Profiler in Pontevedra is installed 2 cm above the web on the former of the just over 3 meter wide, 150 meter per minute machine. "We have limited steam capacity so we have to follow steam allocations very closely. Steam for the IQ Steam Profiler is made possible by the now reduced steam consumption to the 3rd party dryer," says Antía Fernández Portabales. The optimum sheet temperature increase is obtained when the steam gives up the most energy (its latent heat) in the vapor to liquid phase, also known as condensation. There is a very specific range for the degree of superheat as it comes out of the diffuser plate so that the steam condenses to a maximum extent and gives up its latent heat to the pulp web.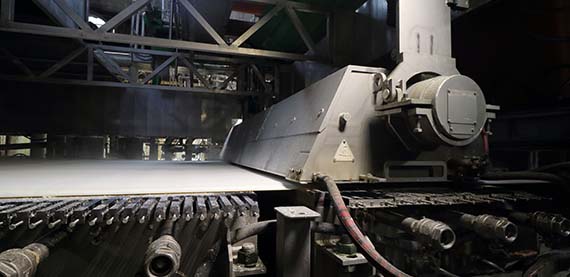 The Valmet IQ Steam Profiler in operation.
"Almost like a shoe press!"
"Today we have a 2 to 3% increase in dryness to the dryer, 55 to 56% compared to 53% earlier; it is almost like having a shoe press," says Antía Fernández Portabales. "Production on the machine is up by between 50 and 70 tons per day to around 760 tpd, about an 8% increase in pulp production on this line depending on the pulp blend. We have not really optimized yet and with further work we know we can achieve more." Pulp quality is as before, with studies on brightness, opacity and physical properties showing no change from earlier. As the name suggests, the IQ Steam Profiler has profiling capabilities, however in Pontevedra steam addition is flat across the machine. Operator acceptance of the system has been very good; and for Oscar Pardilla, machine operator, it is an essential tool. "At machine startup, after a shutdown, we have to wait for condensate levels to build before starting the IQ Steam Profiler. We then put it on as soon as we can," he says.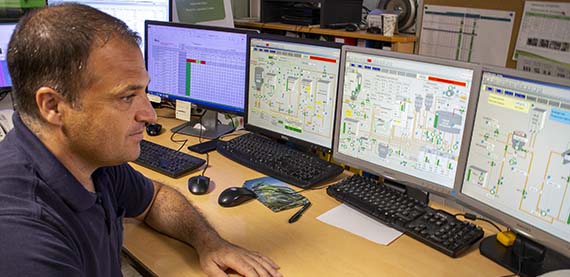 For Oscar Pardilla, machine operator, the IQ Steam Profiler is a welcome addition to the machine.
In-house startup
Installation by Valmet was straightforward, requiring only 8 hours of a scheduled shut for installation above the former with perhaps a week to install piping while the machine was running. The steam supply circuit was designed by the steam specialists from Valmet Technologies in Bilbao with the automation required for control and interlocks made in the mill DCS according to Valmet process automation specifications. "Unfortunately the overall shut was longer than expected and the Valmet engineer had to leave, but with the excellent training given by Valmet we had the confidence to start the IQ Steam Profiler on our own. We have a very experienced maintenance team who had been involved from the beginning of the project and, together with production staff, they handled the startup in October 2018 very well without problems. Since then we have had no maintenance issues and no problems found in the first of our yearly service visits provided by our service contract with Valmet," declares Antía Fernández Portabales. "On the whole a very successful project made possible by a great in-house maintenance team and excellent cooperation with Valmet."