BladePool
The best winding operation can be brought to a screeching halt when you run out of blades. Either you make poor shipping rolls - or you stop production. Not a pleasant choice...
With BladePool, Valmet Slitter Management provides you a continual supply of sharp, high quality slitter blades. Regardless of how frequently you use your blades, what grades you run, or number of positions used - your inventory will always remain at a sufficient level to guarantee a prime quality end product.
-> Bottom bands
Safer, environmentally friendly packaging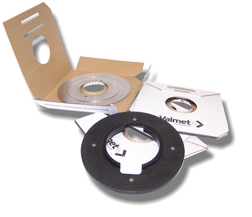 Valmet continues to enhance the benefits of BladePool membership. Your fresh blades are now delivered in a safer and more environmentally friendly manner. The toxic petroleum based coating on the blade edge is gone, replaced by a new, reusable package made from paperboard. This packaging eliminates one more need to handle a blade. By also using the Valmet Slitter Management magnetic blade cover, you'll never actually have to touch a blade again. Remember to be safe and wear your protective gloves....
Regular visits by Slitter Management experts
Valmet Slitter Management personnel will visit your location regularly and replenish your inventory with superfinished blades so you don't have to worry about running out ever again!
From stock or tailored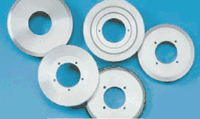 Jagenberg, Beloit, Metso and Valmet blades and bands are stocked. Valmet stocks the latest technology top slitter blades and bottom bands for Valmet, Metso and Wärtsilä winders plus the most common models for Jagenberg, Beloit and Lennox winders.