Can an Advantage ViscoNip press, which is Valmet's unique press technology, really make that much of a difference? If talking about speed in combination with stable production and quality assurance the answer is yes. Today we are proud to announce the achievements from two of Kimberly-Clark's Mills in Mexico. The title of world-record owner for a full width (200") machine can now be appointed to both the Morelia and the Bajío Mills.
To run it, is science. But to run it with passion, that's an art"
At Morelia, located in Morelia, Michoacán, they've been running their Valmet Advantage DCT200, with an Advantage ViscoNip shoe press, at an impressive speed of 2,200 m/min for 37 hours straight. And without compromising the quality of the final product. "This is a fantastic result and only possible thanks to the investment in the Valmet ViscoNip and because of our highly skilled team here at the Morelia Mill. To run it, is science. But to run it with passion, that's an art", says Carlos Palomares and Luis Palomares at Kimberly-Clark.
Shared success
As remarkably, the Kimberly-Clark Bajío Mill, located in San Juan del Río, Queretaro reported running their Advantage DCT200 at 2,200 m/min consecutively for 42 hours when producing bath grade. Alberto Rodríguez and Diego Mejía at the Bajío Mill are pleased with the results. "We have gradually approached the goal to run at this speed over a longer period. We are confident in the performance of the machine and happy to see that the end-product has kept the same high quality".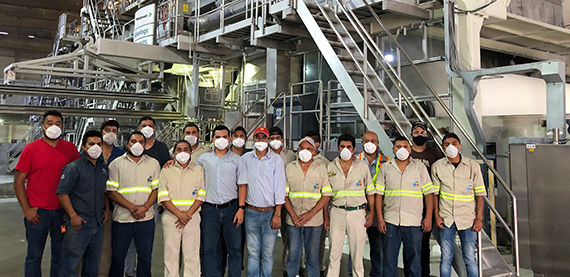 Both machines are equipped with an Advantage ViscoNip press. The investment was not only originally based on the opportunity to run fast. There are many more components that supports the decision. Valmet's ViscoNip press can improve uniformity, lead to major energy savings or high bulk, increase efficiency, product flexibility and quality. Additionally, it can contribute to savings through fiber conservation. It is also very well suited for tissue machine re-builds independent of original make.
Congratulation to both teams!
Technical information
The Advantage DCT 200TS tissue machines at Kimberly-Clark Bajío and Morelia Mills are equipped with OptiFlo headboxes and cast alloy Yankee cylinders. They are featured with the Advantage tissue technology including a ViscoNip press for improved press dryness, an AirCap hood with air and heat recovery system as well as a SoftReel reel with center wind assist. The mills are both efficient production units producing a wide range of high-quality tissue products.
Information about Kimberly-Clark
Kimberly Clark de México S.A. B. de C.V. was founded in 1959 and is the leading tissue producer in Mexico. The company operates five tissue mills in Mexico producing facial, toilet, napkin, and towel grades for the domestic consumer & away-from-home markets as well as for exports.
For additional information please contact:
Jan L Larsson, Director of Sales, Tissue Mills Business Unit, Valmet Tissue North America + 1 404 229 42 69
Jan Erikson, Vice President Sales Valmet Tissue Mills Business Unit, tel. +46 705 17 14 90