Developing sustainable solutions to help tissue producers meet their environmental and financial targets is a never-ending process. Valmet's tissue mill technology gives flexibility and helps to adopt a circular resource flow between the mill and society reducing the environmental footprint of the mill significantly.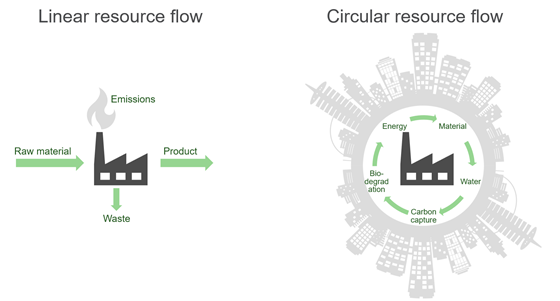 For Valmet, sustainability has been high on the agenda for decades, and as one of the focus areas we've strived to reduce the environmental footprint caused using our technology.
Some results of our persistent work can be seen below. The long-term follow-up of Valmet Advantage DCT 200 tissue production line shows that the energy consumption has reduced by almost 50% since 1990 and the water consumption has reduced by around 80% in the same period.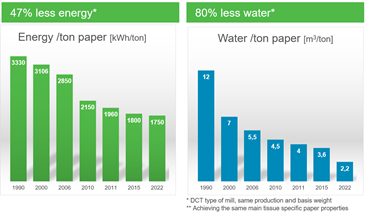 The solutions described below are examples of technologies already in use at our customer mills around the world. Depending on their location, market needs and resource supply, the tissue mill can apply the most suitable techniques.
Saltwater as a freshwater resource. Fresh water is produced from seawater through reverse osmosis using solar power. The desalination plant produces potable water to supply both the mill and the city. Utilizing seawater protects freshwater sources and leaves them for food production and personal health.
Wastewater improves the environment. The excess water from the tissue mill is used to irrigate the local football fields and other green areas.
Local non-wood fiber reduces the need for wooden fiber. As an alternative to traditional fibers, non-wood fibers and residue from other businesses such as local sugar cane industry can be converted into raw material for tissue paper. This non-wood resource helps to reduce deforestation.
Biogas from local sewage. The tissue mill uses wastewater from a local sewage plant for an anaerobic digestion process to create biogas, which is further refined in a co-generation plant producing electricity, hot air and steam. The locally generated gas reduces methane emissions and the residues can be used as biofertilizers.
Household waste turned to energy. The mill utilizes fluidized bed boilers fed with household waste and sludge from recycled fibers to produce electricity and steam. Excess heat from the process can be shared with nearby industry as district cooling or heating.
Gas from biomass. Forest residue like branches is collected from the region to generate biogas.
Landfill can provide energy. Waste which is not recycled, reused or recovered still has potential as landfill. Old and new landfills emit methane, which can be used to extract biogas. The gas can be then used as fuel or to generate electricity, hot air and steam.
Self-sufficiency in steam, electricity and hot air. The mill's gas turbine produces electricity for the tissue process, and for the local community.
Waste heat to district heating or cooling. Excess heat in the form of low-grade energy can still be valuable for homes and companies as district cooling or heating.
Let's do this together!
In a circular resource flow all streams are looked upon as valuable resources. Technology has a vital role in the process as it forms a bridge between different processes and businesses. By applying the best available technology you will extend the lifetime of current assets from a climate impact perspective while developing new technology towards the carbon neutral society.