May 25, 2023
How can you use the optimal combination of energy and fiber to reduce the environmental impact of tissue production? In this article, we discuss what hybrid technology can offer in sustainability, cost-effectiveness and quality to achieve an optimal product.
One of the challenges when you want to start up a new tissue production line is selecting the appropriate technology for your requirements. To make the right decision, you need to understand the specific quality demands for your market and then decide on the product strategy. However, in today's competitive market, there are additional influential factors such as the importance of caring for the environment by reducing emissions, the increasing demand for raw materials, and the recent rise in energy prices. How can a tissue producer consider all this and still be profitable? Valmet's hybrid technology * allows you to optimally meet a combination of targets.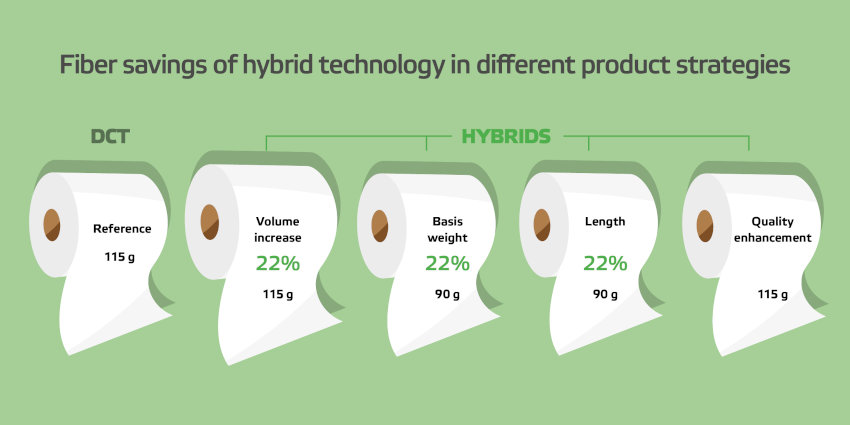 Quality, sustainability and competitiveness
With hybrid technology, you can reduce the amount of fiber for the same volume because increasing your roll bulk equates to fiber savings. Increased roll bulk is achieved by creating higher sheet caliper for the same or lower basis weight, therefore roll bulk is inversely related to roll density; as roll bulk increases, the density of fibers decreases. The product strategy optimizes product specifications and operating costs. You can reduce the length, lower the basis weight and work with product quality. And the beauty of it is that you don't have to choose one or the other: The options can be combined.
However, before a decision is made, we have to consider that each region has a different product strategy. A quick overview of toilet tissue in different regions reveals the following:
North America. TAD/structured products have been developed mainly in North America, where the basis weight has been increasing over time, typically above 22 gsm, with only two plies. This combines softness with more fiber per ply and fewer plies than in conventional products worldwide for an increased roll bulk. It also generates better machine efficiency during production.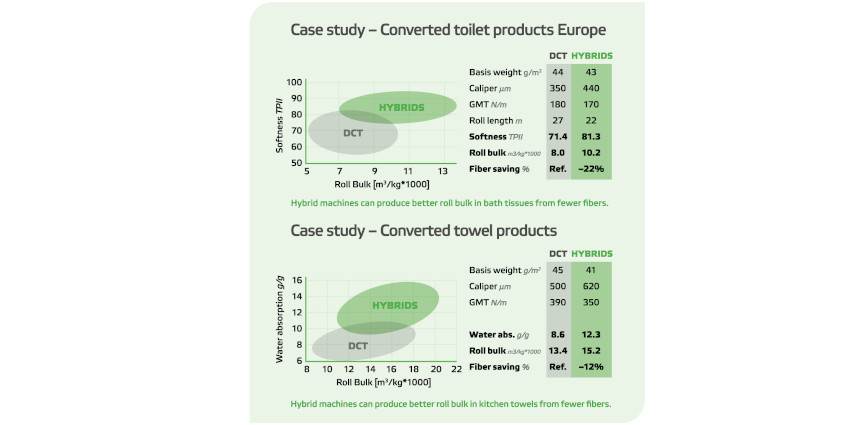 South America. In Brazil, the required length on the market is either 20 or 30 meters. With a bulkier product produced with a hybrid machine, for example, there is an opportunity to produce a two-ply instead of a three-ply product and still achieve a length of 20 meters and make huge fiber savings. It is also possible to migrate your conventional economy two-ply product to a premium product – still two-ply and the same length, but softer and with less fiber. 
Europe. In Europe, private labels are strong and dictate the market. 15-20 gsm and ply are important. But is the number of plies good for production efficiency and sustainability? Probably not!
Asia. Dominant in the facial market, surface softness is more important than bulk in Asia. 15 gsm or lower is the standard basis weight, utilizing more plies to increase product quality. The trend is to move to structured products of higher quality with a decreased ply strategy instead.
Shifting to the premium segment
Sustainable production efficiency can be achieved with fewer plies / reduced total basis weight. For example, with a hybrid machine, it's possible to produce a bulky product with fewer plies yet at an equal or higher level of softness. As always, the trade-off is between bulk, softness and tensile strength.
Comparing the average conventional and hybrid numbers, you can reduce the basis weight for a hybrid bath tissue product at higher caliper and comparable tensile levels. Hybrids have better fiber efficiency, resulting in higher roll bulk with a better quality output. The end product will have almost 30 percent more roll bulk than a conventional embossed product, which means an average of around 22 percent less fibers with up to 10 percent better softness quality.
Moving on to towels, a global look reveals that a hybrid towel – even taking into account the smaller property gap for a heavier embossed kitchen towel product – will have less fibers with more caliper, generating an average of 44 percent more water absorption than in a similar conventional product. The roll geometries are comparable, but with 12 percent less fiber at higher quality.
With hybrids, you can migrate your light dry creped product from the value segment to the premium or ultra-premium levels. Reducing fiber consumption with more roll bulk provides the end product with a lighter basis weight and fewer sheet counts (reduced roll length), but still at a higher quality.
The beauty is that you don't have to choose one or the other – the options can be combined.
What about the environmental footprint of production on hybrid machines? In our studies, we have compared the fiber, water and carbon footprints with an average conventional reference bath tissue product of 115 grams. In the roll case, we can decrease fiber use by 22 percent, resulting in a reduction of carbon emissions at equal water use compared to the DCT case.
Achieving the ideal combination
If you want to move closer to the premium quality level, transferring a conventional machine to a hybrid concept results in a softer and more water-absorbent product. More than this, you will have lower variable operating costs for a roll or case. And with less fiber and less energy, you'll have a more sustainable product.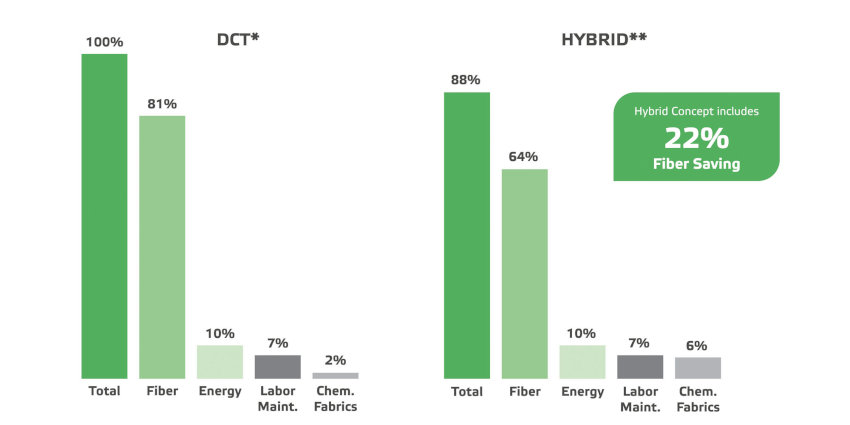 * Valmet hybrid technologies consists of the Valmet Advantage™ NTT®, Advantage™ QRT® and Advantage™ eTAD™ technology. All numbers listed on this article are related to an average for all 3 machine technologies.
Text Anna Boström Mora