As part of the successful upgrade of the recovery boiler control system at Södra Cell's Mörrum mill, Valmet supplied a training simulator for DCS testing and operator training. The results were a success: a smooth start-up of the boiler, confident operators, and plans for another simulator.
Getting the most out of a planned DCS upgrade
Södra Cell Mörrum's recovery boiler was built by Valmet (then Kvaerner) in 1988. When the aging DCS (Distributed Control System) was due for an upgrade, the mill decided to include a training simulator from Valmet. The new simulator system includes a soft replica of the recovery boiler's DCS, which gives a very realistic interface and makes it excellent for both training and testing purposes.
"Previously we had another type of simulator. We wanted to grab the opportunity of the DCS upgrade to include a new, more realistic simulator which could serve not only as an efficient training tool, but also help securing the quality of the converted DCS. The choice of supplier naturally fell in Valmet's favor since we have good experiences of their simulators and they know the boiler characteristics best," says Magnus Andersson, Control Systems and Automation Project Manager at Södra Cell Mörrum.
Based on their previous experiences with training simulators, Södra Cell Mörrum was able to set specific targets for the simulator project, to ensure maximum value and return on the investment.
DCS testing to minimize the risk of programming errors
The first target was to use the training simulator to verify the DCS programming. During a control system upgrade, the existing programming was converted to the new environment. This involves a lot of manual work due to the complexity of the system. Extensive testing is needed to eliminate any errors that could cause critical and costly disturbances during start-up and operation.
After the standard testing procedures, the training simulator was brought in during a joint FAT (Factory Acceptance Test), where the simulator acted as the real boiler and sent process responses to the DCS. The joint FAT was a collaboration between Södra Cell, Valmet and the DCS programmers and as a result a number of bugs and programming errors could be eliminated. This led to a smooth start-up of the boiler with minimal delays and disturbances.
Efficient and realistic operator training before start-up
The second target of the simulator project was to provide a safe and efficient tool to practice operating the upgraded control system. Spending time familiarizing themselves with the look and feel of the DCS, as well as practicing realistic scenarios, made the operators confident in running the control system before it was taken into use.
"The simulator training was a great opportunity for the operators to get to know the updated control system and to give feedback on the simulator experience," explains Björn Mattisson, Process Technician at Södra Cell Mörrum. "The feedback was very positive, and many participants asked for simulator training to be included in our learning and development plans. This is something we are now looking at," explains Louise Rosenqvist, HR & Competence Strategist at Södra Cell Mörrum.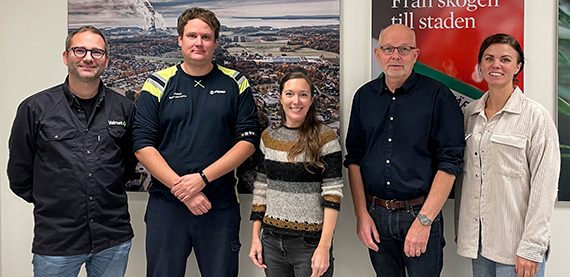 Securing key competences over time
As recovery boilers have long intervals between planned shutdowns, there are limited possibilities to practice start-up and shutdown procedures. If an operator misses a shutdown, there may be several years until the next training opportunity on the real plant. In this context, the training simulator can play a key role in securing critical operating skills over time. "We see a lot of potential in simulator training for both new and experienced operators. Our goal is to launch a yearly simulator training program to maintain and develop the skills of our experienced operators. We are also developing a simulator training concept for newly hired operators," comments Louise Rosenqvist, HR & Competence Strategist at Södra Cell Mörrum.
To further support the simulator training, Södra Cell Mörrum is creating a designated simulator room, where operators can practice as well as collaborate and discuss scenarios and ways to operate. "The aim is to create a forum for sharing and improving our operating strategies," says Louise. "We are also considering using the simulator when planning process improvements or rebuilds."
Good results led to another Valmet training simulator
"Using the simulator for operator training has placed us in a very good position after the shutdown. It has contributed to a successful start-up and allowed us to keep the schedule during a critical phase," concludes Sara Ingves, Control System & IT Manager at Södra Cell Mörrum. Magnus Andersson agrees: "We are satisfied with the quality of the project. We had a good collaboration with Valmet's specialists, and we got the support we needed. Valmet is now doing a great job in finetuning the simulator after the project completion."
Södra Cell Mörrum is so pleased with the successful results of the simulator project that they have decided to order another Valmet Training Simulator for their next capital investment project: a control system upgrade for the batch cooking line, which is planned for the spring of 2024.