To meet the new, very tight NOx emission limits for its recovery boilers, Sun Paper turned to Valmet. The De-NOx scrubber for recovery boilers, the first in the world, has performed even better than originally expected.
Shandong Sun Paper is a Chinese pulp and papermaker with six major product lines for premium coated packaging paperboard, printing and writing papers, household and industrial papers as well as specialty fiber dissolving pulp. The environmental department of the local government had set new emission limits for Sun Paper and the recovery boilers at the company's Yanzhou mill. The new NOx emission limit is about half of the level that can be reached with advanced combustion technologies. To reach the new limits, Sun Paper wanted to go for new De-NOx-technologies.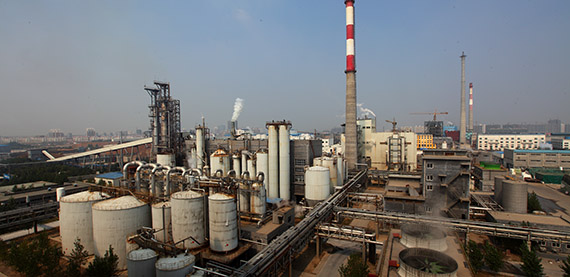 The Sun Paper Yanzhou pulp and paper mill is located in in Shandong province, China
Valmet has long experience and plenty of references in recovery boiler scrubbers for removing sulfur oxides (SOx) and dust, as well as for heat recovery from flue gas. "In conventional power boilers, NOx levels can be reduced with selective catalytic (SCR) or non-catalytic reduction technologies (SNCR). These technologies have been tested for recovery boilers, but a solution that would be both technically and financially viable hasn't been found – at least not yet," explains Juhani Viiala, Senior Manager, from Valmet's Flue Gas Cleaning team.
"We had done development work and some testing for NOx scrubbers years ago, and when the opportunity rose to work with Sun Paper, we were happy to utilize our development results," Viiala continues.
Finding the most suitable solution
Technically, it is possible to use either chlorine dioxide (ClO2) or ozone (O3) as NOX oxidizing agent in the flue gases. After careful consideration and internal evaluation of the costs and operability, Sun Paper decided to choose the ClO2-based NOx scrubber process.
"Using ClO2 as the scrubber oxidizing agent at chemical pulp mills has several advantages. The chemical is already available at the mill site as it is used for bleaching, it is fairly inexpensive compared to other oxidizing media, and the active chlorine turns inactive during the oxidation process, which practically has no effect on the environment," Viiala explains.
"Valmet was the first company that offered this technology. The most important aspects for choosing to partner with Valmet in this project were trust and our confidence in Valmet's experience in developing new processes, their technology, their professionalism, and their way of working," explains Hongjin Liang, Mill Manager of the Yanzhou Kraft Pulp Mill from Sun Paper.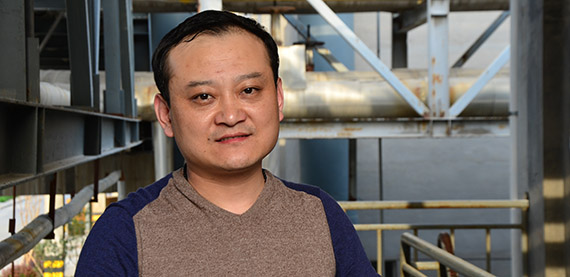 "We have confidence in Valmet in developing new processes," says Hongjin Liang, from Sun Paper Yanzhou mill
On-time start-up
Valmet has delivered several projects, large and small, for Sun Paper over the years, and they have a lot of experience of dealing with different business units of Valmet.
"As this project is the first of its kind installed anywhere in the world, we were aware of all the challenges that are associated with development of the process design. However, there were no major surprises during commissioning and start-up, and the process started running successfully on time," Hongjin Liang explains.
"Development projects like this require mutual trust and joint effort. Our good cooperation with Sun Paper was key in successful project implementation. I can say we truly worked together in taking this new technology into use," Viiala says.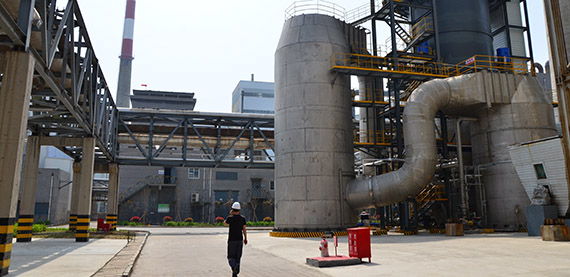 The first in the world DeNOx scrubber has performed even better than originally anticipated
Results even better than expected
The first Valmet-delivered NOx scrubber was started up in late 2017, and the results were very positive right from the start. The emission levels achieved have been even lower than originally anticipated. Optimization of the process conditions has achieved a DeNOx efficiency of up to 90 percent.
"The De-SOx-NOx process has worked successfully during the recovery boiler operation. We are happy to recommend Valmet for this kind of project, and we are already taking the same technology into use in two more recovery boilers," Hongjin Liang concludes.
Teamwork for success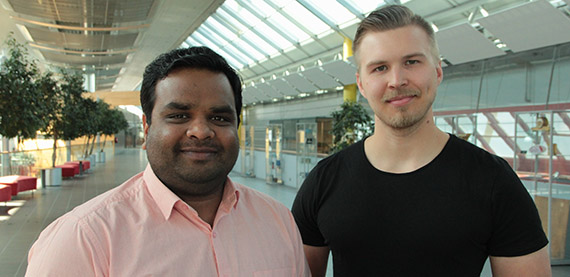 Naveen Chenna (left) and Mikko Raiko were two Product Engineers developing the NOx scrubber solution for Sun Paper.
"It was great to work as a team and learn from each other. My background is in chemistry, and Mikko had the needed process knowledge. We also had other colleagues from our teams who brought their expertise to this project," Naveen Chenna explains.
"One of the challenges we had, was the tight schedule. We had six months for the needed R&D work. Sun Paper believed in Valmet and the developed solution. It is great to see the equipment has performed very well and has exceeded all expectations," Mikko Raiko continues.
When working together with the customer, it was possible to design a practical modular solution that is easy to operate.
Raiko and Chenna reveal what they learnt during this development project. "It is important to keep the concept as simple as possible. From the start, we needed to focus, focus and focus. We needed to manage all the wishes and ideas, and also have courage to cut some things out," they conclude.

TEXT Lotta Forssell PHOTOS Naveen Chenna, Outi Nurmi and Sun Paper
This article was originally published in Forward magazine 2/2018