By combining technology, automation and services expertise, Valmet can provide a complete recovery boiler solution with relentless performance.
The requirements for chemical pulp production are changing rapidly. Chemical pulp producers are looking for more efficiency from the basic operations – better reliability and higher performance, as well as a safe operating environment. Additionally, the environmental regulations – for example, for emissions into air and water – are getting tighter, and society's expectations are higher when it comes to issues like odor control.
These requirements also impact the design and use of recovery boilers. The recovery boiler can be described as the heart of the mill. It's a vital part of the chemical cycle and steam production, and its operations impact the whole pulp production process and the mill's profitability. Nobody wants to have the heart broken – and the pulp mill can't afford the recovery boiler breaking down, as it disables the entire mill.
"Our new concept combines our total offering, including boiler technology, automation and optimization solutions, as well as our comprehensive services offering, to ensure a complete solution and relentless performance of our recovery boilers," explains Teemu Toivo, Director of Sales for the Recovery business unit.
Tailoring together with the customers
Over the years, Valmet has continuously developed its recovery boiler technology, automation features and related services together with customers to meet their toughest demands and expectations. Many of these features are linked to the performance, reliability and safety of the boiler operations.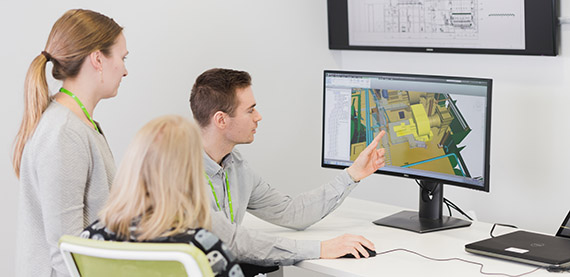 Every recovery boiler is tailored to meet customer needs.
"There is no 'one-size fits all' when it comes to pulp mills and recovery boilers. For some customers, we tailor the boiler for high electricity production, but for others a robust design is the deciding factor. We offer state-of-the-art technical features more as modular options. This enables us to work together with each customer to design the boiler that best suits their needs," explains Pekka Rikkinen, Director of the Recovery Boiler technology unit.
One example of new technology that improves the safety, efficiency and productivity of the recovery boiler is Valmet's Smelt Spout Cleaning Robot. It efficiently removes smelt deposits from recovery boiler smelt spouts in a carefully designed sequence, without the need for operating personnel to be exposed to this dangerous procedure.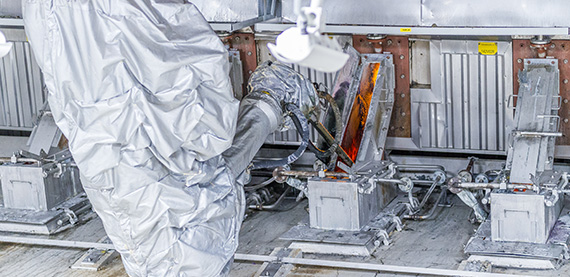 Valmet Smelt Spout Cleaning Robot improves the safety, efficiency and productivity of the recovery boiler.
Optimized recovery boiler for chemical pulp mills
An optimized recovery boiler has a high reduction rate and is energy efficient. It makes operation easy and safe, and it is built to last: the robust design and superior material choices mean less maintenance and minimized risk of corrosion.
"Our recovery boilers can go as long as 18 months without a cleaning shutdown. This is made possible by good design, expertise in materials, combustion know-how and optimization, reduction control optimization – and naturally by the professional operators running the boiler. Our technology and automation teams have developed many of these features together," says Rikkinen.
"It is important to maximize chemical recovery and thermal output. Our Recovery Boiler Optimization solutions are designed for high reduction efficiency, steady smelt flow, high total titratable alkali (TTA) concentration, maximizing superheated steam temperatures, minimizing flue gas losses, efficient sootblowing and cleanability," explains Timo Laurila, Business Manager for Recovery Analyzers and APC at Valmet.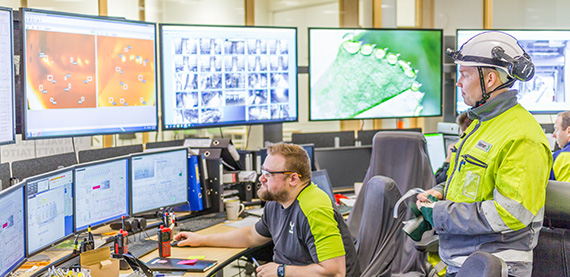 Recovery Boiler Optimization solutions improve performance and reliability of operations.
Partnering for operations and maintenance
Earlier, recovery boilers were often shut down for cleaning and maintenance one or two times a year, and the shutdown from liquor to liquor took at least a week. Now the shutdown is only once every year or two, and the pressure part working time can be as little as 48 hours. Naturally, this requires excellent shutdown management.
"The best results in executing maintenance shutdowns are achieved when we pre-plan them thoroughly together with the customers. The preplanning covers not only the work and schedules, but also the planning for safety and cooperation between the different companies operating on-site. This way, even really challenging shutdowns can be executed in a tight schedule," explains Olli Talaslahti, Sales Manager for Valmet's Services.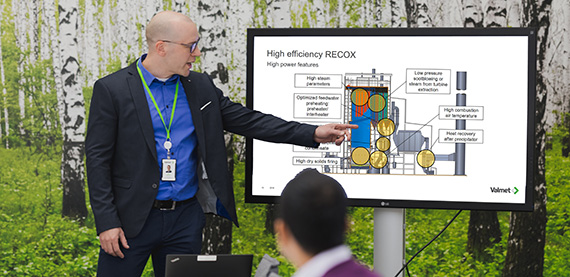 State-of-the-art technical features are offered as modular options.
"Our experience in chemical recovery stems from deep process technology knowledge and a large installed base of boilers of every size. For each project, we assign a team of experts that works together to tailor a solution for the customer's needs, and we have a network of service professionals to support operations throughout the lifetime of the boiler. Our expert services include various process changes to remove bottlenecks, increase efficiency and reduce emissions," says Jussi Mäntyniemi, VP for Valmet's Recovery Business Unit.
Text: Lotta Forssell
Photos: Antti Ratia, Paavo Pykäläinen