How can you run a power plant at peak performance in all situations while improving its availability and profitability? It is possible with efficient use of data and analytics combined with a deep understanding of power plant processes.
Applications and services based on the Industrial Internet utilize data from processes and different plant systems more extensively than ever before. However, the utilization of data requires a deep understanding of the power plant processes and equipment know-how to be able to focus on relevant findings. A dialogue between experts and data plays a key role in identifying and utilizing this information.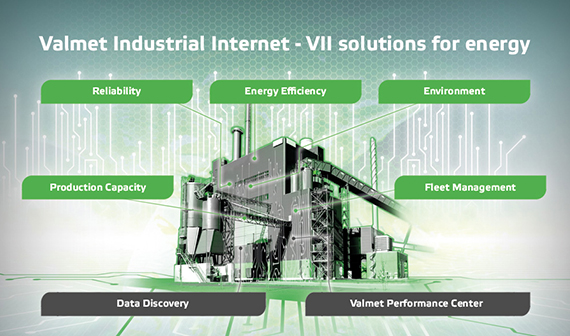 The Valmet Industrial Internet (VII) offering covers an extensive range of solutions and applications for energy producers. Through remote connections, tools and intelligent automation technology, Valmet's experts can offer support in technical challenges whenever needed. Processes can be monitored, and troubleshooting and corrections can be performed remotely. Through the capabilities of the Industrial Internet, processes and operations can be optimized based on extensive monitored data, maximizing production, minimizing downtime, improving energy efficiency and reducing operating costs.
Getting started by discovering data
VII for Data Discovery provides a fast and cost-efficient way to chart development potential or problems related to a power plant process by utilizing plant data from various sources as well as advanced analytics and process expertise.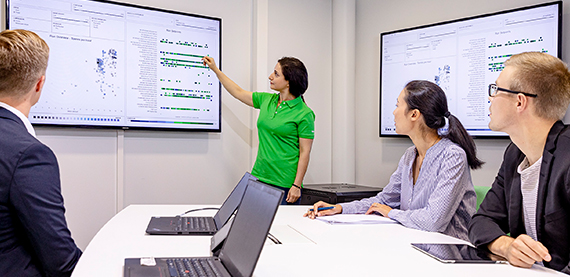 In analyzing the data, Valmet uses advanced analytics, such as artificial intelligence (AI) or machine learning, to create predictive models. The customer gets a concrete development proposal and preliminary applications to solve the issue within two to three months from the project kick-off. The results will provide the customer with clear insight and a proof of concept using the customer's own plant's data on how to overcome the challenge.
Optimizing performance 24/7 and boosting capacity
"The VII solutions aim at ensuring peak plant performance in all situations 24/7. As we know, every minute counts at a plant. And as plants operate in different environments, they have different needs. It is important to understand what kind of optimization each plant needs and choose the right tools accordingly," Petänen points out.
For plants that want to increase production, Valmet has developed the VII for Production Capacity solution. It is designed for customers with one or more combustion-based power plants burning varying solid fuels and connected to an electricity grid or heat network.
The solution makes it possible to maximize the fuel power at the most cost-efficient plant based on real-time information of the production capacity and process bottlenecks. It includes tools for production capacity planning, fuel power maximization and minimization during low-demand events. It enables maximum use of the most cost-efficient power production in real time through operator guidance. This can also be automated using advanced process controls.
Go for high plant reliability and energy efficiency
"The more data is available, the better real-time insight you have into the plant condition. You will recognize the threats to plant availability proactively and thus be able to remove them," Petänen adds.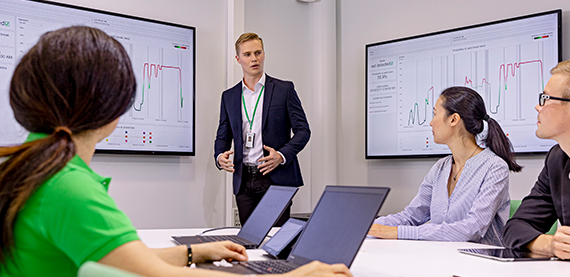 To track the condition of plant assets in real time, Valmet offers its VII for Reliability solution. It includes vibration monitoring of rotating devices, control loop performance monitoring, equipment diagnostics and boiler clogging prediction.
Power boiler efficiency is another important area for energy producers as it varies depending on fuel quality, boiler fouling and operational behavior, among other things. The VII for Energy Efficiency solution enables power plants to track boiler efficiency and discover the improvement potential in real time. This is important for a power plant that operates on variable loads to meet power production demand, aims to keep heat transfer surfaces clean from fouling and strives to reduce unnecessary steam consumption.
Keeping an eye on emissions
"With environmental permit limitations continuously tightening with regard to various emission compounds, it is essential to be able to control emissions more accurately and minimize the consumption of chemicals, such as ammonia, in NOx control," Petänen says.
Valmet's VII for Environment solution enables the real-time follow-up of emissions and control of NOx. It increases the awareness of operators and plant supervisors when it comes to NOx management by providing them with data-based guidance.
Optimizing the entire fleet and capitalizing on electricity trading potential
For energy producers who run many plants and want to optimize the entire fleet, Valmet's VII for Fleet Management offers significant benefits.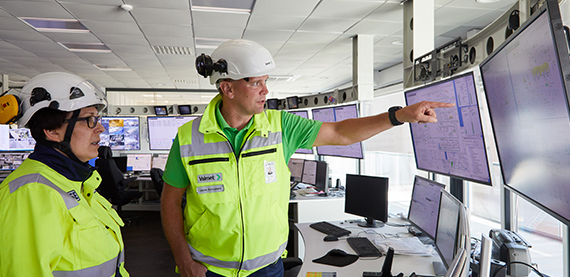 The Valmet DNA Energy Management system enables them to optimize heat and electricity production using the latest forecasts on load, electricity prices and weather, as well as to produce district heat with the most economical fuels at every point of the network. Valmet DNA Steam Network Optimizer is a tool to optimize the steam network on a plant level in order to balance steam consumption and production.
Additionally, Valmet DNA Fuel Chain Management provides reliable fuel supply management for transparent collaboration with suppliers and logistics companies.
Fast response and support from the Valmet Performance Center
An integral part of Valmet's Industrial Internet services for power producers is the Performance Center for Energy. It provides users with a fast response and high-quality plant and fleet operational support.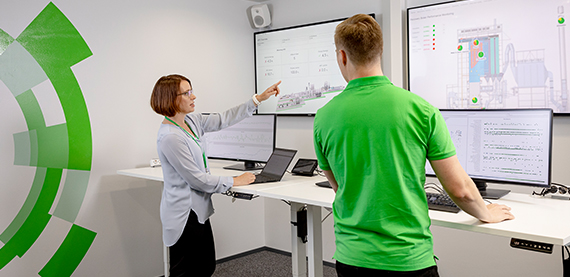 "As there is a lot of process data in the cloud, and our experts have access to it, we can support our customers faster and better. If the plant has an issue with something in the process, our expertise is easily available via remote connections and tools. Our experts can also proactively monitor the process and inform the customer about possible changes or upcoming issues," Petänen explains.

For more information, please contact:
Tuomas Petänen
tuomas.petanen(at)valmet.com