ORLEN Południe S.A., Poland's leading biofuels and biocomponents manufacturer, is investing in the production of second-generation bioethanol in Poland. Valmet is delivering a comprehensive biomass pretreatment, energy and automation solution for the project
ORLEN Południe S.A. is the first customer to adopt Valmet's comprehensive concept.
Valmet's technology for producing second-generation bioethanol was developed in collaboration with selected process partners. Valmet has decades of experience of biomass processing and developing solutions that can be used for applications outside the traditional pulp, paper and energy fields. "Using our combined knowledge and expertise in biomass fiber processing, energy and automation, we can offer a broader solution to produce second-generation bioethanol for use as a key biocomponent in liquid fuels," says Per Norlin, Sales Manager for Biomass Conversion at Valmet.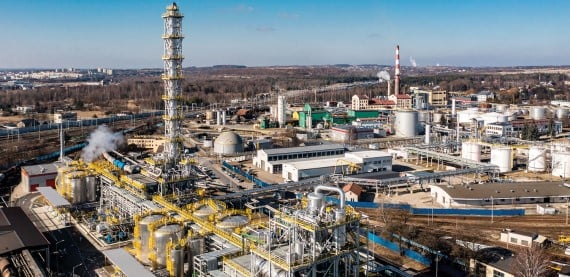 Leading the way in Europe
Second-generation bioethanol means bioethanol that is produced from non-food agricultural feedstocks. ORLEN Południe's new second-generation bioethanol facility in Jedlicze, Poland, is one of the first commercial cellulosic ethanol plants in Europe. Valmet is providing the plant's front-end technology, and the process will be based mostly on wheat straw, sourced mainly from local farmers. The engineering, procurement and construction (EPC) delivery includes a BioTrac Pretreatment system with the capacity to process approximately 400 tonnes of dry straw per day and a BioPower 48 MWth lignin-fired combined heat and power plant (CPH) to generate the process heat and electricity the plant requires. Both installations are controlled by a Valmet DNA Automation system, with embedded information management, environment and machine safety, as well as cybersecurity solutions.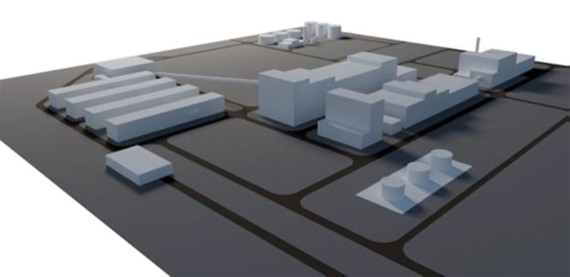 First to adopt the new concept
Valmet has deep expertise in the biomass field from multiple deliveries of BioTrac, BioPower and DNA Automation systems over the years. However, ORLEN Południe S.A. is the first Valmet customer to adopt the comprehensive concept, which includes all three technologies in the same package. The new plant will start operations in 2024. ORLEN Południe S.A. is a member of the ORLEN group, the leading company in the fuels, energy and petrochemical industries in Central Europe. The main driver behind the investment decision is meeting Poland's national target for advanced biofuels. This aims to meet 1 percent of the total energy used in the transport sector by 2025, growing to 3.5 percent by 2030.
"Advanced bioethanol is one way for us to meet our national target. But we're going to need a much higher volume than the first plant in Jedlicze will produce, so this is just the first step. If we're successful, we'll certainly consider more investment in this technology," explains Grzegorz Juszczyk, ORLEN Południe S.A. Development & Investment Director.
Developed through collaboration
Over the last decade, Valmet has worked closely with carefully chosen process providers on thermal pretreatment technology, going from pilot to demo scale, and now operating on a commercial scale. The result of this collaboration is the BioTrac Pretreatment technology, which is now well proven and well tested. "We've mitigated the risks and ensured a technology that works within this emerging segment," Norlin explains.
Valmet worked closely with selected process providers to develop this thermal pretreatment technology.
"Valmet's expertise in the biomass field also stems from delivering multiple powerplants and automation systems in other customer segments. Our process and automation teams have decades of experience working together, which ensures fast and smooth commissioning," says Mariusz Słoma, Director, Automation Sales & Services for Central and South Europe at Valmet.
Expanding the fuel portfolio
"In this project, we're expanding our Valmet BioPower technology to have a broader fuel portfolio by delivering a combined heat and power plant integrated with the BioTrac Pretreatment solution. The CHP plant combusts lignin from the 2G bioethanol process, producing steam and electricity for the entire complex. Valmet has only previously done this on a pilot scale, but with our extensive boiler experience and fuel analysis, we're confident of success," says Emil Eskola, Senior Sales Manager for Energy at Valmet.
"This delivery is the first project in which we're taking greater overall responsibility. We have strong experience of each of these technologies, and this project offers us the opportunity to learn more for future projects in this emerging segment," comments Norlin.
Advantages of Valmet as a supplier
Valmet is currently the only supplier in the world with the technical expertise to offer and deliver a comprehensive solution for thermal pretreatment and a combined heat and power (CHP) plant, controlled with the same automation system, all in the same package.
Juszczyk explains why they selected Valmet. "We were looking for a reliable partner with experience of energy solutions based on biomass," he says. "Pretreatment technology is one of the most important and challenging parts of a bioethanol plant. We had looked at several other technologies, but we found no existing facilities like this that could be easily implemented. We hope Valmet's knowledge and experience from previous BioTrac and BioPower deliveries will help us in our project. Having a reliable and experienced partner is very helpful, and we're looking forward to delivering a great project together."
Text Isabelle Sundberg
PHOTOS Thiago Filla