Once again, Valmet has received an award in the liquefied natural gas (LNG) industry. Valmet has been selected as the most progressive innovation advocate in the LNG industry. The award was granted at the 2nd Small-Scale LNG Summit 2019 held in Milan, Italy, on February 12, 2019.
This is already the second accolade in a short time. The first one was when Valmet was presented with "The Leading Global Service Provider" award for the LNG industry in October 2018 at the Small-Mid-Scale LNG Summit held in Amsterdam.

Our aim is to become a preferred supplier
"Valmet's aim is to become the best automation and software solution provider for small-scale LNG and biogas industry players. Both industries contribute positively to sustainability and solving environmental issues," explains Jani Hautaluoma, Director, Process Automation.

This year, "The Most Progressive Innovation Advocate" award was given to Valmet for enabling the small-scale LNG industry to become more efficient through the development of innovations. All the awards are given to companies and individuals who have positively influenced the sector at every stage of the value chain.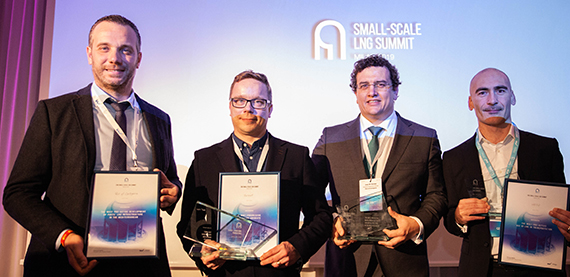 Caption: The winners from all categories at the 2nd Small-Scale LNG Summit in Milan 2019

On the right track to achieve targets

Valmet provides the LNG industry with automation technology and software that cover local level process control, operations and business management in the LNG infrastructure. Valmet's goal is to become the best automation and software solution provider for LNG and biogas industry players.

"This new award shows that we are on the right track to achieve our target. Valmet is a forerunner in developing solutions for both industries along their way toward a zero-carbon society. We are much more than just a system provider. We master control of the entire supply chain and offer a wider scope of automation and software solutions," says Jani Hautaluoma.

To make the LNG business profitable, real-time information is needed. Valmet's solution, Valmet DNA Integrated Operations, offers a unique way to combine energy values with process and quality data. A single user interface can collect all data to enhance operations and minimize human error. Also, information can be shared with specific users.
This is the second time in a short period that Valmet has received recognition for its contribution to the LNG industry. In October 2018, Valmet was awarded as the leading global service provider for this growing industry sector at the Small-Mid Scale LNG Summit 2018 held in Amsterdam, the Netherlands.

Small-Scale LNG Summit brings experts together

For the second time, the Small-Scale LNG Summit in Milan brought together the whole value chain of LNG professionals, who specialize in small-scale projects. The lineup of speakers included high-profile experts, who shared tailor-made methods and approaches that ensure the effectiveness of LNG practices, especially when it comes to scaled-down operations.
For more information, please contact:


Jani Hautaluoma, jani.hautaluoma at valmet.com