By providing comprehensive piloting opportunities, Valmet helps it customers address some of the most challenging global megatrends and secure the future of their industries. Pilot testing also supports the customers' own innovation and development work and helps strengthen their competitiveness.
Valmet is one of the very few players in the industry to offer its customers comprehensive piloting facilities and services. A pilot trial at one of our pilot facilities is a cost-efficient and flexible way to carry out tests and evaluate new ideas, compared to testing in a real mill environment. Likewise, testing what the possible operating window is for a certain process and product can be done more easily in a pilot facility environment.
Valmet wants to be the global champion in serving its customers; enabling unique piloting opportunities for them is one way to realize our vision.
Megatrends drive development efforts
Many of the most challenging megatrends of our time – the urgent need to decrease emissions and to mitigate climate change as well as to move towards more sustainable solutions and a circular economy – impact the operating environment of paper, board, tissue, pulp and energy producers.
All of these concerns and initiatives are driving the development efforts of our customers. These efforts are focused on enhancing the efficiency of raw materials, water and energy, increasing the use of new, renewable raw materials and reducing emissions. At the same time, the demand for increased mill or plant performance and efficiency remains a priority.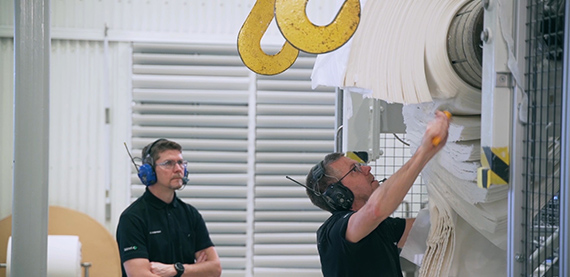 Valmet Tissue Techology Center in Karlstad, Sweden.
From lab tests to mill-like piloting environments
Valmet has a total of 16 pilot facilities where both customer trials and R&D projects are carried out. Our comprehensive piloting services for paper, board, tissue, pulp and energy producing customers are virtually unprecedented in the industry.
Our piloting services can help customers enhance their performance and competitiveness or secure their investment decisions. How? By enabling customers to compare different process configurations, test raw materials and fuels, as well as optimize and develop existing or new processes and products. Modern laboratories offering a wide range of lab tests and analyses are included as part of all the pilot facilities. Having the laboratories in same facilities ensures that reliable test data is quickly available, enabling fast changes of test parameters during a pilot trial.
By producing and analyzing reliable data, pilot trials make it possible to eliminate many of the uncertainties connected to major changes in raw materials or processes or to new investments.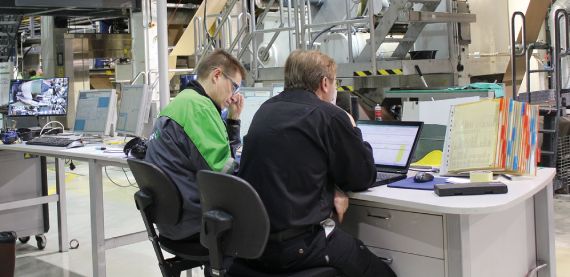 Valmet's Paper Technology Center in Järvenpää, Finland, provides paper finishing piloting services.
Close collaboration with Valmet's experienced experts
As important as the comprehensive and state-of-art pilot facility is, it is only brought to life through the vast knowhow and experience of the dedicated Valmet team operating it. In addition, customers always have access to Valmet's network of technology experts from other areas.
Normally, customers come to the pilot facilities to be part of the trial team and to work in close collaboration with our experts. However, Valmet's pilot facilities are equipped with online video monitoring systems, making trials available also remotely. Through a video connection, our trial team can demonstrate the most essential pilot trial elements to customers and hold daily online meetings to keep them up to date about the progress of the trial.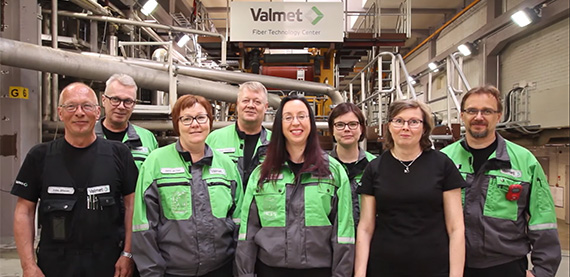 Valmet experts at the Inkeroinen Fiber Technology Center in Finland.

Energy R&D Center team in the front of the fluidized bed boiler pilot facility in Tampere, Finland.