On March 19, 2014, Valmet organized a site visit to Karlstad, Sweden, where the main unit for Valmet's tissue machine production is located. The purpose of the event, hosted by Valmet's Investor Relations team, was to offer a opportunity to gain a better understanding of the tissue business, market and technology. In total 15 investors and analysts participated in the visit.
Valmet's Paper Business line consists of two parts: Board and Paper, and Tissue business. Last year Board and Paper's share of net sales was larger than Tissue's but orders received were almost on the same level. Tissue business has though better profitability than Board and Paper.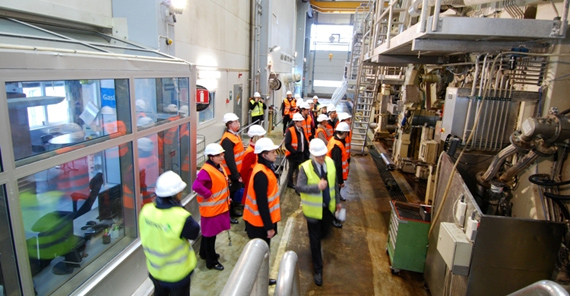 The visit begun on Wednesday morning at the Karlstad Tissue Technology Center with site manager Anders Björn's presentation of the Karlstad production plant. The production plant's history goes back over 150 years, when it started out as a local foundry. Nowadays, 570 Valmet employees work at Karlstad.
Sales manager Ingmar Andersson gave a presentation of the tissue market, Valmet's customers, and competitors, which determined by the amount of questions raised, attracted a lot of interest in the audience. The tissue machine market is more fragmented than the traditional printing and writing machine markets. On the other hand, replacing tissue based end products with substitute products is more difficult and business cyclicality does not affect the consumption to the same extent.
Growth in tissue consumption is supported by strong trends: population growth, urbanization, rise in standard of living and hygiene. In North America, the tissue consumption is some 25 kilos per capita. The same figure for China is only some four kilos per capita. How likely is it, that when the standard of living rises, many Chinese is pleased to start using toilet paper? If a billion people increase consumption by, for example, just a few kilos per year, the effect is enormous.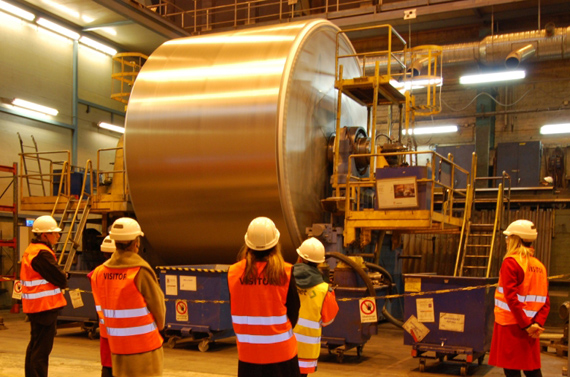 After the market review it was time to take a closer look at the tissue business line, presented by Anders Björn. One third of all the tissue produced in the world is made by Valmet's machines. During the last ten years or so, the machine production has moved towards more standardized solutions from tailor made machines. With these kinds of changes, production costs have decreased by as much as 35 percent. Valmet focuses also on energy efficiency both in production and offered solutions. In addition to machine production, Valmet has also a strong service business. The services business' competitive advantage is to be active geographically close to the customer.
Lastly, Krister Aspegren, manager, tissue R&D, presented tissue machine product development. Valmet has product development teams at various tissue locations. Karlstad's special feature is a pilot machine, which can be used to develop and test new tissue production technologies and processes.
The pilot machine, presented by Aspegren, was studied at closer range after the presentations and lunch, as it was time to put on the high-visibility vests, safety glasses and helmets, and go out for a site tour, led by production manager Jenny Lahti-Samuelsson. In addition to the pilot machine, the tour included the foundry, production facilities and pre-assembly, where the tissue machines are assembled and inspected before shipment. During the tour, we familiarized ourselves with the heart of a tissue machine, that is, the production of the Yankee cylinder, and we got to see complete cylinders in different sizes.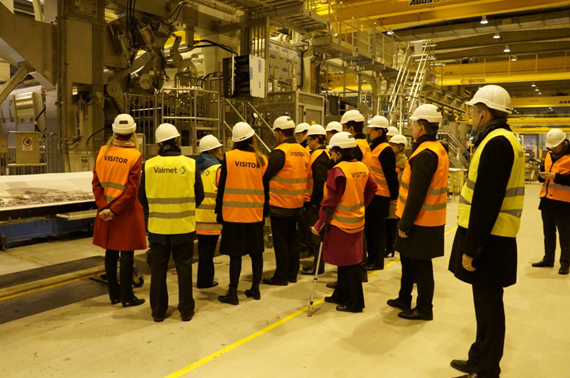 We would like to thank all the participants of the visit and hope that the visit offered interesting new information of both the tissue market and Valmet's operations and technologies.