March 24, 2016 1:30 PM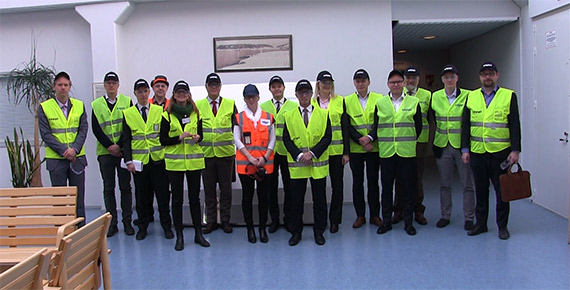 On March 17, 2016, Valmet arranged a customer site visit to Sappi's paper mill in Kirkniemi in Finland followed by a lunch with Valmet's CFO in Helsinki. The visit was aimed at Valmet's institutional investors and analysts, and altogether 14 guests participated in the visit.
The Kirkniemi mill is located in southern Finland, about 70 km west of Helsinki. The first paper machine started production in 1966, followed by the second machine in 1972 and the third one in 1996. Today the Kirkniemi mill produces coated papers for customers around the world. The capacity of the mill's three machines is 730,000 tonnes per year. The Kirkniemi mill also produces mechanical pulp, which is used by its three paper machines.
The visit at Sappi's mill was hosted by Katja Metsäranta, Production Manager and Janne Huuskonen, Mill Controller. During the morning, the group was introduced to Sappi Corporation and Kirkniemi mill operations. Cooperation between Sappi and Valmet was also discussed.
Valmet has been a valuable partner since the beginning of the Kirkniemi mill, supplying paper and stock preparation machinery as well as automation. All the three paper making lines at Kirkniemi are delivered by Valmet. At the beginning of 2012, Valmet's relationship with the mill entered a new phase with the start of a frame agreement covering various services and spare parts for the three papermaking lines.
Valmet has also delivered a multi-fuel boiler to Kirkniemi mill which enables flexible use of bark from the mill's debarking process, other wood-based fuels and coal. The order was announced in January 2014 and the start-up was during summer 2015. Sappi representatives seemed to be content with Valmet's fast delivery and understanding Sappi's needs. In February 2016, Valmet announced that it will deliver a paper machine wet end rebuild to the Kirkniemi mill. This rebuild will be done to PM3, which the group had a chance to see during the mill tour.
After the visit to Kirkniemi, the group returned to Helsinki to have lunch with Valmet's CFO Kari Saarinen. In his presentation, Saarinen spoke about highlighted Valmet's performance and development in 2015. He also presented Valmet's investment highlights, which were originally introduced together with Valmet's Financial Statements Review 2015 in February 2016. Finally, Saarinen presented Valmet's area development. The presentation was followed by a lively conversation, especially regarding Valmet's growth drivers going forward. The presentation material for the lunch with Valmet's CFO is available here.