Looking to enhance your production efficiency in tissue making? Improved nip profiles, dewatering improvements, reduced yankee/hood energy consumption and improved sheet characteristics for speed improvement are all possible with Valmet's intelligent roll solutions. On Tuesday, November 23rd, 2021, Gregory Vande Corput will present a webinar about how Valmet is harnessing a variety of technologies for improved tissue production.
Click HERE to register for this one hour webinar.
Viewers of this webinar can expect to learn:
The use and benefits of contact measurement temperature readings for tissue
Service technologies for improvement during a short one day down
How to solve reeling discontinuities building better parent rolls
The iRoll for tissue technology
(Several existing articles, flyers and brochures are available to describe the basic iRoll technology, so we'll bypass that content in this webinar overview article.)
The webinar starts with a brief overview of iRoll technology, especially the iRoll portable analysis possibilities, then continues with its ability to measure temperature, optimize press nips, and improve dry end and rewinder operations.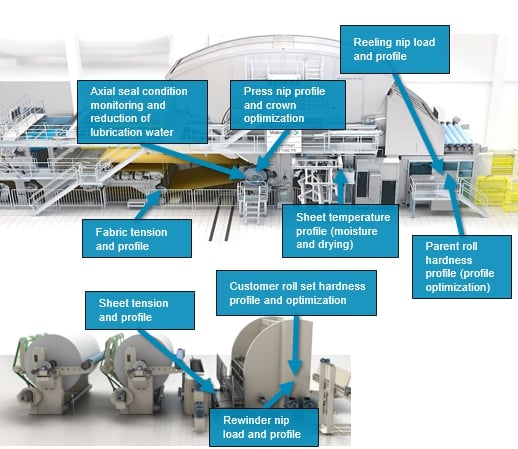 Examples are given on improving press nip profiles and dewatering, measuring sheet temperature for moisture profile improvements, solving loose sheet edges and bagginess issues, profiling parent roll hardness and optimizing reels and rewinders.
The following is an excerpt of the webinar, which focuses on a case study of actual iRoll use:
Analysis of felt tension profile on tissue press
In this example, fabric un-uniformity and fluctuations show clearly during the iRoll analysis. The tension profile can be measured on a separate iRoll or iRoll portable system on a felt guide roll or with iRoll on a press roll with the nip open.
Small scale fluctuation in CD and MD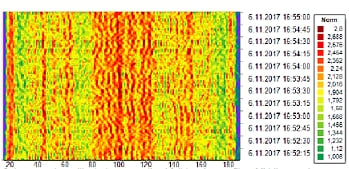 The color map illustrates normalized felt tension profiles. The middle area has more tension than the edge areas. The far TS edge has a high tension area. Narrow variation is seen on the profiles. Narrow tension peaks seem to move a little bit in a sideways direction.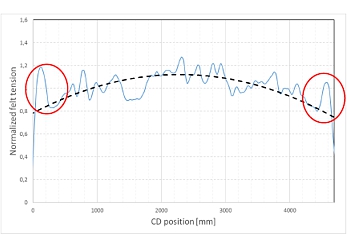 The graph shows a normalized average profile of felt tension. The middle area has more tension than the edges. The TS and DS edges each have a high tension peak next to a loose area. Narrow variation is seen on the profile.
Diagonal fluctuation in felt tension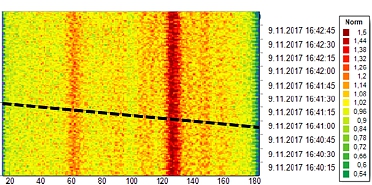 The color map displays normalized felt tension profiles. The felt has a visible stripe that transverses across the sheet width. This could also be seen in the tension profile. The diagonal shape is seen on the color map - a black dashed line is added for visual assistance.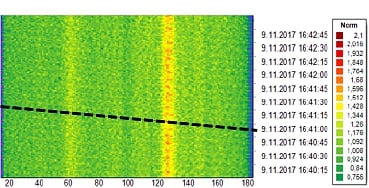 The same color map as the previous example is shown, but with a different color scale to see the diagonal shape more easily.
For more information on improving your tissue operations with iRoll technology, watch the webinar and contact your Valmet representative.