Jan 16, 2017
Maintenance is not an island that you can execute, plan and develop separately from production. When analyzing the effectiveness and cost competitiveness of mill maintenance, the availability targets must be taken into account. Ahlstrom and Valmet have worked together to develop Ahlstrom's maintenance methods and improve maintenance efficiency.
Cooperation agreement to develop mill maintenance
Two years ago, Ahlstrom started a three-year project to synchronize maintenance procedures and lower overall maintenance-related losses. The goal is to systematically improve and develop maintenance efficiency and to find a corporate-level way to work.
Ahlstrom produces innovative, fiber-based materials with functions in everyday life, in applications such as filters, medical fabrics, life science and diagnostics, wallcoverings, tapes, and food and beverage packaging. Ahlstrom has 28 mills around the world.
In spring 2015, Ahlstrom and Valmet signed a cooperation agreement to develop maintenance at Ahlstrom's mills by providing selected auditing and expert assessment services. Midway through the agreement period, we had the possibility to visit Ahlstrom's Saint-Séverin mill in France. The mill produces special, high-quality greaseproof paper for several kinds of applications. Overall maintenance-related losses here are among the lowest in the company. Here the target is to find out what they do differently to achieve such good results.
Toni Mäcklin, Global Sales Manager for Service Agreements, has been involved throughout the project and worked with Ismo Uronen, Engineering and Technology Manager, Ahlstrom in every mill. Toni talks about the uniqueness of Ahlstrom's processes:"For me, this has been an exciting journey. I have been a papermaker all my life, and with this project I have seen special technologies like electrostatic coating and nanocoating. This has been challenging, educational and interesting, all at the same time. Ahlstrom is an innovative company with a very active R&D department, and they also constantly develop new technologies for production."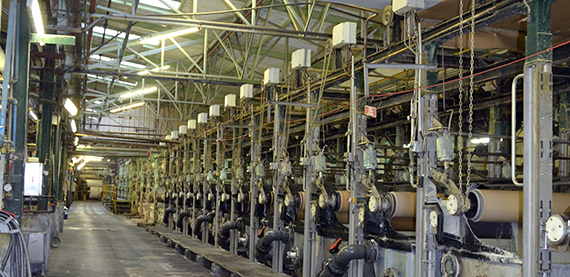 Best practices at every mill
Ismo Uronen explains that the way of working with Valmet in this project develops all the time.
Both parties are learning during the project, which is providing new possibilities: "In the couple of first mills we went through, there were several Valmet people on board, but since we have learned more about our systems, and Toni's and my know-how have improved, and this year just the two of us have been conducting these mill studies."
He continues about the targets: "Project targets are defined yearly. We have found out that there are some mills that already have very high efficiency, and from those we can learn what they do well and deliver the know-how to other mills.
Toni Mäcklin continues with an example: "In the mills we have visited this year, we have had group meetings for maintenance and operation personnel. They noted down the improvement needs and possibilities they had observed, and we created improvement lists. There were several small things that will bring value to the mills."
It's about the people
Toni Mäcklin has a clear vision of the key to great maintenance results: "We have to remember that the performance of the maintenance organization largely depends on the capabilities and commitment of the maintenance people. Maintenance costs are like an insurance policy: the more you spend, the better availability you are expected to get. The important thing is to find the right balance for every mill. When high availability is needed, then more input is also needed for preventative maintenance."
The cooperation agreement is also about the people. Ismo Uronen is very satisfied with the cooperation with Valmet, and especially with Toni Mäcklin: "Toni has organized everything from the Valmet side. His solid experience has made my work easier. I can honestly say that there have always been the right Valmet people in the right place at the right time. I think Valmet has really succeeded in this project."
What comes out from the mill is the best indicator
Ismo Uronen explains what he has learnt about mill maintenance: "The key lesson from the project so far has been that the mill has to be developed as one team, not maintenance and operations separately. In the end, the best indicator of maintenance efficiency is the production output. It is also the only indicator that can be clearly demonstrated. Our goal is comprehensive mill development."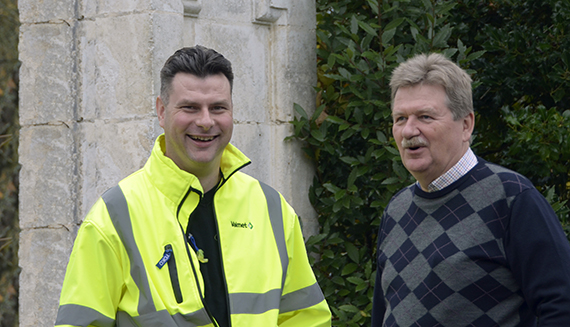 Toni Mäcklin, Global Sales Manager for Service Agreements, Valmet and Ismo Uronen, Engineering and Technology Manager, Ahlstrom.
"We now have better capabilities to find common practices for mills with similar equipment and to achieve, for example, savings on spare parts. During this project, we have been able to move our maintenance structure in the right direction: towards more planned maintenance and fewer unplanned shutdowns. Savings on maintenance can't be just cutting down the money. Improving maintenance efficiency is actually an investment that generates savings," ends Ismo Uronen.